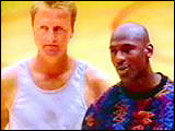 Larry and MJ were nothing but net in this McDonald's ad.
Sometimes the actual Super Bowl takes a backseat to the rest of the day's hoopla (see: Janet Jackson). And it is the commercials that usually command most of our attention.
But while the ads are all the rage during the days subsequent to Super Bowl Sunday, we thought it would be interesting to see how some of the most notable commercials have stood the test of time in your memory.
Prepare yourself for our 60-second spot test. See how you "ad" up in Page 3's Super Bowl Ad Quiz.