All Joe Pernice wanted to do was annoy some Yankee fans.
For one indie-rock singing Red Sox fan, it's all about Manny, Manny, Bo-Banny ...
The lead singer of the indie-rock band the Pernice Brothers and die-hard
Red Sox
follower was sitting in his New York apartment over the summer, watching his beloved
Manny Ramirez
at bat, when a sing-along chorus popped into his head: "Mega Luna, Manny!" It was a nonsensical little melody -- just something he would sing for his wife as a goof. But it soon turned into a rallying cry. "I was living above a Yankees bar," Pernice said. "The
Yankees
fans would go outside to smoke on the sidewalk, and I could hear them talking about
Sheffield
and
Posada
, and blah blah blah. So friends of mine, Boston fans, would start yelling the tune out the window, (and we'd) have a bit of a war going back and forth." After his manager urged him to record the song, Pernice fleshed it out with guitar and a few catchy little keyboard blips, titled it "Moonshot Manny (Pega Luna)," and put it on his
website
, asking for a $1 donation toward Boston's First Night celebration. He figured it was a fluke that might raise a few bucks, but within days, it was getting attention from Beantown and beyond. "It was being downloaded all over the world, not just Boston," he said. "Someone from (Bill) Clinton's office in New York downloaded it and bought a T-shirt, and someone from Major League Baseball got in touch with us." Pernice might not seem like the guy to pen an athletic anthem -- he has recorded eight beloved but hardly blockbuster albums full of smart, buoyant pop-rock -- yet "Luna" isn't his first sports-inspired song: In 2001, he wrote an aching ballad called "The Ballad of Bjorn Borg." "I had no idea I was writing a song," he said of his Ramirez tibute ditty. "I was just running around my apartment like an idiot, talking back to the television. It was pure fandom."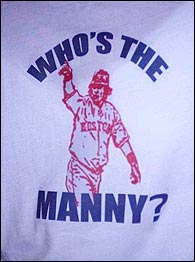 Who? Why, he's the delightful hitter who takes the high road (note to Nomar).
But why dedicate a song to Ramirez, whose no-show during a game against the Yanks last season didn't exactly endear him to Red Sox fans? "This year, he seemed to rise up. I thought it was especially poignant, following the offseason debacle. When that trade fell apart, you saw Nomar was very disgruntled. Manny could have easily taken a crybaby stance, or felt less loyal to the team, but he just seemed to give it more than I'd ever seen him give before. And just watching the guy hit was delightful." Even more delightful, Pernice noted, would be if the accidental hit lived through the World Series, and if those Yankees-bashing sing-alongs he was hosting in his apartment could be joined by a few thousand more voices. "I would never stop laughing if I heard (the song) play at Fenway at some point," he said. "That would be the highlight of my musical career." And as for the highlight of his Red Sox Nation life? The October Surprise. Game 7. Yankees choke. Red Sox take it. As Pernice perhaps put it best Thursday morning: "This is the greatest (day) of my life."
Brian Raftery is a freelance writer living in Brooklyn. He can be reached at brianraftery@gmail.com
.