Reality TV's Worst Stars:

1.
Aneesa, "Real World: Chicago": The African-American/Jewish lesbian lacked "Richard Hatch-appeal" with her nakedness.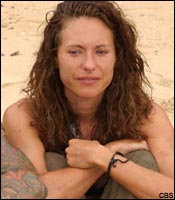 "Survivor" Jerri made it through the jungle, but not the Garden.
2.
Ally Hilfiger and Jaime Gleicher, "Rich Girls": Rich and hot: good. Rich and not hot: Gross.
3.
Jerri, "Survivor All-Stars": Got booed out of Madison Square Garden faster than Don Chaney.
4.
The entire cast, "The Real World: Miami": Take your pick; each house member shared equal responsibility for making one of the best party cities in the country seem undeniably dull.
5.
Steve Ireland (David Decker), "The Joe Schmo Show": Everyone was an unknown actor faking it for the one "Schmo." This guy (who played Rachel's boss on Friends) got caught. Odds are it was the first time he was ever recognized, and probably the last.
6.
Omarosa, "The Apprentice": Omarosa. You get chills just saying it.
7.
Mike, "Real World Back to New York": While he made a complete 180 in the RR/RW challenges, "racist Mike" was not cool.
8.
Evan Marriott, "Joe Millionaire": Is there a bigger doofus on the planet?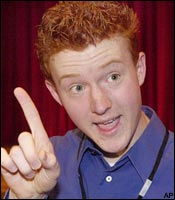 "Say, kids, what time is it?"
9.
Howard K. Stern, "The Anna Nicole Show": The fight with Anna during the eating contest sealed this guy's fate early.
10.
Ruthie, "Real World: Hawaii": A bad "drunk" who freakishly resembled Tiger Woods.
11.
John Stevens, "American Idol": Looked like a 12-year-old boy. Sounded like a 75-year-old man.
12.
Mark Curry, "Celebrity Mole 2": Even Rudy Huxtable wouldn't hang with Mr. Cooper.
13.
Simon Cowell, "American Idol": He's great, but kids out there vote against him and it ruins the show.
14.
Jon, Survivor: "Pearl Island": A.k.a Johnny Rotten. 'Nuff said.
15.
Puck, "Real World: San Francisco": You can take a man out of the trailer park but you can't take the trailer park out of the man.
16.
Vanessa Olivarez, "American Idol": Every season has a girl with pink hair just begging to be voted out. She was the worst of the bunch.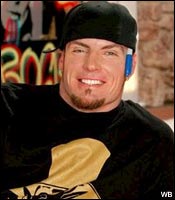 All right stop ... collaborate and listen. Ice is back with a reinvention.
17.
Emily, "Real World/ Road Rules Challenge: The Gauntlet": On more than one occasion she was the bully that Coral wishes she could be.
18.
Vanilla Ice, "The Surreal Life 2": The Ninja Turtles were heated that he didn't consult them before making this career move.
19.
Michael, "Temptation Island 3": Within minutes of being separated from his girlfriend, he hit on anything with a pulse. Way to hold out, dude.
20.
Julie, "Real World: New Orleans": A Mormon in New Orleans is more out of place than Jessica Simpson on Jeopardy.