JACKSONVILLE, Fla. -- Two sports celebrities enter a nondescript room. They arrive to pitch a product, conduct interviews and autograph footballs for fans.
One is Pittsburgh Steelers quarterback Ben Roethlisberger, who won an NFL rookie-record 13 consecutive starts during the regular season.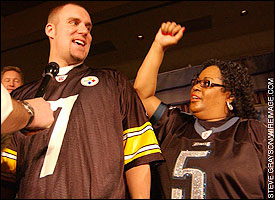 Big Ben and Mama McNabb are soup-er stars.
The other is a 49-year-old registered nurse named Wilma, whose claim to fame is, well, giving birth to Philadelphia Eagles quarterback Donovan McNabb. Wilma's rise to fame began three years ago, when Campbell's, which had previously used actors as the mothers of players in its commercials, decided to feature the real moms on screen. Cameras started following her in the stands during Eagles games and fans not only recognized her, but embraced her. "I never thought that stardom would come with it, and I really don't particularly care for that," Wilma said. "I just love doing the commercials." She arguably became the most familiar sports mom in America after this year's Chunky campaign featured her as the commercial's star -- dishing out soup to Donovan and the rest of his teammates, and even getting a Gatorade bucket dumped on her. "People ask for my autograph, but sometimes I tell them I only sign cans of Chunky soup because I know that they don't have a Chunky Soup can in their pocket," says Wilma, proclaiming her status as "MVP" -- most visible parent. But she also might be the most marketable, and lucrative endorsement deals could be in her future. "She's joyful, adorable, and people love her," said Nova Lanktree, executive vice president of player development at CSMG, the firm which represents her son and, by default, her as well. "That's not a bad combination to have." Lanktree said the agency hasn't actively pitched Wilma, and she already has been featured on day and nighttime talk shows, while publications ranging from The New York Times to People Magazine have published stories about her. Although Wilma is featured with Donovan in the Campbell's ad, Lanktree says it doesn't have to be that way for companies interested in her services. Corporate interest might first come from some of her son's sponsors, which include Visa, Hershey's and Reebok. "Advertisers could have it both ways and sign both of them," Lanktree said. "Or they could pay for her and not pay for Donovan if they want. But they shouldn't expect that she will overtly advertise a competitive product of something Donovan is endorsing." Lanktree negotiated a deal for Shaquille O'Neal's mom, Lucille Harrison, to appear in a Robitussin commercial without O'Neal.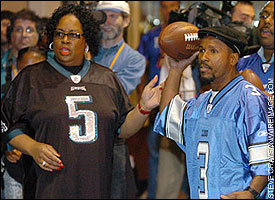 Wilma McNabb passes on some motherly advice.
Wilma, who is vice president of the Professional Football Mothers Association and was one of 13 NFL mothers honored in a special exhibit at the Pro Football Hall of Fame, says she's up for doing anything that works well with motherhood, "as long as it's clean." How much Wilma would command is unclear, but her deals would certainly be worth more than parents of tennis players get paid to sit in their son or daughter's box wearing a hat with a company logo on it. That nets a parent between $500 and $1,000, depending on possible television exposure, according to Ben Sturner, director of marketing for Bennett Global, a sports advertising firm. Donovan has no problem with his mother's newfound fame. "I think she deserves (the attention)," McNabb said Monday. "Y'all sitting around me now, it's all because of her. And my dad too, make sure you put that in there." Campbell's contracts with both Wilma and Donovan end when the clock reads zero after the game Sunday, but John Faulkner, director of communications for the brand, says that it will be hard for the company not to consider Wilma in the future. "The reality is that Wilma has become a star right along with Donovan," said Faulkner, who notes that since Wilma started appearing in the spots three years ago, sales for the product have risen 40 percent. "The campaign resonates with consumers because its basis in truth with Wilma," Faulkner said. "The same person who is buying Chunky soup during the week and is watching football games during the weekends, sees her up in the box watching Donovan reacting to what is going on the field. They know what's happening in the commercial, while it's a little bit a fantasy, it's based upon reality." Wilma has been preparing pregame meals for Donovan's teammates since his days at Syracuse and usually whips up something special when the Eagles come to Chicago to take on the Bears. "It's not a show," Eagles safety Michael Lewis said. "She's really involved with the team and stuff like that." Wilma might know her food, but she also knows her football. She came in second place in ESPN.com's celebrity football pool this year. She also says she always tells Donovan when she thinks he threw a ball too low or shouldn't have crossed the line of scrimmage. And while she has everyone's attention, she has one message she'd like the media to deliver to the New England Patriots defense: "Please don't try to kill my son when he's out there."
Darren Rovell, who covers sports business for ESPN.com, can be reached at darren.rovell@espn3.com.