JACKSONVILLE, Fla. -- Twenty five years ago, Coca-Cola debuted a commercial that ran during the broadcast of the Super Bowl that will be remembered as one of the best advertisements of all-time.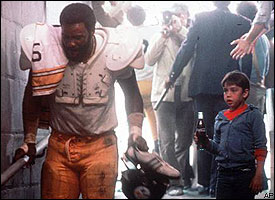 This ad worked out well for Mean Joe Greene and the kid but not for Coke sales.
In the ad, Pittsburgh Steelers defensive lineman Mean Joe Greene gives his jersey to a young fan in exchange for a soda. The spot won worldwide acclaim. TV Guide named it the seventh best ad in television commercial history and ESPN called it the best sports commercial of the last quarter century. But what most people, who might have been inspired by the touching commercial, don't know is that Coca-Cola executives weren't happy with results from the spot. The bottom line? The advertising campaign actually didn't help sell cans of Coca-Cola. Lost in all the Super Bowl commercial hype is that for every company that continues to play in the extremely expensive game, there are a slew of others who bow out after less than stellar results. "The Super Bowl has turned into a popularity contest as far as who can produce the best commercials," said Sergio Zyman, the former chief marketing officer of Coca-Cola, who pulled the Mean Joe Greene campaign and author of "The End of Marketing As We Know It." "I think that has hurt because the best ads don't necessarily translate into sales and I don't think the consumer is absorbing while watching the game."
THIS YEAR'S SUPER BOWL ADS
Cindy Crawford -- Pepsi
Mike Ditka -- Cosentino USA
MC Hammer -- Lay's
LeBron James -- Bubblicious
Gladys Knight -- MBNA
Eva Longoria -- Pepsi
Joe Montana -- NFL Network
Brad Pitt -- Heineken
Dennis Rodman -- Cosentino USA
Ben Roethlisberger -- NFL Network
John Travolta -- MBNA
Even still, the price of entry continues to rise. Only nine years ago, a 30-second spot cost $1 million. Today, a spot of similar length costs $2.4 million, or $80,000 per second.
"As long as CEOs and ad agency executives want to get their egos stroked, the prices will continue to climb," said Grant Pace, group creative director of Conover Tuttle Pace, an integrated marketing and public relations firm, who was behind Anheuser-Busch's Bud Bowl spots. "But it's a huge risk."
In 1998, Progressive Auto Insurance paid a reported $5 million to put its name on the Super Bowl halftime show. Those costs included producing an advertisement with E.T. -- the company bought the rights to use the popular movie character from Universal Studios.
In anticipation that the company would receive a steady flow of calls, after its ads flashed the 1-800-PROGRESSIVE number on the screen, a larger-than-normal staff was hired to work during the broadcast hours. But fans were too busy stuffing their face with hot dogs, nachos and guacamole to think about their car insurance.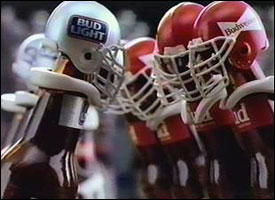 The Bud Bowl brings back strong memories ... of former 49ers safety Merton Hanks.
"We frankly were expecting people to call," said Progressive's spokesperson Leslie Kolleda, who was with the company at the time. "We were a bit na´ve."
In a 1999 briefing to investors, the company's chief executive Peter Lewis admitted that "inexperience" and "hubris" led the company to "incur significant losses without achieving proportionate benefits."
Kolleda said the Super Bowl placement did have its value in introducing the company to the world, though it clearly didn't make Progressive an overnight sensation.
Proponents of Super Bowl advertising cite the unprecedented media coverage that surrounds companies that take out Super Bowl ads -- in what other environment do people cover the ad before the ad? They call attention to the fact that in the era of digital video recording systems, many commercials aren't watched as much as they used to be, except during the Super Bowl, of course. Then, there's the after effect. Approximately 35 percent of people expect to talk about the Super Bowl ads at the water cooler on Monday, according to research firm Eisner Communications.
But how much that water cooler talk is worth depends upon whether the advertising is connected to the company and furthermore, if the advertising then inspires a consumer to buy a product or service.
Two years ago, Reebok scored big in its 60-second Super Bowl ad featuring Terry Tate, "Office Linebacker." USA Today's Ad Meter named the spot, in which a football player levels uncooperative people in the office, the sixth best advertisement of the Super Bowl. But USA Today research revealed that only 55 percent of a group polled remembered that the spot was for Reebok and only 16 percent felt it was "very effective" for the company.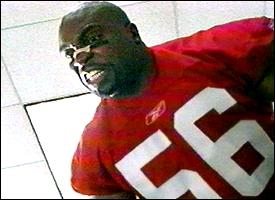 Terry Tate used to go all Ron Artest on people.
Meanwhile, ads that are often seen as less popular might actually prove to net better business results. In 1999, the online job posting company Monster.com debuted an advertisement entitled "When I Grow Up," a spot in which kids dream of mediocre business careers such as filing all day and "clawing" up to middle management. Not many people liked the commercial at the time, but it was -- above all -- the relevant advertising that seemed to strike a chord with potential consumers.
In a 24-hour period following the ad's run, Web site hits soared from 83,000 to 2.2 million and the number of resumes posted on the site went up from a typical 1,500 a day to 8,500 resumes on the Monday following the game. The spot won an Effie Award, bestowed on the company by the New York American Marketing Association for effective advertising.
But pushing through the clutter of every company hoping to make an impact isn't as easy as one would think, despite the large amount of eyeballs fixated on television screens during the commercial break. After six straight years of advertising on the Super Bowl, Monster.com bowed out this year.
"You're reaching more people than you can hope to reach in any single blast," said the site's founder and chief monster, Jeff Taylor. "But once you see your 30-second ad among the frogs, lizards, dogs and horses, it becomes easy to see how a company can get lost in the Super Bowl.
Taylor noted that the site is not cutting back on its advertising -- it will spend more in 2005 than it spent last year. But relevant advertising in local markets and on Web sites seems to be a more responsible buy these days.
Bob Parsons has never advertised his company, GoDaddy.com, on national television. On Sunday, he will unveil a commercial which is a play on censorship. Since it will run twice, the total cost, including production is about $5 million.
Parsons reasons that his site, which sells Web domain names, can benefit from the massive audience that watches the Super Bowl. He already hasreceived some publicity, thanks to the fact that Fox rejected a more racy version of the commercial that will run on the broadcast.
At the very least Parsons, who is the company's founder and sole investor, says that the spots are tax deductible, so federal and state governments will pay approximately 38 percent of the cost.
"If it's a complete whiff, we'll be just fine," said Parsons.
Darren Rovell, who covers sports business for ESPN.com, can be reached at darren.rovell@espn3.com.