ORANGE PARK, Fla. -- Eleven minutes and 27 seconds. It was the longest I had ever lasted with two gorgeous girls.
Kristen and Ashley had taken a liquor bus up from Gainesville wearing the very revealing evening wear that first caught my eye. I walked up to them and we hit it off. We met at the 2005 Miss Football Hawaiian Tropic International Pageant, where 1,200 people (male-to-female ratio being 99.9-to-0.1), some of whom paid a $200 cover charge, watched 42 girls prance around in swimsuits -- some scantily dressed in dental floss and pipe cleaners.
"Hi, I'm Darren," I'd say, concentrating extremely hard just to remember my own name. "And this is my photographer, Ross."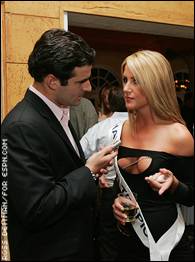 ESPN.com's Darren Rovell interviews a contestant.
Without any help from enhancement pharmaceuticals, we proceeded to have a lengthy conversation with no awkward pauses. While at the University of Florida, Ashley was a pre-med and psychology major and Kristen studied finance. Both applied their degrees wisely to get them in the door at Hooters. In her current job, Ashley is familiar with the psychological state of humans that makes them feel more confident about their body shape by ordering a Diet Coke with buffalo wings and bleu cheese. Having studied economics, Kristen is also very familiar with the laws of supply and demand.
"We're not the typical Hooters girls, though," said Ashley. "Some of the smartest girls work at Hooters because Hooters doesn't have as many things on the menu to remember, like at Italian restaurants."
"Oh. I see," I replied.
No, I don't. How does that make any sense?
Some of the partygoers might have come to the 27-acre Club Continental, where Jacksonville's upper crust normally gather for wedding and bar mitzvah receptions, to make small talk and look up and down at the bathing beauties.
However, I was there to hand-pick a winner. Walking down radio row in the media center during Super Bowl week has its benefits. You could be stopped by several producers asking you to do an interview on their radio show, or you could be stopped by Todd Corrigall of BoDog.com, an online sports book, asking you if you'd like to be a judge in a Hawaiian Tropic bikini contest his company is co-sponsoring.
At the opportunity, I immediately cleared my schedule and arranged for ESPN The Magazine photographer Ross Dettman to come along with me to purposely make me the center of attention.
Throughout the night, I continued to work the room and to try and secure the future Mrs. Rovell. I gave several women the Darren Aptitude Test (DAT), which consists of six sections: (1) Looks; (2) Looks; (3) Personality; (4) Brain Power; (5) Looks; and (6) Looks.
Katie of Mystic, Conn., had come into town after securing a paid gig to Saturday night's Maxim party. She came to the Hawaiian Tropic contest hoping to take home the $10,000 prize and advance to the international pageant in Hawaii. But, she admittedly was having trouble staying away from the table of colored tortilla chips.
"How can they have stuff like this at a pageant?" Katie asked, apparently unaware that only 42 of the 1,200 people of the crowd were competing. "They say it takes six hours for your stomach to get bigger, but if I eat something now, I think it will show. Right after this, though, I'm going to go straight to Wendy's."
I also met Michelle from nearby St. Augustine, who revealed to me that she was "working" a bachelor party on Saturday night. Then there was Celeste, who was interning with the sports anchor at her local television station. The most intriguing contestant was Petra, a 4-foot-9 beauty from Calgary, Alberta, who told me she now travels to Hawaiian Tropic contests around the world. That's a slight change from what she was doing at this time last year: operating heavy machinery, including jackhammers and 330 Black Cat excavators.
Soon after my conversation with Petra concluded, the audio cue that the contest was about to begin was announced. Most sporting events open with singing the national anthem; however, Hawaiian Tropic events open with some rendition of "America The Beautiful." I'm sure the poem's author, Katherine Lee Bates, would be proud.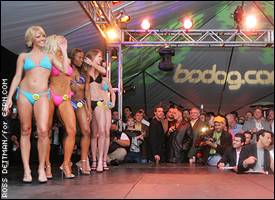 Contestants line up for the Miss Hawaiian Tropic beauty pageant. Rovell, on the judging panel, sits near the stage (second from far right).
It was time for the voting and we were handed clipboards with the following instructions: "Please look at their entire bodies, not the size of certain parts." The judges included celebrities like Sid Rosenberg, a New York talk-show sidekick who was sued by DirectTV after boasting how to steal its programming on the air, as well as people who paid as much as $4,250 to sit on either side of the runway.
Ashley and Kristen, No. 1 and No. 3, respectively, were my favorites to top the list among the first 17 women. Throughout the competition, I was keenly able to eliminate girls within seconds of their taking the stage. Some were obvious cuts such as the woman who couldn't stop mouthing "hi" to audience members or the girl with bloody knees -- revealing the fact that she took a spill while wearing her heels earlier in the night. And what about the girl wearing a wedding ring? I'm not an expert at these things, but I'm sure this isn't a "Mrs. Hawaiian Tropic" contest.
At the end of the night, I picked a girl named Randy to win it all. I hadn't had a chance to perform the DAT on her, but I was pretty sure she would have done well. Katie, who was going to run to Wendy's, came in fourth in my vote and I ranked Kristen fifth.
When the winners were announced, my number one pick, Randy, came in second while Shari, a contestant to whom I gave a zero, won the contest despite wearing the exact same skimpy swimsuit as the next contestant who followed her.
Maybe I wasn't cut out to be a swimsuit judge, but at least I have my sports writing career to fall back on. As for Ashley and Kristen, who did not place at all, they'll go back to Hooters. That is, unless they add more items to the menu.
Darren Rovell, who covers sports business for ESPN.com, can be reached at darren.rovell@espn3.com.