ESPN is airing a show this Tuesday night about the best sports movies of the last 25 years. My editors requested that this week's column tie into that somehow.
What?! You mean stop torturing everyone with my whiny, self-serving tales of Hollywood and write about something else for a change?
No problem.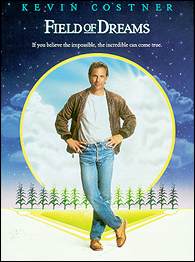 What more can be said about a classic like "Field of Dreams"?
Or so I thought. But when I reviewed the top 25 list on ESPN.com, I just couldn't think of anything to say that hadn't been said before.
Not that there weren't some fine movies there. Great stuff. Crisp writing, gutsy performances. Whimsy, heartbreak, you name it.
But I simply couldn't come up with a fresh take, until finally, it hit me. There were only two movies on the list that hadn't been made in America by Americans.
Aha! What about all the great foreign sports movies? Why not write about them?
But that, too, was easier said than done. I could barely conjure up five movies before my already meager supply of brain cells started to sizzle and pop.
So I decided to turn to you, oh trusty reader.
Actually, to those of you in my email address book. See, everyone who's written me over the last 31 weeks has been logged in.
I figured, why not just do a mass emailing? Take a poll.
If there's one thing I've learned about my readership, it's this: you're fiercely intelligent, well-reasoned, worldly, and wise.
ESPN 25: Best Sports Movies
So I mailed it off: "What are your favorite FOREIGN sports movies?"
And here are some of your replies:
Who gives a (expletive)?
Is there even such a thing as a good foreign movie? Good luck with the horrible assignment.
Does Iowa count? If so, "Field of Dreams."
Can we please consider "Rookie of the Year" a foreign movie so the world can't hold that against us any longer. Man, that one sucked.
From here in New Zealand, "Slap Shot" and "The Longest Yard" look pretty foreign, dude. I love you Yanks to death, man, but I wish you'd collectively work out that foreign is all about perspective. "The Boxer" ... Jim Sheridan, Daniel Day Lewis. They did amazing things with color and silence in this movie. Plus, some of the most realistic "movie boxing" I've seen.
"Bend it Like Beckham" was great. (And a big vote-getter.)
Does "Rumble in the Jungle" count? (That'd be "When We Were Kings" by Leon Gast, and sure, why not? A highly entertaining documentary film about the Ali/Foreman fight in Zaire.)
Remake of "The Longest Yard" a few years back using soccer in place of football. It was called "The Mean Machine.'"
"Cool Runnings."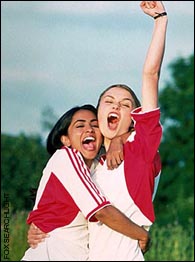 "Bend It Like Beckham" was one of the surprise films of 2003.
Would "Snatch" count? One of the themes is boxing.
"Endurance" The documentary/biography about the greatest middle/distance runner of all time, Haile Gebrselassie.
"The Lonliness of the Long Distance Runner" in which a young Tom Courtney running for a prison team refuses to win as an act of courage. The anti-Rocky ending, perfect.
"The Goalie's Anxiety at the Penalty Kick." (One of my favorites, just for the title alone. But you want bleak? Here's what IMDb.com had to say -- "A goalkeeper is ejected during a game for foul play. He leaves the field and goes to spend the night with a cinema cashier. He then proceeds to strangle her the morning after." Don't expect a remake from Disney anytime soon.)
"Fever Pitch' -- soccer movie based on the book of the same name by Nick Hornsby.
Don't forget "National Velvet.'" (Elizabeth Taylor on a horse, thanks, Colleen.)
"A Shot at Glory" was fairly predictable but an interesting English soccer movie. Robert Duvall as the coach was a nice touch
"The Seventh Seal." OK, chess isn't a sport, but it's really cool when he plays chess with death. "When Saturday Comes." The story of a troublemaker in Sheffield who gets spotted by the Sheffield United manager playing Sunday football. Of course he pisses it all away. Sveinn Birkir Björnsson, Gothenburg, Sweden.
My daughter Michele sends her vote for the animated "Triplets of Belleville."
"Shot on Goal" by Icaro Cisneros. It's about a mother whose two sons play for Chivas of Guadalajara, one of Mexico's most storied soccer teams.
Does "LeMans" count? It's still very watchable, as is "Grand Prix."
"Bobby Deerfield."
"This Sporting Life" with Richard Harris and Rachel Roberts. Directed by Lindsay Anderson. One of those British "kitchen sink" films of the early 1960's about a rugby player in Northern England. (This is a favorite of writer-director Ron Shelton, who happens to have directed four of the top 25 listed at ESPN. Ron also logged in with "The Loneliness of the Long Distance Runner" and "Touching the Void," a British movie about two mountain climbers who get stuck, and one has to cut the rope, letting the other fall. Hmmm ... Sounds a lot like Hollywood.)
It doesn't get any better than "Shaolin Soccer." Not that I have actually seen it ... I can just tell. ("Shaolin Soccer" received many votes. People say it's hilarious, but don't get the dubbed version.) How about "Men with Brooms"? That is, if you consider Canada foreign.
'Youngblood' took place in Canada. If it counts, that's my pick. 'Iron Ladies' from Thailand about ladyboy volleyball. Also from Thailand is 'Beautiful Boxer' about the transvestite muay thai kickboxer. Thais love their sports and their ladyboys, go figure.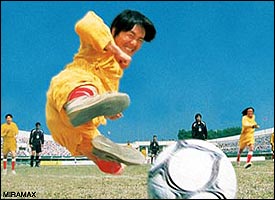 Forget bending it like Beckham, the moves in "Shaolin Soccer" kick butt.
'Olympia' by Leni Reifenstahl. (Documentary about the Berlin Olympics in 1936. Compelling stuff.)
"The Great Race." (Uh, okay.)
"Gallipoli" is one of my favorites. It stars a very young Mel Gibson as a competitive, Aussie runner who follows a friend in enlisting for service during WWI and witnesses the perils and futility of war.
"Phar Lap" -- an Aussie film about a famous race horse.
I'll never forget a trip to the cinema in London to see "Billy the Kid and the Green Baise Vampire," a musical billiards showdown. (Somehow, I don't think you'll find that one in Blockbuster.)
What's that movie where the guy that played Goose is a Paint Ball player in school, and he gets caught up in international Spy Games during the Cold War in East Germany. Does Paint Ball count as a sport? I don't know, I just wanted an excuse to see that Natasha chick's picture again. ("Gotcha")
"Chariots of Fire" for obvious reasons. It's a movie you can enjoy even if you don't know what a fartlek is. (Thank God for that. "Chariots of Fire" was the overall favorite by the way, with "Victory" coming in a close second.)
Isn't there one about some kids in a Tibetan village, or maybe they're boys in a monastery, that keep sneaking off in order to watch world cup games? ("The Cup.")
"Bad News Bears go to Japan."
There is a French film about hockey named "Les Boys" which is actually pretty funny, even for the French.
"Lord of the Flies" :-)
"The Power of One." Boxing, 1950's South Africa, Stephen Dorff/Morgan Freeman. Pretty good stuff. I believe "Victory" was an international production. If so, that would rank No. 1 with me!!! Pele, soccer, whipping some Aryan arse ... can't beat that with a baseball bat!!!!
(Many many votes for "Victory." It's a bit of a stretch, since it was directed by John Huston, produced by Freddie Fields and starred Sylvester Stallone, but why not? It's worth viewing.)
How about "Two Half Times in Hell" by Zoltan Fabri, the movie that "Victory" was based on.
"BMX Bandits" (Australia) from the early '80s.
If your definition of sport is broad enough to include "dancesport," then put me down for the Aussie comedy "Strictly Ballroom," where the competition is far more cutthroat than it ever gets in those sissy American sports of baseball, football and basketball.
("Strictly Ballroom" received three other votes. Hey, guys, you want me to put you in touch with each other?)
If Indiana is considered foreign country, then "Hoosiers."
"The Ten Commandments." Final score: Israelites 10, Egyptians 0.
(And last but not least): "Karate Kid Goes to Hawaii" Is that foreign?
(Okay, I'm out. And again, say a prayer for our troops who have their own foreign movie going on.)
Rob Ryder played basketball at Princeton and works as a screenwriter and sports advisor in Hollywood. He can be reached at robryder@adelphia.net.