I will always remember the night of October 27th, 2004. At 9:55 p.m., my father came to my side with tears in his eyes. He looked at me with aged, water-filled pupils and choked out, "I can't believe it. This is really going to happen."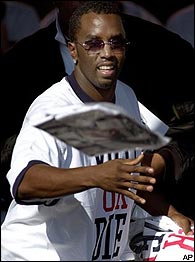 Listening to P. Diddy rap about anything is hard to take seriously.
I smiled back at him, and did the only thing I could. I gave him a hug.
After what seemed like an eternity filled with several teases and constant, heart-wrenching anxiety for longing, faithful fans, finally ... the new season of "South Park" premiered.
That's right. And it was a great freaking episode! Cartman, Kyle, and Stan mocked the "Vote or Die" fad and targeted P. Diddy for most of the jokes.
I know, you thought my Dad and I were tearing up over the Red Sox reversing the "Curse of the Bambino," by beating the Yankees in the ALCS and ultimately winning the 2004 World Series.
Um, no.
We're Yankees fans. And frankly, Yankees fans don't care about any World Series that the Yankees aren't in.
I spent the evening of Game 4 happily flipping between my beloved "South Park" and ABC's "Wife Swap."
Sure, I clicked to the game. I tuned in to painfully endured the performance of Creed's lead singer during the seventh-inning stretch and again later, just in time for post-game celebrations -- which I never miss. But I'd had my fill of actual baseball.
After all, by then I'd seen enough of the Red Sox love fest. As a Yankees fan, here's a brief recap of what I'll remember most:
Curt Schilling's blood-stained sock, which got more airtime in two games than Jessica Simpson in an entire year.
Scott Rolen either had acid reflux or his band played the wrong song for four games.
Red Sox Nation apparently consists strictly of 20-year-old white women wearing pink Red Sox hats (for a good cause none-the-less).

The most famous foot in sports.
Jimmy Fallon and Drew Barrymore rushing the field after Red Sox victory. The lovebirds embraced in a passionate lip-lock just prior to the Pedro Martinez-Derek Lowe hug on the mound. Huh? OK, shame on the Farrelly Brothers for capitalizing on this historic baseball moment to boost their upcoming movie "Fever Pitch."
Fox's fall lineup. Immediately following Game 4's final out, commercials commenced in the following order:

"The Rebel Billionaire"
"The OC"
"Trading Spouses -- Meet Your New Mommy"
"The Swan"

As if we didn't already have it memorized.

I admit that I'm bitter. To Yankees fans, the Red Sox winning the World Series is like that kid you picked on in grade school, who's suddenly grown up and steals your best girl. It's like "Revenge of the Nerds" come to life.

Watching folks come out of the woodwork to jump on the Red Sox bandwagon ... even in New York City ... makes me physically ill.

But on the bright side, Boston's victory spices up what was the most notoriously lopsided rivalry in sports. Which would you rather: four championships in nine years or one in 86 years?

Remember, no matter what shade of pink you paint it, Red Sox fans, will still always be, well, Red Sox fans.

One of ESPN's final 100 "Dream Job" contestants, Peter Schrager recently graduated from Emory University and covers popular culture for Page 3. He can be reached at PeterSchrager@yahoo.com