Super Bowl Sunday is the biggest gambling day of the year. Various reports suggest that more than $400 million dollars will be gambled on Internet sites this year. Last year in Las Vegas, bettors wagered a record $81.2 million on the New England-Carolina game with Nevada sports books winning a record $12.4 million. This year, an estimated $100 million will be wagered in "Sin City."
It seems like everyone in the world puts something down on the game. Compulsive gamblers lose their pants, the mailroom guy from the office gets a free vacation picking Larry Brown to win MVP, and your sister has to wash the dishes because Kevin Dyson comes up a yard short.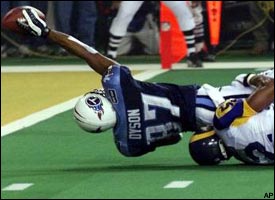 Oooh. So close. Hey, that's football.
"This is the biggest and busiest weekend for us. Hands down," says Maurice Perez, an oddsmaker at www.playersonly.com. "Everyone comes out of the woodwork to place a bet. With the whole world watching the game, a lot of folks like to have something a little extra riding on the outcome. It makes sense."
According to Perez, the Super Bowl "blows out of the water" Final Four weekend, the second-most active weekend for online betting.
The beauty or ugliness, depending on who you ask, of gambling on Super Bowl Sunday is not the money won or lost. The best part is the absolutely wacky, ridiculous and absurd types of bets that are made. Sure, the spread and the over-under get the most action. However, on Super Bowl Sunday, millions of dollars will be lost on the outcome of the coin toss, the MVP, or the first player who catches the ball.
In past Super Bowls, I have won money on an injury to Terrell Davis, lost my weekly allowance on a Steelers onside kick and paid for a spring break trip with a two-point conversion scored by Mike Vrabel. If you can think up a hypothetical situation for the Super Bowl, there's a way and a place to bet on it.
Web sites from all over the world are capitalizing off the demand for bizarre bets, known around the gaming industry as "props." Of course, to contact these bookmakers, you need to make the holy voyage to off-shore casinos you've probably never heard of. Or, you can just go to your computer, get out your trusty credit card and search the Internet.
The most popular "prop bets" being discussed this week have been the "Sports Specials" currently listed at a Canadian casino's website, www.sportsinteraction.com. Among users, this is the most entertaining of the gambling Internet sites and probably the least annoying as it has no pop-ups.
Sports Interaction, "the world's most interactive venue for sports betting," is taking action on millions of bets this week. Here are some examples of basic ones:
New England vs. Philadelphia (Winning Margin)
New England to win 31-35
Bet $10, Win $250
New England v Philadelphia (First Scoring Play)
Philadelphia Field Goal
Bet $10, Win $35

For the music fans out there, here are a few examples for the halftime show on the odds of Paul McCartney's first Song:
"Here Comes The Sun"
Bet $10, Win $330
"Eleanor Rigby"
Bet $10, Win $510
"Martha My Dear"
Bet $10, Win $810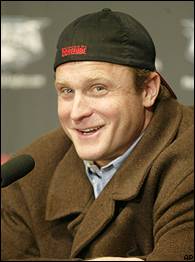 There are plenty of reasons to root for Jeff Thomason.
And we haven't even touched the Jeff Thomason specials. Yes, the former NFL vet-turned construction worker-turned "Super Bowl story of the week" has an entire page of the website dedicated to bets revolving around him. Here are just a few:
Jeff Is Named Super Bowl MVP
Bet $10, Win $250


Jeff Wears His Hard Hat instead of his Helmet
Bet $10, Win $340
Jeff Helps Construct the Halftime Show Stage
Bet $10, Win $1,010

Alex Cruz is the proposition bet manager at www.gamblerspalace.com. Though his Web site doesn't offer such "exotic" lines as Sports Interaction does on its site, he has received "hundreds, maybe thousands" of phone calls in regard to them.

"The phone is ringing off the hook for prop bets," Cruz said.

"Anything you can imagine on Sunday -- there are people out there who want to bet on it. Guys have called me asking what the odds are that Paul McCartney gets booed off the stage, like Ashlee Simpson did in the Orange Bowl."

As if putting one of the Beatles and Jessica's little sister in the same sentence wasn't enough, Cruz adds in a serious tone: "Everyone is very interested on what the odds of a streaker running on the field are this year. It's one of the hottest bets of the weekend."

Exotic prop bets go above and beyond the world of football. Think Morgan Freeman is going to win an Oscar for his role in "Million Dollar Baby?" Bet $10 on it, and you can make $15 back at Sports Interaction.

Perez, of www.playersonly.com, said reality television has become a booming money-maker for his website as well.

"'American Idol', 'Apprentice,' 'Survivor' -- people devote a lot of time to the contestants on these shows. We offer them the chance to invest in who they think the winners will be," Perez said.

Do I condone gambling? No, of course not. But these websites still are fun to explore. If you can handle "Tilt," "The World Series of Poker," and 24-hour-access to fantasy football tips, you can handle this, too.

If you are too lazy to find your own personal bookmaker, here are 10 exotic prop bets that I want to offer you. Take them at your own risk. Of course, all betting will be done with peanuts -- not actual money.

With that being said, let's roll some dice ... or nuts.
Nicolette Sheridan greets Terrell Owens before the game in the locker room.
Bet 10, Win 1000
The cast of Fox's "OC" will be somewhere in the crowd.
Bet 10, Win 20
The cast of Fox's "Johnny Zero" will be somewhere in the crowd.
Bet 10, Win 200
Bill Belichick will be referred to as "the greatest coach ever" and "underrated" in the same telecast.
Bet 10, Win 30
Joe Buck will sarcastically refer to last year's Janet Jackson incident as "Nipplegate."
Bet 10, Win 100
A deranged Jeff Garcia erupts from the stands, attacking T.O. with a feather and a "Divine Secrets of the Ya Ya Sisterhood" DVD.
Bet 10, Win 20,000
A toothless Jacksonville native is spotted wearing a Dale Earnhardt Jr. tee shirt during the pregame tailgate.
Bet 10, Win 5
The "Lingerie Bowl II" grabs more 18-34 male viewers than Paul Mc-WHO?
Bet 10, Win 50
At least one "Seacrest&Out" during the Fox Telecast.
Bet 10, Win 30
Freddy Mitchell catches more than one ball.
Bet 10, Win 5,000

Peter Schrager can be reached at peterschrager@yahoo.com.