Forget who went where and when. To real fans, the NBA draft is the ultimate parade of style hits and misses. For the fourth year in a row, ESPN.com surveys the fashion scene where talent was as top-heavy as it was on the draft board:
The Players
Big winner: Shaun Livingston. The Clippers draftee and No. 4 overall pick made the best impression, and it wasn't even close.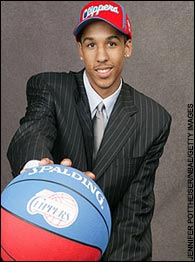 Livingston was the No. 4 overall pick in the draft, but top of the charts for this fashion review.
It wasn't just the black pinstripe suit accented with a sharp silver tie, it was that the braids in his hair looked like an effortless extension of his suit's pinstripes.
From hirsute to hair-suit!
If he coordinates with his teammates in the same way he coordinated his look, let the Clippers dynasty begin!
Other winners: Diagonal ties were the must-have accessory, sported by Emeka Okafor (who went with the charcoal pinny suit) and Jameer Nelson(standard black three-button ... no fourth-button for Mr. 5-foot-10-If-You're-Lucky!) ... Was Nevada draftee Kirk Snyder heading for the casinos after the draft? He looked James Caan-sharp in a storm-cloud gray suit, with an ivory shirt and silver tie ... The "He-Made-It-Work Award" goes to Ben Gordon, whose pink shirt/tie combo was as sharp as his shooting eye ... And a special "Alma Mater Award" to Devin Harris, who showed true Wisconsin pride with a Badger red tie (and pocket-square to match!)...
And the highly coveted "Bar Mitzvah Boy" award goes to: No. 1 overall pick Dwight Howard, who didn't just have the traditional "BMB" blue suit-white shirt combo, but the braces to match! If you told me he was 13 and heading to the podium to read his haftorah, I'd not only believe you -- I'd slip a check in his pocket.
Losers: The Euros, who normally look so dapper (see previous year "Big Winner" Tony Parker), climbed out of the crowd looking like they just got off the boat at Ellis Island: Someone tell Andris Biedrins that tan was out, like, four years ago ... (You, too, Josh Smith -- "bust," indeed) ... Sergei Monia, cinch that tie knot! ... At least he wore a tie, unlike Lakers draftee Sasha Vujacic, who didn't even bother to wear one ...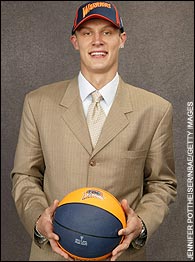 Um, a tan suit? Please tell us Andris Biedrins has more court sense than fashion sense.
The TV Crew
Taking sartorial first prize, NBA Draft rookie
Stephen A. Smith
, where the "A" must stand for "A really good-looking blue suit!" ...
Stuart Scott
-- a true clothes-horse -- was another big winner in black pinstripes ... Huge kudos to
Jay Bilas,
who accented a standard black suit and white shirt with a bold orange-and-red diagonal-striped tie -- the best tie of the night, by the way ...
And playing the role of international expert Fran Fraschilla in the night's performance: Nathan Lane! Actually, Fran looked Euro-rific in his black pinstripes; he must have been taking notes on his many scouting trips to Italy. (Sure, if "scouting" means "shopping," right, Fran? Wink wink, we won't tell!)
And finally: Tom Tolbert. What more can you say about an outfit (white sportcoat, black mock turtle) that truly speaks for itself?
The Families
The draft fashion show has always been -- and will remain -- about the moms. My mom manages to well up with tears at least once every draft broadcast just by seeing how thrilled the draftee moms are for their sons. What an interesting twist this year:
The biggest winner was Cheyenne Araujo, wife of Toronto draftee Rafael (and mom of some outrageously cute baby girl swaddled in pink, sleeping through the entire thing). Cheyenne made it her night as much as her husband's, with an eye-popping slinky black number with a neck-scoop as low as her husband's projected rookie scoring average. The camera loved her so much that even during Rafael's interview with Stuart Scott, the shot was of her. Chey-yowza!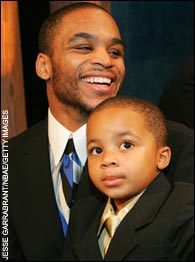 Turning the "awww" volume up to maximum, Jameer Nelson Jr. looks as fresh and clean as his Pops.
More from the moms (And dads! And kids!):
Huge shout-out to
Josh Childress's mom,
who took a cream suit and black blouse then pulled it all together with a variety of beaded necklaces (and extra thumbs-up for her on-air insistence her son will keep his trademark afro) ... Was Okafor's dad wearing a suit to match his kid? ... And in the "Awww!" moment of the night: every time the camera cut to Jameer Nelson's son, Jameer Jr., who wore a little-boy suit. Junior really stole the show when he wore the oversized Nuggets hat
backwards.
Nothing evokes sympathy from viewers like the player who sits depressed in the Green Room, undrafted -- nothing, except a cute little kid! If Nelson ends up a fan favorite, he can thank little Junior.
Front-office Fabulous ... or Fatal
We know the team execs are working hard in their respective draft rooms, but would it be so hard to skip the team-logo Polo shirt that looks like it was bought in the arena concessions booth? We're talking about you, Doc Rivers ... and you, Jazz GM Kevin O'Connor ... and you, too, Lakers GM Mitch Kupchak (your gray shirt symbolic for cloudy days ahead in Los Angeles perhaps?)
And taking the prize for worst outfit: Miami coach Stan Van Gundy, whose open-collar, washed-out tan shirt didn't say "South Beach" as much as it re-affirmed that he is Ron Jeremy's doppelganger. Maybe Pat Riley is leaving Miami for L.A.; what else could explain the Heat honcho letting his coach appear on air like that?
And a close second: Bobcats GM and coach Bernie Bickerstaff, who also thought that the tan look was appropriate as opposed to the reality that it was telegenically blah (a reflection of his team's offensive philosophy next season?). Couldn't he have even bothered to make the effort to find a "Bobcat Orange" tie?
And as for Commissioner Stern, don't think we forgot! Just one question: How bold was he for the lavender tie?! It softened him up, though he kept a firm hand on the proceedings.
NBA Draft Night All-Style Team
Shaun Livingston
Ben Gordon
Rafael Araujo's wife, Cheyenne
Stephen A. Smith
Jameer Nelson Jr.

CLICK HERE for Page 3's NBA Draft Red Carpet Hits and Misses.
Dan Shanoff is a columnist for Page 2. His "Daily Quickie" commentary appears every weekday morning.