For one contender, a Dream; for another, a nightmare. A season's worth of Dream Job comes down to two finalists -- ultra-slick Grant "Geico" Thompson and earnest David "Mayberry's Finest" Holmes. Let the chatty banter begin ...
The two contestants would run through a battery of competitions -- a mock PTI set-up, a trivia quiz and, finally, the most intense fake SportsCenter segment you've probably ever watched.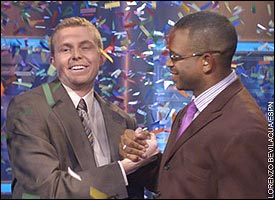 Confetti and a handshake from Stu make it official for David, the winner of Dream Job 2.
As usual, they were judged by the Big Four: Cold Pizza analyst Woody Paige, Cold Pizza co-host Kit Hoover, NBA analyst Stephen A. Smith (SAS) and ESPN talent honcho and My Man, Al Jaffe.
Let's get it on, for the right to host my late-night ESPNews wrap-ups (not to mention a new ride) ...
First Challenge: Mock PTI
The two guys sat facing each other (just like Tony and Mike! Alas, no Stat Boy) and strenuously debated a handful of topics, if "strenuously" means "speaks too fast" and "debate" means "agree."
From Eli Manning's first start to the legitimacy of the Cavs to Bonds' MVP bonafides to Yvgeny Kafelnikov going from tennis pro to poker pro, David and Grant baffled each other (and we the viewers) with a battery of memorized statistics and canned lines.
They agreed on Manning; they ran out of things to say after 30 seconds about the Cavs; I couldn't make sense of their Bonds arguments; and the only thing I remember about Kafelnikov was that David was pretty amusing.
I remember why I didn't like Grant from the start of the season -- he's simply too slick. He doesn't project sincerity. Perhaps that's the downside of coming in as a trained actor ... certainly actor-wannabe.
In the "Big Finish" replica, Grant forgot that brevity was the soul of wit -- come to think of it: he actually lacked brevity AND wit. By simply being shorter (not to mention punchier), David did a more effective job. Let's see how the judges felt:
Woody called it "great fun" and gave a slight edge to David. Kit told David he had his "A-Game." SAS called David exceptional and pointed out two Grant fact-errors. My Man Al had the line of the night: "We've got a hole at 3 o'clock; we could do the Grant and David Show." And he gave a slight edge to David.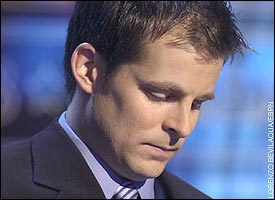 When it comes to trivia, Grant has nothing to hang his head about.
Second Challenge: Trivia Test
The test consisted of six categories with three questions each: Sports movies, Nicknames, Alma Maters, Masters Golf, Famous "Bills" and Rookies.
Simply put, Grant waxed the floor with David (10-3, with five questions neither guy could get, including the name of the Slapshot hockey team, the team the Hoosiers team beat, the full name of the football player nicknamed "Crazy Legs," the leading NFL rookie receiver and the last NBA rookie of the year to go to college. Go ahead, test yourselves!
I just don't know how much stock that viewers (or judges) will put into a trivia contest. Last time I checked, being a SportsCenter anchor was a lot more about making your way through a highlights package. Which is why the next test was one of the most intense gauntlets I've ever seen a reality-TV contestant put through ...
Last Challenge: The SportsCenter Highlights Package
Each guy was paired with a partner (David -- Steve Levy; Grant -- Dream Job Season 1 winner Mike Hall). They combined on an NFL highlight; then the contender had to interview an intentionally unhelpful Willie McGinest; then they had to do an NBA intro and highlight -- without a teleprompter, which conveniently "breaks"; then, following an NBA highlight by their partner, have to cut in with an NBA buzzer-beater they hadn't seen before; finally (and most harrowingly) while the partner does a college football highlight, David and Grant would get a message from the producer in their earpiece that they had to scrap their planned highlight and go with another. Not only would they have to come up with an intro ON THE FLY, they would receive the play-calling info from the producer in their ear, as they were speaking. It was seriously riveting, and the winner will earn it.
David went first. His chemistry with Steve Levy (who I am partial to, anyway) was sensational from the start. He stumbled slightly when McGinest offered him little in the way of "A" in "Q&A," but he smoothly shifted discussion to the upcoming Pats-Chiefs game, closing with a great question about McGinest's new baby.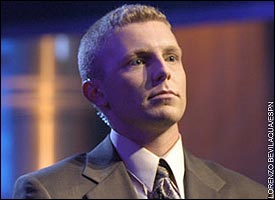 David delivered when it counted in the finale.
David stumbled slightly on his NBA highlight, but recovered nicely with his buzzer-beater ad lib.
The final test -- the fully ad-libbed college football highlight -- was David's finest hour. Even my wife looked up from what she was doing to comment, "Wow, that guy did GREAT." It was slightly rocky, but given how HARD it was, he was exceptional, to borrow one of SAS's favorite adjectives.
How did the judges think he did? Kit gave him a "really nice job"; SAS called him out for being tripped up by McGinest, but lauded him for his ad-libbed college football highlight; Al gave him "good" marks across the board (interaction, chemistry, lead-in); Woody though he was outstanding and had the kicker of the night: "I'm proud of you."
Frankly, that was a hella high bar for Grant, who started well enough with his NFL highlight with Mike Hall. I still think Grant sounds VERY rehearsed (like the actor he is). I started taking this notation: "Dave, by comparison:" and in this category, I gave Dave the nod for better chemistry. Grant felt like the No. 1 guy, Dave felt like part of a two-man team.
The Grant train began to derail in the McGinest interview. McGinest's intentionally brusque answers threw Grant off a little bit. His kicker asked for "one reason" the Pats are so good. Lame. From my notes: "Dave, by comparison: Was much more effective."
From the interview, Grant was supposed to move onto his NBA highlight (the prompter is supposed to go down to test their ad-lib skills). Grant simply freaked out. He said, to the viewers, that there was no highlights package -- then one magically appeared on our screens. He never really recovered, stumbling through the reel, trying desperately to catch up and calm down. He finally got through it and passed the package to Mike; Grant's sight-unseen buzzer-beater was okay. Again, by comparison, David just crushed him.
Grant actually recovered a little bit in his completely ad-libbed college football highlight, but you simply got the sense that he KNEW he had blown it. But let's see what the judges said:
SAS "wasn't very impressed" and noted that when he was thrown off by the highlight, it was "conspicuous." Al commented that it's "not the Grant we are accustomed to seeing." Woody noted that Grant's eyes wandered early. "When the prompter went down, you lost it; you know it ... Not your best effort." Kit agreed "not your best" but noted that he was "still good up there." But good enough?
The contestants stood in front of the judges to get their verdicts from the judges and the viewers. Grant looked like he was going to cry; David looked confident, but not in a smug way.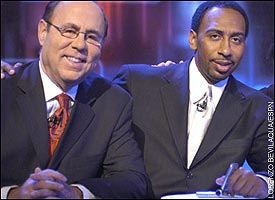 The finalists had to get through Al Jaffe and Stephen A. Smith one last time.
Here are the results:
America cut Grant Thompson, and you kind of knew it was over for him at that point.
Woody, fairly, noted that David did better in the finale, but judged the contestants on all 10 weeks' work. He cut David.
Kit: "Tonight belonged to one person -- David Holmes." She cuts Grant.
SAS offered brilliant imagery: "This was Game 7 ... it's about stepping up, handling your business to capture your championship." He called David "sensational" and said Grant was "sensational up until Game 7." That was all SAS needed to know. He cuts Grant, and technically, it's over (even before My Man Al gets a chance to go!)
David Holmes wins the Dream Job.
There's much celebration, confetti, teary-eyed parents, a shocked contestant, and an enthusiastic host Stuart Scott.
Ah, what's this? My Man Al gets the last word: "I really thought this was going to be a great show. I think they did things that the average SportsCenter anchor couldn't do." Then he notes he would have joined America and voted to cut Grant, too.
I, also, would have voted to cut Grant -- for the fact he blew it when it counted, for the fact that he comes across as just a little too polished and for the affirmative fact that David went the furthest from Week 1 until tonight.
See you next season!
Dan Shanoff writes the Daily Quickie for Page 2 and hosts the Morning Quickie on SportsNation's Show, 9-10 a.m. Mon-Fri.