New season, new twist for the TV-wannabes known as the contestants for ESPN's "Dream Job." This time, it's five former NBA players of varying degrees of obscurity, competing for a spot as an on-air NBA analyst.


Matt Bullard is the only contestant with a championship ring.
If you think it's all shouting or coaching celebrities in All-Star Weekend exhibition games, you're
so
wrong. It takes an expert's eye, a glib tongue and -- based on the first episode -- no energy whatsoever.
As usual, the contestants are judged by Woody Paige, Kit Hoover, Stephen A. Smith (SAS) and My Man, Al Jaffe. I'm the unofficial "couch judge" for Page 3, still waiting for the day when I am invited on as a special-guest judge.


Usually, the worst contestant gets the boot, but this week was a mulligan. But that doesn't mean I can't offer up an initial ranking of the five contestants, based on their performances Sunday night, when each was asked to break down a game's highlights:


1. Gerald Wilkins


Intro segment: What a name-dropper! Apparently, he played some guys named "Dr. J," "Bird," "Magic" and a sibling named "Dominique" in his first week as a pro. Tiny violins, Gerald. Tiny violins.


The Tryout:
The Good: Sported the best outfit of the night, a pink shirt with a monochromatic pink tie.


The Bad: Wait: I thought this was for an analyst job; all I'm getting from him is play-by-play.


The Ugly: Didn't. Know. That. The Tele-Prompter. Was. Supposed. To-Be. Read. So. Slowly. And. Haltingly.


The Judges: My Man Al commended him on pinpointing the Mavs-Kings' problem was defense, but smacked him for having a too-long intro and too-long closing; Woody liked his smile and his fashion style, but wanted solutions, not just problems; Kit spotted that it was all play-by-play; and SAS made it loud and clear: He wants "Names! You know who dropped the ball; you didn't tell me that."

My Judgment: And this was the best of the group? Yikes.


2. Matt Bullard


Intro segment: He wants to remind everyone that he has an NBA Finals ring; kept waiting for him to say that it gave him more credibility than Barkley (instead he said it gave him more cred than Stephen A. Bad move, dude.)


The Tryout:
The Good: Name-dropped his relationship with Cavs coach Paul Silas, which is good because he did the Cavs-Nuggets game.


The Bad: Where's the energy?


The Ugly: Zzzzz.


The Judges: SAS got off a good one: "This is a basketball game, not a chemistry class."; Al echoed: "Get a little more excited."; Woody offered a two-tiered critique about what he wants from an analyst: Anecdotal material and tell him something he didn't know (Bullard whiffed on both); Kit thought he seemed natural, but wants him to have "a little more fun up there."

My Judgment: After his tryout, he was spotted on camera talking about how he couldn't be let down, because he didn't have any expectations heading into the competition. Oh, but viewers can be.


3. J.R. Reid


Intro segment: Really, is going to UNC that much of a bonus? It's not like he went to, ahem, Northwestern's journalism school. Or, say, Duke.


The Tryout:
The Good: Short intro and closing; got right to the highlights.

The Bad: A little TOO into the European basketball style (he was analyzing the Sonics-Suns game).

The Ugly: Introduced every clip with "Right here ..."


The Judges: Woody liked some of it, but, like SAS, wanted more names, along with "more theory"; Kit praised his voice, but wanted him to "give us something new"; SAS hammered it home: "Names! Names! Names! Give me names! You guys are protecting somebody! Names!"; Al followed up with a quip: "I am Al Jaffe." (Al, you rule!) He noted that Reid was a "little too much play-by-playish for me."


My Judgment: And like the European hoops game he favors, his effort was also kind of soft.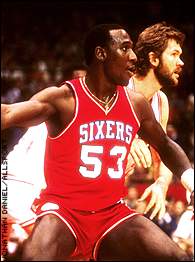 On camera, Darryl Dawkins' delivery was slow, easy-going with nice pacing.
4. Darryl Dawkins
Intro segment: I have very high hopes that he can be a poor man's Barkley.


The Tryout:
The Good: Slow, easy-going delivery; nice pacing.

The Bad: He was supposed to talk about the pick-and-roll, but it got lost in the rest of his analysis.

The Ugly: He can't read the teleprompter without sounding like he's reading the teleprompter.


The Judges: Kit wants him to be "a little more natural"; SAS called him out for not synching his analysis to the video that was on the screen; Al had The Line of the Night: "I had hoped for Chocolate Thunder, but I got a few sprinkles ... a light rain." Genius!; Woody wanted to see a translation of the excitement Dawkins provided as a player, but didn't get it. ("Think about your own experiences and think about the way you articulate with other people the way you play the game.")


My Judgment: Of the five analysts, he's the one who can get away with relaxing on the analysis and just adapt his unique voice. Didn't do it this time, but he should work that angle.


5. Dee Brown


Intro segment: He's very intense. He's a perfectionist. He went first. (And he finished last.)


The Tryout:
The Good: Isn't he Dee Brown, Slam Dunk Champ?

The Bad: The opening intro went on WAY too long.

The Ugly: Everything he said sounded like it was being read right off the page. Wait, it was.


The Judges: Woody liked his observations, but said it "sounded like you were reading rather than talking"; Kit wanted to see more of his personality; SAS: "I'm disappointed in you," and compared the experience to competing in a slam-dunk contest. In short, he needs more energy; Al agreed with SAS: "Too read-y," "no personality" and called the presentation "boring."


My Judgment: He's going to have to RADICALLY change his style to get past next week's cut.


Before it was over, the judges gave a few final tips:


Woody: "Give us something that we don't know. Something that we haven't heard before. That's what I want you to come with next week."


Kit: "You all have great personalities; let us see that."


SAS: "Names! I want names. Stop protecting people. Other than that, show me your personality."


Al: "I think you all need to do a lot of work. Dee and Darryl, you're both in jeopardy of being the first cuts. Dee, don't read; Darryl, more energy. All of you: This show is like your rookie year, and no one is going to be cut. Next week, one of you will be cut before this show ends."


Dan: "What Al said. See you next week, fellas."
Dan Shanoff is a columnist for Page 2. Every weekday morning, he writes the Daily Quickie for Page 2 and hosts the Morning Quickie on SportsNation (9-10 a.m. ET). This is his third season reviewing Dream Job.