HOLLYWOOD, Calif. -- The coolest place to hang out during the 2004 ESPY Awards just might be the coolest place you've never heard of.
SkyBar will host Jamie Foxx's after-party following the 12th annual ESPY Awards.
And the SkyBar would have it no other way.
Located in a quaint yet regal setting adjacent to the Mondrian Hotel in West Hollywood, SkyBar is where the pretty people go to play -- whether they're out by the pool catching rays or under the stars after dark.
On Wednesday night, it'll again be host to Jamie Foxx's after-party following the 12th annual ESPY Awards (airing Sunday, 9 p.m. ET, ESPN).
With clean lines and spectacular views in nearly every direction, the atmosphere emulates both big city and down home country. Uniquely uplifting and relaxing, SkyBar is the hot place to sip a cocktail, socialize with friends, and most notably, fly under the radar.
Unlike many popular celebrity hot spots, no filming or cameras are allowed on the premises. Occasionally, even picture phones are confiscated.
"We want the environment to be fun for everyone. Whether it's a celebrity or a couple out on a date that doesn't want to be hassled, no one wants to be watched while they're having a few cocktails and enjoying themselves," SkyBar managing partner Peter Famulari said.
"We believe the experience is so spectacular, we don't need to enhance it by saying 'guess who was here.' We think it's really cool, and people come."
They certainly do ... famous faces such as Roger Clemens, John Elway, Joe Montana, Michael Jordan, and Denzel Washington, just to name a few.
Even the not-so-famous crowd is trendy and cool. Generally speaking, SkyBar patrons are not easily impressed, and if they are, they don't show it, making autograph-seekers few and far between.
"If you're a celebrity or sports personality, you're not going to feel like you're on display or the world is starring at you, because the crowd, in general, is cool in its own right."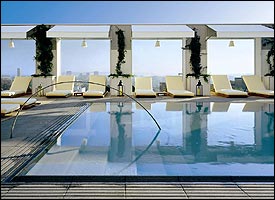 SkyBar's pool is the perfect place to enjoy a mojito.
That's not to say there haven't been star-struck moments, both from clientele and employees alike.
"At our ESPY Awards party last year, there were two parties that ended up here, and at one point, we had to close the doors. And (wrestler) Cale Sanderson walked up, and I was a wrestler in college, and I said, 'I don't care, that guy is getting in.' "
Skybar opened eight years ago and built its reputation on the name of former Studio 54 owner Ian Schrager.
It has grown to be considered one of the top bars in Los Angeles, despite its lack of self-promotion.
"I have an extraordinary staff who have been successful and made a good living," Famulari said. "So, they don't leave, and the fundamental team has been here since the day we opened. It's the complete package."