There's something about sports that brings out raw emotion in everyone.
Who didn't choke up when puny Rudy Ruettiger finally got into the game for Notre Dame in "Rudy?" Or when Coach Herman Boone led his football team to victory in "Remember the Titans?" Don't even get me started on "Brian's Song" -- that bucket is still full.
So, it stands to reason, when sports and adversity intertwine, handkerchiefs and tissues are will be in high demand.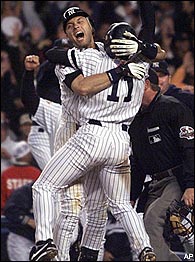 In 2001, the Yankees gave New York something to smile about.
Such is the case with HBO's moving documentary "Nine Innings From Ground Zero" which tells the story of how baseball gave Americans, especially the citizens of New York City, a way to recapture the pride and sense of play that seemed to be lost in the rubble of 9/11. Narrated by actor Liev Schreiber and produced by Ross Greenburg and Rick Bernstein, "Nine Innings," airing Sept. 14 at 10 p.m. ET, revisits the role baseball played in New York City's recovery efforts following the Sept. 11 terrorist attacks. The images are stirring
:
Yankees' and Mets' players visit fire stations and command posts to console survivors . . . in a riveting sequence at Shea Stadium, the Mets and Braves come together in front of 41,000 fans, in the first major sporting event played in New York after the attacks . . . the Yankees and Diamondbacks go back and forth in one of the most dramatic World Series ever. As "Nine Innings" shows, the games -- and the players themselves -- did more than their part to comfort a nation in mourning. Indeed, they inspired. The nation had never needed its pastime more. "Baseball just made 9/11 a little better for us," says young Brielle Saracini, whose father, Victor, died when the United plane he was piloting crashed into one of the Twin Towers on that fateful date. To help alleviate her grief, Saracini reached out to Yankee shortstop
Derek Jeter
. He reached right back and touched her heart by personally inviting her to Yankee Stadium. That's one of many emotionally-charged segments featured in this 60-minute documentary that opens with footage from Game 7 of the World Series, and then quickly segues into a shot of construction workers ripping apart the remains of the Twin Towers, footage that, even three years later, is still raw.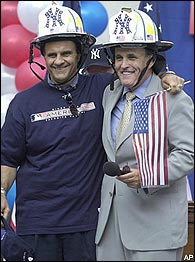 Joe Torre and Rudy Giuliani did what they could to lend support.
Those sobering scenes are followed by a segment with a daughter talking about her dad's love for the Yankees. He was a firefighter who had tickets for Yankees-Red Sox game on Sept. 10. He gave them to her because he had an early meeting at the station house on Sept. 11. But the game was rained out, so she never got to use those tickets It was the last gift her father gave her. He was one of 343 firemen who perished at Ground Zero. The ensuing segments include interviews with players such as
Paul O'Neill
,
Scott Brosius
,
Mark Grace
,
Curt Schilling
and Jeter as well as with managers Bobby Valentine, Joe Torre and Bob Brenly. They talk about how inept they felt initially, and how the game somehow gave people new hope. In "Nine Innings," Rudy Giuliani, then NYC's mayor, says that the only things that got his mind off 9/11 were "baseball and my son's football games."
Our escapist pleasures -- especially sports and entertainment -- have long played this role. During World War II, FDR insisted that Major League Baseball continue to play ball to cheer up the home folks, and the All-American Girls Professional Baseball League entertained as well. The turmoil of the 1960s was offset by the music of Motown. When President Kennedy was assassinated, Judy Garland inspired the nation with her stirring rendition of "The Battle Hymn of the Republic" on her TV show the Sunday following JFK's funeral. And 38 years later, her daughter Liza Minnelli did likewise with a spirited performance of "New York, New York" at Yankee Stadium during the World Series.
"There was something about baseball, which is the American sport and its outdoors, and it's in the fall and it was right in the city that had been brutally attacked," Giuliani says. "It had a wonderful impact on the people of the city. It was exactly what they needed to get their eyes off the ground, looking to the future." .
Miki Turner can be reached at dmiki@aol.com.