LOS ANGELES -- It's always entertaining to see athletes and actors break out of their boxes and try something daring, and perhaps even dangerous. It was especially gratifying Tuesday as Serena Williams, Lindsay Davenport, Amelie Mauresmo, Maria Sharapova and several other WTA top female players, fired up their engines and took a few Porsche Cayenne SUVs for a competitive spin.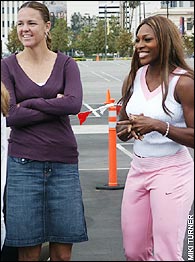 Lindsay Davenport and Serena Williams just wanna see the keys.
With an ESPN billboard advertising the Dale Earnhardt biopic "3" ironically looming in the distance, the participants -- who also included Anastasia Myskina, Elena Dementieva, Svetlana Kuznetsova, Vera Zvonareva and Jennifer Capriati -- congregated across the street from the Staples Center for the WTA Tour Championships' Porsche-sponsored event.
"I'm just nervous about the paperwork," Williams joked. "I can't hold anybody liable! If I get hurt, I want to be able to hold somebody liable!"
Capriati, an alternate at this week's season-ending tourney, was as nervous as she was unprepared. Apparently, she didn't get the memo regarding proper foot attire -- no heels. So, she borrowed a pair of Filas from Kuznetsova.
"I just don't want to be the last one," Capriati said. "I don't want to be the slowest or hit the most cones."
With some trepidation and, um, intimidation from above, the athletes got a crash course in maneuvering vehicles through strategically-placed, orange cones.
The top three finishers were Mauresmo, followed by Kuznetsova and Davenport.
Davenport, ranked No. 1 in the world in tennis, took to the road quite nicely.
"It was funny going through the course and trying to weave through the cones and still go fast, but it was exciting. It was a little scary. One corner, I probably took a little hot."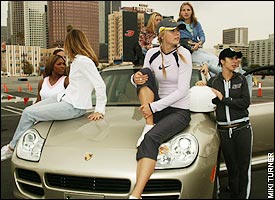 These ladies will have no problem finding a car-modeling career after tennis.
Meanwhile Sharapova, who only got her driving license three months ago, was enlightened. "This is totally different -- definitely an experience," she said. "It was very good though. I love speed, corners. It was fun."
But did the inexperienced driver have any mishaps? "I think I knocked down a cone, gosh darn it!"
Williams, who's used to being at the top of the pack, didn't crack the top three but enjoyed the experience nonetheless. "I have an SUV and a sports car and I drive very fast," she said. "I feel a real need to speed. I've always said I should be a race car driver because I drive so fast."
For her racing efforts, Mauresmo won the opportunity to enjoy the Porche Driving Experience. Meanwhile, the winner of the tournament which begins Wednesday night at Staples (Nov. 10-15), gets to donate a Porche to her favorite charity.
Miki Turner covers the fusion between sports and entertainment for Page 3. She can be reached at dmiki@aol.com.