MALIBU -- It would have been difficult to spot Bethany Hamilton among the swarm of bronzed, blonde surfer babes at the upscale Malibu restaurant, had it not been for her missing left arm.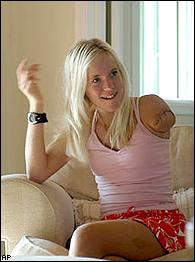 Bethany Hamilton is rising surfing star despite losing her arm to a tiger shark while surfing on Kauai's North Shore last year.
In fact, Hamilton, dressed in brown corduroys and a form-fitting baby doll T-shirt, blended in like your average teenage surfer at the press junket for the inaugural Rip Curl Malibu Pro event, in which she competed. But unlike the other teens, Hamilton is also promoting her autobiography, "Soul Surfer."
It may seem implausible for a 14-year-old from Hawaii (or anywhere else for that matter), to have accumulated enough life story to fill 213 pages, but on Halloween morning, nearly one year ago, Hamilton became much more than your average wave rider.
On that day, she hit the waves at Tunnels Beach in Kauai with several friends and two strong arms. But by days end, her left arm had been severed at the arm pit, courtesy of a 14-foot tiger shark.
To add insult to injury, the predator also removed a sizeable chunk of her surfboard.
It's not entirely uncommon for surfers and divers, as well as your average swimmer or boogie boarder, to have unfortunate encounters with sharks or other disgruntled sea creatures when entering their natural habitat. Some live to tell about it, and sadly, others don't.
In Hamilton's case, conventional wisdom suggested she'd be in the latter category, especially considering the extent of her injury and massive amounts of blood lost. But for some unknown reason, Hamilton was able to paddle her way back to shore after the attack. She was spared. Perhaps because she had a story to tell -- a testimony to share.
Her book, "Soul Surfer," while part autobiography and part endorsement for her sport and sponsor, is mostly a testament to this young girl's faith in God.
But despite the many references to God, faith, and love of family, the book is not fire and brimstone, Brady Bunch-esqe rhetoric likely to turnoff non-believers or MTV devotees. Hamilton shares, she does not preach.
| | | |
| --- | --- | --- |
| | " | A lot of people think of soul surfers as people who just surf and don't compete. But I think it's someone who just loves surfing for what it is, never gives up and always sticks with the ocean. " |
| | | — Bethany Hamilton |
"The main reason why I wanted to write this story was because I just wanted to talk to people about Jesus Christ because that's why I'm still here," explained the 2004 ESPY Comeback Athlete of the Year. "I want to be a witness for Him. I assume that he's working all bad things toward good. I'm just glad to be doing all this and I hope that it inspires someone else."
At times, interviewing Hamilton was unsettling because it was difficult to know how to approach her. Looking at her and talking with her, it's clear that she's just a kid -- one who's perfected the art of surfer "teenspeak." She giggled and fidgeted and spoke in incomplete sentences like a typical teen.
But unlike many teens I've encountered, Hamilton is not searching for Destiny's Child; rather, she's pursuing her own destiny. She's got direction. She knows who she is, where she's going and why.
When I asked her the best and worst aspects of being able to write an autobiography at such a young age, she replied, "Um, I'd say the best part is being able to share my faith in God and the worst part is probably ... there wasn't anything really bad about it. I guess I missed time in the water."
And how she came up with the books title?
"My dad came up with 'Soul Surfer,' she said. "A lot of people think of soul surfers as people who just surf and don't compete. But I think it's someone who just loves surfing for what it is, never gives up and always sticks with the ocean."
Like God, the water is her salvation.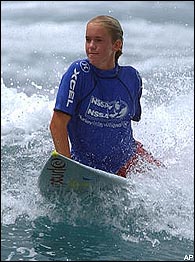 They don't come much stronger than Bethany Hamilton.
Even after the accident, Hamilton never considered giving up surfing, a sport she's competed in since age 11. Instead, she got right back on her board and resumed her career.
Just a few months after her recovery, she placed fifth at the National Surfing Championships. Since then, she's placed high in several other events, including a victory over the defending champion to win a National Scholastic Surfing Association competition in Hawaii last August.
How does she do it?
"I mostly just have to work on kicking a lot so that my paddling is not so slow," Hamilton explained. "I wear a paddling glove in competition and I have a handle to duck dive because it's hard to do with one hand. That's like about it."
Why does she do it?
"That's easy. I love it so much."
At which point, Hamilton got up. It appeared the interview was over. She'd been a gracious subject, but I guessed the Pacific Ocean's increasing swells, just 100 feet away, were calling her name.
But before leaving, Hamilton shared some closing comments. She hopes that her peers, those who worship God as well as Beyonce, Kelly and Michelle, will read "Soul Surfer."
"I just hope they get encouraged to never give up and to just have fun out in the water or whatever they love to do," she said. "And that Jesus Christ loves them."
Amen.
Miki Turner covers the fusion between sports and entertainment for Page 3. She can be reached at dmiki@aol.com
.