After seeing "Friday Night Lights," the compelling and riveting story of the Permian High School football team's quest toward the Texas state playoffs in 1988, you're likely to instinctively feel sorry for James "Boobie" Miles.

As "Friday Night Lights" his theaters this Friday and the ESPN Book Club debuts on Page 2, ESPN.com takes an in-depth look at the story of Odessa (Texas) Permian High School football: FROM THE ESPN BOOK CLUB:

As the star running back for the top-ranked 5A powerhouse in Odessa, Miles was endearingly cocky to some, insufferably arrogant to others, yet coveted by nearly every top Division I coach in the nation. They could see the fire in his belly without the benefit of an MRI and offered up fast cars, faster women and the opportunity to win some national-championship bling in exchange for his speed, size and healthy innards. And maybe, if he had time, he could also get a legitimate education. It seemed like an even swap to Miles 16 years ago. But all those candy-coated visions of fame and fortune dissolved into useless clumps of despair and anonymity when Miles got one of his prized Nike cleats stuck in the artificial turf during a preseason game, tearing his anterior cruciate ligament. That one-in-a-million player who was his family's ticket into a higher tax bracket became just another brother forced to reside in Hard Luckville, USA. I was one of those people who initially felt sorry for Miles, who is wonderfully portrayed by actor Derek Luke in the film that opens Friday. It wasn't so much that he was unable to fulfill his dreams -- that happens to trillions of people every day. It just seemed to me that the people who built him up-the Odessa locals, his school, his Uncle L.V. and all of those recruiters who were salivating at the thought of having Miles carry the pigskin across the plane, put him on a pedestal so high that when he fell it wasn't his bones that were shattered. It was his spirit. Some people never recover from that fall. I needed to know if Miles was among them, so I tracked him down through a series of calls to some local Odessa reporters and a few of Miles' cousins. There were disclaimers that came along with the information.
Call him today because he might not have enough money to pay his cell minutes. He's a drifter. I ain't seen him. Try this number and if he's not there, call me back and I'll see if I can dig up another one.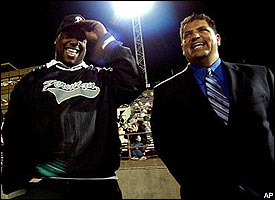 Boobie Miles, left, shares a laugh with former Permian teammate Brian Chavez on the set of "Friday Night Lights."
When I finally did reach Miles, his cell minutes were dwindling, so I called him back on a land line in Midland, Texas. I knew immediately he was no tragic figure. He was not some guy who was bitter about all he had lost on the night he tore up his knee. Rather he is a man in his mid 30s who knows better than to question fate. It was not about the how's, the why's or the what if's with Miles. It's all about the journey and what he has learned from it. I no longer feel sorry for Boobie Miles. The first thing Miles wanted to know was if Luke had made some good runs in the film that he has yet to see. He laughed heartily when I told him the star of "Antwone Fisher" was no player. "I was wondering because he's so much smaller than me," Miles said. "He told me he had never played football before. But he did a good job acting, though." Miles is currently married and supporting a blended family that includes his older son, his wife Shayla's daughter and their 4-year-old twins. He's working as a maintenance man at an apartment complex. His uncle, L.V., who rescued him from Foster Care in Houston when he was 8, died in 1998. His birth father who lost custody of him when his new wife abused Miles as a child, died two years later. The mother who abandoned him still lives in Midland.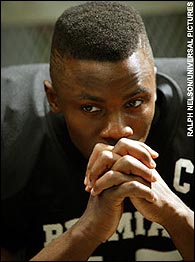 When you see the saga of Boobie Miles on the silver screen, you feel empathy for the young football star.
After Permian and his subsequent ACL surgery, Miles attended Ranger Junior College for a year and played as a fullback before flunking out. He then spent some time playing semi-pro football in Culpepper, Va. Throughout both of those experiences, however, he was never able to regain his confidence or his ability. Had Miles not tried to play on his bum knee at Permian before having the surgery, he might have been able to recover some of his previous luster. But the pressure to provide a better future for his family made him make some costly decisions. "I wanted to play, I wanted to play," he said emphatically. "I should've been smarter. I did everything and anything to try to stay in the game. "I came back, but I was never 100 percent. I say maybe I was 85 to 90 percent. Every time there was always a problem, and I wasn't used to that. I had to get (the knee) drained and have special treatment. Then there was always the fear of getting hit again even with the brace on. I mean, I used to get hurt -- a sprained ankle, broken finger, broken arm or something. But man, you mess up your knees ... There's always something that had me scared that somebody was going to target it or something because they knew that was my weakness." Although Miles says he doesn't regret trying to come back from the injury in high school after one of his doctors strongly advised him not to, he still has difficulty dealing with that memory. According to Luke, Miles, who makes a cameo appearance in a locker room scene, was on the set nearly every day when the film was shooting in Odessa. When the scenes got tough, however, the tough one got going. "When we would do the emotional scenes, he would get in his car and leave," Luke said. "It was really hard to watch that part when I got hurt," Miles said. "That was real hard. But being on the set was a blast. Me and my friends and my kids and their friends, we had a blast. I'd never done nothing like that before."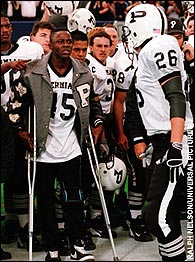 Actor Derek Luke captures Boobie's frustration after his knee injury.
Universal has invited Miles, some of his ex-teammates and former Permian coach Gary Gaines to the film's premiere Wednesday night at Mann's Chinese Theatre in Hollywood. Miles has kept in touch with Brian Chavez, who runs his own law firm in Odessa, and has seen some of the other players from that much-hyped '88 squad, but has had no contact with Gaines. "Me and him weren't on good terms," he said in a decidedly more tense tone. "We never saw eye-to-eye, me and coach Gaines. There was always some bickering or something." Perhaps Miles felt Gaines (played by Billy Bob Thornton in the movie), like many other folks in Odessa, had no use for him after he blew out his knee. In Odessa, a town that brings new meaning to the term urban blight, a healthy Miles was the equivalent of O.J. Simpson during his Heisman run. The damaged Boobie was about as valuable as an expired Wal-Mart coupon. "It was totally different," said Miles of the way he was treated before and after the injury. "It was like night and day. Out of sight, out of mind. No one tried to really help me out. It ain't even like that down here. It's kind of, you know ... they don't want people to say it or put it out there like that, but it's still that black and white thing down here." It would be easy to blame the people who let him down, but for Miles that would be too easy. In hindsight, he realizes he let himself down, too. He should have studied harder. He should have known that fame is fleeting. He should not have bought into the hype. These lessons will come in handy as he grooms his own son, James Miles III, to be the best damn running back in the Lone Star State.
"I'm getting him ready, teaching him to cut and spin," Miles said excitedly. "I don't regret nothing that happened. It was fun, and I had a blast. I just wish it would have ended up in a different way, but I don't regret. If there's anything I regret is that I didn't take advantage of my opportunity to get a degree when I was at Ranger. "If I were to come across a kid who gets hurt in high school, I'd want him to understand that he needs to keep his education first. Then, if you're in that situation just work hard at it. Don't be down. I got myself down. I was always trying to blame somebody for the reason that I was hurt. You just have to be tough and keep your mind straight and stay in those books! "And keep God on your side and everything will work out." Especially after those Friday night lights have faded to black.
Miki Turner covers the fusion between sports and entertainment for Page 3. She can be reached at dmiki@aol.com
.