Today's athletes have plenty of bling and bravado, but I can't think of one who could carry the jock of Jack Johnson.
He was, as actor James Earl Jones noted, "a danger to the natural order of things."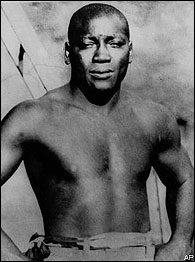 Jack Johnson did things his way.
Johnson, the first black heavyweight champion, openly defied the written and unwritten rules of the early 20th century. He dated and married white women during a time when black men were lynched for just looking at one. He wore gold caps on his front teeth, smiling as he taunted and pummeled opponents in the ring. He routinely abused the speed limits in cities across America and pretty much did and said as he pleased.
He was the original playa.
Johnson's story was initially chronicled on Broadway in the late '60s and in the 1970 film "The Great White Hope." On Jan. 17 and 18 on PBS (9 p.m. ET or check local listings), filmmaker Ken Burns revisits Johnson's compelling life in a documentary called "Unforgivable Blackness: The Rise and Fall of Jack Johnson."
This two-part, four-hour presentation offers perhaps the most comprehensive look at the man despised by whites -- and some blacks, too -- for having the courage of his convictions. Black leader Booker T. Washington once said in reference to Johnson that "A man with muscle minus brains is a useless creature."
Burns does a masterful job of using rare archival footage, a haunting score by Wynton Marsalis and insightful interviews to make Johnson come alive. He traces Johnson's life from his impoverished boyhood in Galveston, Texas, to his dominance in the boxing ring and the legal problems that eventually brought him down.
Among those featured in the piece are Stanley Crouch, Bert Sugar, the late George Plimpton, Jack Newfield, Gerald Early and Jones, who portrayed Johnson in both the stage and film versions of "The Great White Hope."
There's riveting footage of Johnson's first white contender, Tommy Burns, who proclaimed that "all coons were yellow" before their bout. Within seconds of the opening bell Burns was on the mat. Throughout this fight you'll see Johnson taunting Burns, talking to people in the crowd as well as Burns' corner. The fight was called in the 14th round, but the film crew on hand was actually ordered to stop shooting in the 13th because at the time no one was ready to see the completion of a black man beating down a white man.
The highlight of "Unforgivable Blackness," however, is the title fight pitting Johnson against James J. Jeffries, the original Great White Hope. In his prime, Jeffries was unstoppable, but he continually refused to fight Johnson simply because he was a black man -- and one with a deadly left hook.
But on July 4, 1910, Jeffries came out of retirement to face Johnson in what was tabbed the "Battle of the Century" in Reno, Nevada. Johnson KO'd his opponent in the 15th round, subsequently sucker-punching a country unwilling to accept a black man as the heavyweight champion of the world.
Johnson's victory resulted in race riots throughout the States and new legislation. Soon after the fight, Congress passed the Mann Act, a law prohibiting the transport of women in interstate or foreign commerce "for the purpose of prostitution, debauchery, or for any other immoral purpose."
Johnson became a prime target because the vast majority of the white women he dated had dabbled in prostitution. In 1913, after one of his former lovers testified against him in court, Johnson was convicted of violating this act. He jumped bail and fled the country.
In the ensuing years, Johnson competed in meaningless exhibitions to pay his bills. His first real fight came in 1914 when he fell to challenger Jess Willard in Cuba. Six years later Johnson returned to the States, turned himself in and did his time, but he was never given another shot at the heavyweight title. Johnson was killed in a 1946 automobile accident outside Raleigh, N.C. He was 68.
In between the highs and the lows of Johnson's storied life, Burns paints an intriguing portrait of the man behind the legend. The son of former slaves, Johnson only had five years of formalized education but he was an avid reader, loved history, adored Napoleon and got his kicks by performing in vaudeville shows.
Burns does a fine job of drawing lines. Although Johnson has been dead for more than half a century, astute viewers will notice that at the turn of the century Johnson went through some of the same things that today's athletes are experiencing.
The difference, however, between Johnson and the new bloods is that Johnson's particular brand of arrogance was rather endearing in a way. You can't help but respect a man who did it his way during some very unforgiving times.
Miki Turner covers the fusion of sports and entertainment for Page 3 in L.A. She can be reached at dmiki@aol.com.