The Dallas Cowboys might have been America's team back in the day, but it was their cheerleaders who became America's sweethearts and international pop culture icons.
These women appeared on television specials, had their own calendars, mugs and posters, and even performed overseas.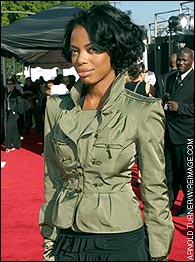 Thanks to her cheerleading days, Jill Marie Jones knows how to handle the spotlight.
"Girlfriends" star Jill Marie Jones was one of them. The Dallas native spent two years shaking her pom-poms, among other things, on the sidelines of Texas Stadium. And she also spent a year working it for the Dallas Mavericks in the early '90s before heading west and becoming a TV star.
Jones, who plays the delightfully self-centered and materialistic Toni Childs Garrett on the hit UPN show, recalled those days of cheer and revealed her current passion in an exclusive interview with Page 3 over steak and potatoes at the Stinking Rose.
1. When did you go out for the Dallas Cowboys Cheerleaders?
Well, I graduated from high school when I was 17, but you couldn't try out for the cheerleaders until you were 18. I got a little worried because that year the Cowboys won the Super Bowl in Pasadena and I knew that everyone and their momma was going to want to be a cheerleader!
How many girls did you try out with?
It was something like 1,200. It was crazy. There's a preliminary, semifinal and a final audition. In preliminaries, basically they hoard you through -- it's like cattle -- they put you in a group of like eight and then they turn on Top 40 music. You never know what you're going to get. I was praying for R&B, pop, something I could dance to. Then you just start dancing freestyle. That's the moment that you have to be seen because there are a lot of talented people. Semifinals, they teach you a kick routine and a four-eight count routine. If you make it past that, the finals -- and this is a doozy -- consists of a current events test, a test on football and Cowboy history -- you need to know who is in the Ring of Honor. And you also have to make up a routine.
What put you over the top?
My sparkling wit! No, I don't know ... my dance ability maybe, or my personality.
2. Did you always want to be a cheerleader?
It was like a childhood dream sort of. I'm from Dallas and the Cowboys are huge. I remember being in Korea and people didn't know English, but they knew Cowboys, Cowboys! I remember gong to the games with my dad and just being mesmerized by the cheerleaders. My first love, my passion is dancing. So, yeah, that was like a whole living-out-a-dream type of thing.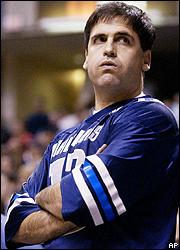 Mark Cuban is always looking out for the best interest of others.
3. Any athletics in your background?
You know what, when I was in the seventh grade, I played basketball, volleyball, ran track and I played softball. I was not good at any of those! But all of my friends played those sports and I wanted to be with my friends. I did do cross-country, too. I remember when I was playing basketball, I had these Puma shoes and the bottom soles looked like brand-new shoes throughout the season. I never played! But my mom would come to every game with some Jiffy popcorn and she'd be sitting over there watching me sit on the bench.
4. You spent a year cheering for the Mavs. Compare that experience with the Cowboys.
I hope I don't offend anyone, but the Dallas Mavericks dancers were real dancers. They come from the school that I came from -- the technical school of dance. So, where I shined with the Cowboys, I was trying to keep up when I joined the Mavs. I felt challenged. It was a really great place to be, too, because I felt like I was in class again, that I was learning and everything, so it was really great.
5. Talk about the celebrity factor.
Oh, honey. The Dallas Cowboy Cheerleaders are huge celebrities in Dallas. They're huge stars. There's this little sticker -- a blue star -- that the cheerleaders put on their car windows. I didn't, but when you saw one of those you knew it must be a cheerleader. It was a great time. I go back -- the Cowboy organization has been so great to me -- and they'll give me tickets to a game. And Mark Cuban, even though he wasn't there when I was there, he's given me his seats.
Any weird fan encounters?
I'm not going to say his name, although I do know it. And there are rumors now that he was a registered sex offender. I would get like 300 pieces of mail a day, no joke. That's a great thing and they make you write people back. They really do and it's so important because it helped me a lot when I became an actress. It evened out the rough edges. There was this one particular guy who would be wherever we appeared. And if you didn't speak to him, oh honey, he would tell on you. And you might just get in trouble.
We were told not to write people in jail and I thought that was a little unfair. After all, they were serving their time. So, I'm writing this guy and he's obsessing about me and then all of a sudden he's getting out soon and telling me he wanted to hook up! I'm like, oh no! ... That was probably the scariest.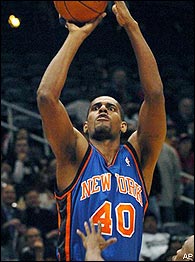 Kurt Thomas is good company to have -- just ask Stephon Marbury.
6.
Are you still a big Cowboys fan?
Oh, it's the home team! I'm not a huge sports fan, but one of my best friends plays for the Knicks (Kurt Thomas), so I try to keep up with basketball a little bit. Sports are a good reason to throw a party though! People really want to come to a good Super Bowl or playoff party!
The Cowboys aren't what they used to be.
Yeah, but I was in there when it was good, baby!
What was the relationship like between the players and cheerleaders? Was there mutual respect?
The cheerleaders have very strict rules. One is no fraternization with the players. Now, I heard a couple of things in the dressing room from time to time (laughs). But no, it was really like we don't date the players.
7. Who were some of your favorite players?
I wasn't in it that deep, but I remember having fun with Michael Irvin once during training camp. It's the only time that the Cowboys are actually on the sidelines and see the cheerleaders' performance. Normally, they're in the dressing room or whatever. I remember afterwards Michael Irvin walked up to me afterwards and said, "Jill, what time is it?" He had two Rolexes on his arm. That was kind of funny, but I didn't really have any favorites. I remember Nate Newton was really nice.
8. Who's sexier, football players or basketball players?
Basketball players! Everything is so hidden with football players -- their faces, everything. But with basketball players, sometimes they're taller and they look great in clothes.
Would you ever date an athlete knowing what you know about them?
Well, I wish I would have known some things before I dated one! But seriously, people are people. I would not not date someone based on their profession. I'd get to know them first.
9. What was the pay back then for the cheerleaders?
We were paid like $50 a game. Five-oh! They get more now. I made most of my money with the Cowboys through personal appearances and I was also in show group. We'd perform at conventions and stuff. You definitely had to have a full-time job, be a full-time student or mother. The great thing about the Mavericks was that I was doing other things. I was busy modeling, too. The Cowboys practiced every day, the Mavericks did not, so I had much more flexibility.
Talk about the sex kitten factor.
I think that was more tied to the teams of the late '70s and early '80s. I don't know how to answer that question. Every time we'd be at the airport or go out of town people would think we were beauty pageant contestants. I never thought of us being sex symbols, but I guess we were.
10. And now that you've hung up your pom-poms for sitcom stardom, you've recently picked up some gloves?
I love boxing. I'm a bad ass! I've been boxing for maybe about a year now with Terry Claybon, who trained Denzel, and Matt Damon for "Bourne Identity" and all of the Wayans brothers. It's the greatest workout for me because I don't really like traditional workouts. I need more creative ways to stay fit that are fun. I have a newfound respect for boxers, too. Before, it was hard for me to watch boxing because I thought it was so barbaric. But now it's become like an art to me because I understand it. At this point could you take someone out?
God forbid anyone come after me, but I definitely have more confidence -- and you're talking to someone who has never had a fight in her life. So, I don't know if I could kick anybody's butt though! Maybe in a script that I write!
Miki Turner covers the fusion between sports and entertainment for Page 3. She can be reached at dmiki@aol.com.