HOLLYWOOD -- It's midday at the "Entertainment Tonight" offices on the Paramount lot and the big buzz of the day is whether Britney Spears is pregnant.
And Kevin Frazier, "ET's" weekend anchor and weekday correspondent, is looking over the paperwork for his new Beemer.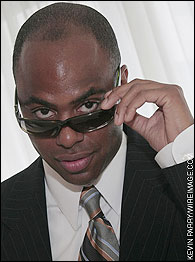 Former sports anchor, Kevin Frazier, has gone Hollywood.
Glad to see the Morgan State alum still has his priorities in place.
Frazier, the former host of ESPN's "NBA Shootaround" and "Fastbreak Tuesday," then sat down and chatted about his transition from sports to entertainment.
1. What has the transition from sports to entertainment been like?
I think a lot of folks were originally thinking like, 'What are you thinking, dawg?' It was hard for them to understand what it's like to be on a movie lot, to be around it and go to all the movie premieres. It's a lot like basketball in a sense because athletes are big stars and these people are big stars. So it's all the same. There are a few more amenities over here, but that's all I'm saying.
2. What about the differences in attitudes?
Athletes are forced to talk to the media. The weirdest thing about this is that actors aren't forced to talk to the media. I know that there are 82 times a year I can talk to Shaquille O'Neal and he has no choice. There are not 82 times a year where I get a shot at Brad Pitt. So that's very interesting and it makes the dance a little different. But once you sit down with them, everybody's kind of the same. The athletes are used to facing the press, whereas with actors it's a love or hate relationship. You don't form that bond unless you form it away from ... It takes a moment.
3. What have been some of your most memorable experiences as a sports person?
I mean there's been tons from when I was a local guy and interviewed Ken Burns just before "Baseball" came out and how fascinating he was, to Michael Jordan at the NBA finals when I worked for Fox. When I worked at ESPN, Yao Ming doing his first English interview. There's so many different personalities that made it fantastic and made it great.
4. Are you able to get out to a lot of games now?
I'm a Lakers season-ticket holder and I go all the time.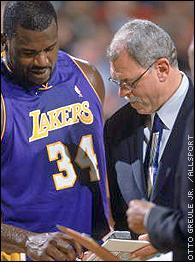 No Shaq, no Phil. But Kevin's still got love for the Lakers.
Mark Steines said you're probably the only dude in town who could name the starting five.
They don't even have a starting five any more. Hey, I'm one of those people who was hurt by the fact that Shaquille O'Neal was gone. My father was an assistant for the Knicks when Phil Jackson played for the Knicks. So, I'm hurt by the situation. I'm hurt and I paid my money! They got me! What's very interesting is that when you're the studio guy for the NBA, you're in the studio all the time. I watched hundreds of games on TV but I didn't go to that many games. Now, I'm at all the Laker home games and loud!
How about those Clippers?
You know what? They beat up on some folks and if Mike Dunleavy gets them to play together and all of a sudden Chris Wilcox is pulling his world together, Clipper tickets might be valuable and I might have to make a move! No, I'll never give up the Lakers, but I might have to make a move and get some kind of Clippers deal.
5. It's still early in the season, but what teams are you liking?
You know, I love Shaq, so I know that Miami is going to be tough. And last year on "NBA Shootaround" Dwyane Wade came up and visited us and they were killing me during the playoffs -- Greg Anthony and Stephen A. -- they were like you're just Dwyane Wade Homer, you're just on his jock. But that boy can go! I love Dwayne Wade! I love the Suns now. They're so much fun with Steve Nash and all the energy.
6. You still playing in the NBA's Entertainment League?
Yeah, I'm in the NBAE. Let me just tell you something -- this is so hard for people to understand. When I went to Bristol, I missed the NBAE league so much. It was just coincidental that as soon as I leave, my team wins the championship. In the NBAE league, when you win you get a ring! And how ironic that this year my team is the Pistons! And I'm like, 'Oh wow, I don't know if I can put this uniform on!' But it's great. I love that league. What people don't understand is that when you get in there and they close the doors, it's just a bunch of guys playing basketball who love to see each other. Like last week, we beat Boris Kodjoe and Will Ferrell. I have Donald Faison ("Scrubs") on my team. I love it. I mean, I love it.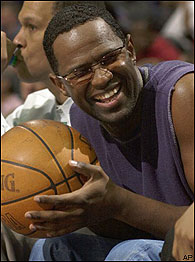 Brian McKnight has got plenty of rhythm on the court, too.
Who are some of the better players?
Brian McKnight can go. He's got a nice little game and our little war started on this outdoor court in Woodland Hills (Calif.). We had this little adversarial thing and it got crazy. I was like, 'Who do you think you are? You ain't Jordan.' He was trying to give it to us, but we beat them. We killed his team by about 15, 20 points. But he can go. At the World Music Awards, we saw each other on the red carpet and he was like, 'Listen man, we've had some crazy things in the past, but I love watching you on the NBA.' And I was like guess what, 'I don't work there anymore.' Donald's good. Marc Blucas, he played at Wake Forest. You know who can really play? Flex can play. Flex Alexander can play and Flex will flush it on you; same with Wood Harris. Wood can get up and elevate. Boris can play. He doesn't have any help, but he can play.
7. What's you favorite athletic memory?
My father coached at Morgan State and in '74 they won the national (Division II) championship. And when I was a little kid -- I was 10 at the time -- I always used to sit on the bench next to my father, which is hilarious because I always tell people that my training is as a basketball coach. If you can imagine I'm 10 and in the middle of games and my father would talk to me. We would talk during games. He would turn to me and say with 11 minutes left, 'They're going to run out of steam, that's why we're going to press them.' Or little things like, 'We're going to run this play for this reason.' That's what I remember the most, being with my dad, because it leaves such an imprint on you as a little kid.
8. What did you think of the brawl between the Pistons and Pacers? Was Ron Artest a victim?
You know what, when I was a kid my dad also coached in Venezuela, so I have seen the fans and players fight many times. As Americans, I think that finger we point at all the English soccer players ... all that junk we talk, shut up now. I think it was everybody's fault. Artest was idiotic for going in the stands. At the same time, I can't believe the fans were throwing things at him. The thing here is that America finally got a taste of what Europeans know all too well.
9. Is Mark Steines one of the sexiest men alive?
OK, I was in Mexico on the set of "Bandidas" with Penelope Cruz and Salma Hayek. I saw a People magazine lying around and looked through it. I flip to the page with Mark Steines and I go, 'Omigod!' I didn't know I was working with one of the sexiest men alive! I like him a lot. We actually talk sports in a place where sports is kind of banned. But, wow, it's hilarious. Sexy daddy! Alright big baller!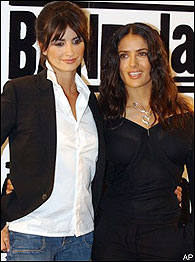 Can't go wrong with either pick.
Who's sexier Penelope or Salma?
Omigod, it's funny. You know they are very different. Salma is like the homey-ghetto-ooh-look-at-my-gurl sexy. And Penelope is very elegant -- like, ooh look at my woman, she's very beautiful fine. They're both so different. One is like, girl put on your jeans we're getting ready to go to the basketball game and the other is like my woman is very elegant. So, I can't choose! I like them both! They're both fine. What do you say to that? I'll take either one! If Salma's available, I'm not arguing. I'm not the big loser if Salma shows up!
Anna Kournikova or Maria Sharapova?
Oh, there's no question. In my whole career on TV doing sports I always refused to say that blonde girl's name. I did this when I worked at Fox Sports, I said when she wins a tournament I will start saying her name again. Then, I amended it to when she got to the quarterfinals, I would say her name. She never even made it. So, that one goes without saying. I'll go with the winner -- the girl who has won something!
10. How important is the babe factor in sports today?
Look at (Maria) Sharapova, look at what Serena (Williams) wears. Unfortunately for women's sports, to make palatable to men and even though it's a little controversial -- men don't wanna see really butch women in sports. They don't. How happy was the WTA tour when Maria Sharapova won Wimbledon? There's a sexy billboard of her right now on Wilshire Boulevard. And look at what Serena wore at the U.S. Open and look at what she wears now. Sex sells and for a lot of the women it's unfortunate. But that's what brings that mass audience. They have their small audience, but to bring that mass audience, unfortunately, you need some sex appeal. Lisa Leslie might be the most dominant player n the WNBA, but you know what? She's also a beautiful woman and she's a model, let's not forget that.
Miki Turner covers the fusion between sports and entertainment for Page 3. She can be reached at dmiki@aol.com.