IRVINE, Calif. -- Prior to meeting Anna Kournikova at the Smash Hits charity event at University of California-Irvine's Bren Center, I must admit that I just didn't get it.
More specifically, I didn't get her.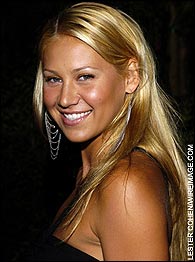 Men all over the world have been infected by Anna Kournikova.
Sure, she's tall, blonde and thin, yet athletic -- there's no denying she's pretty. She's married to singer/heartthrob Enrique Iglesias and is the former wife of hunky hockey player Sergei Fedorov -- so there's some accounting for good taste. And she's famous enough to even have a computer virus that bares her name. But so what?
With the possible exception of the virus thingie, there was seemingly little that made her stand out from the rest of Hollywood's blonde, cover girl-types. To me, Kournikova was no more than a marginally-talented tennis player whose good looks catapulted her to the top of babe rankings. She was tennis' Paris Hilton.
OK, taking a closer look, that may not be an entirely fair comparison. After all, prior to the nagging back injury that forced her into retirement last year, Kournikova did have a job. She even managed to break into tennis' Top 10 without winning a major title.
And a few sickening PDA photos with her then-boyfriend, now-husband in the tabloids doesn't compare to scandalous pornography videos finding their way to the Internet.
So, I admit it. The more I watched the Russian-born athlete up close and personal, the more intrigued I became. The superficial mirage created by the "evil" media hype machine seemed to dissipate before my very eyes. She'd been replaced by a flawless creature in a form-fitting, black, spandex shirt and skirt outfit that revealed a strategically-placed tattoo on her backside when she moved or shifted.
Kournikova is more than pretty, she' strikingly beautiful. I'm talking Greta Garbo-Lena Horne gorgeous. If you're too young to know of whom I'm talking about, "Google" them or take my word for it. In their prime, Garbo and Horne make Angelina Jolie and Halle Berry look downright average.
As the evening continued, Kournikova mixed and mingled with the stuffy and less stunning attendees. And she simply blushed and giggled when grown men shouted, "I love you Anna!" as she was introduced to the crowd.
Kournikova's serious side became evident as she and doubles partner Andre Agassi took on Andy Roddick and Tracy Austin to help raise money for Elton John's AIDS foundation. She may be retired, but she sure hasn't lost her competitive fire.
Between matches, Kournikova was playful as she attempted to show a small ball boy how to hit a proper forehand with a racquet nearly twice his size.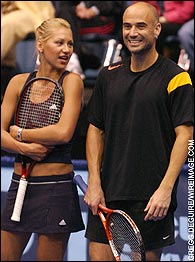 Playing alongside Anna will make anybody giddy, even Andre.
It's difficult to assess whether Kournikova gets caught up in the hype. At face value, it didn't appear that way. But amongst a steady stream of oohs and aahs, it made me wonder: How does she deal?
Well, she giggled a lot, displaying a kind of warmth that those of us who were fed a steady diet of anti-Russian propaganda in high school felt Russians were incapable of. She talked about her foundation, AKSeven, and commended fellow tennis pros -- Agassi, Roddick, Austin, Darren Cahill and Brad Gilbert -- for lending their time and talents to such a worthy cause, "gratis."
To sweeten the pot, Kournikova, along with Roddick, allowed herself to be sold to the highest bidder during an auction held the night before. A local couple paid a whopping $16,000 for the pleasure of counting carbs with FHM magazine's Sexiest Woman in the World.
"The lunch was just awesome," Kournikova gushed. "We had lunch with Billie Jean and the couple had a foundation for hearing aids and it was really interesting conversation. I'm glad they donated the money and paid that much to have lunch with me."
Need more proof that she's not what some might call a cheap date? Earlier this month while guest starring on "The Apprentice" with John McEnroe, one contestant asked what he'd have to do for a lunch date with her and it cost him his dignity.
Initially, Kournikova agreed that if he returned one of her five serves, she'd have lunch with him. Considering that during her playing days, Kournikova's best serve was about 10 mph shy of the 121-mph bullets that Venus and Serena Williams routinely blast across the net, you'd think a grown man armed with an oversized racquet could at least make some contact.
Not even. Five chances, five misses.
Desperate, he asked for another chance to prove his worthiness. So, Kournikova suggested he run around the court naked. Hmmm. She's naughty and nice.
When I mentioned how gratifying it must have been, for a man strip down to his shorts on national television just for an opportunity to have lunch with her, Kournikova let loose a hearty laugh.
"I've got to be honest, I didn't see the episode because I was out of the country," she admitted. "It was all very innocent when we were doing it. There were about 10 of the guys there and a million people around."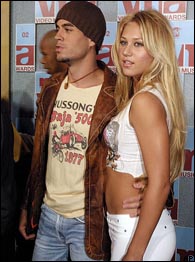 She can run, she can serve, but she can't escape Enrique's love.
Translation: Homeboy dined alone that day.
Although her handlers are inundated with Hollywood offers, Kournikova, who made her film debut in "Me, Myself & Irene," isn't interested in pursuing a fulltime career in the entertainment industry right now.
"The Apprentice was the only thing I did this year and I did it because it was about tennis and John McEnroe, which I thought would be great and easier for me," said Kournikova, who also appeared in a music video with Iglesias nearly three years ago. "I felt his support there and that was great. But no, I need to go on to Japan and do a couple of charity projects that I'm working on. I'll be devoting a lot of my time to that."
In terms of her athletic endeavors, Kournikova's future remains somewhat of a question mark.
"Well, this year I haven't obviously been able to play," she said slowly. "I'm taking a lot of time in developing and strategizing and figuring out what it is that I want to do -- if I can play or if I can't play. I didn't make many appearances or do a lot of public things over the summer. I've just been trying to work with my team and put everything together.
"Of course, I can't really talk a lot about it now. I just want to make sure that everything's in position and everything is ready."
With that, Kournikova was off. Beefy bodyguards kept the curious at bay as she made her way back to the court followed by her Smash Hits coach Billie Jean King.
The irony of this Kodak moment isn't lost. King, one of tennis' great champions, seemingly single-handedly saved women's tennis back in the day. Kournikova, even if she does return to the Tour may never ascend to King's heights, but she is a savior of sorts.
She's got fans and she fills seats.
OK, I get it now.
Anna, call me. Let's do lunch. My treat.
Miki Turner covers the fusion between sports and entertainment for Page 3. She can be reached at dmiki@aol.com.