LOS ANGELES -- He's one of the good guys of country music, but Tim McGraw trades his halo for a dusty, good 'ol boy baseball cap to play the troubled father of a young athlete in "Friday Night Lights," a biopic based on the 1988 Odessa (Texas) Permian High School football team.

As "Friday Night Lights" his theaters this Friday and the ESPN Book Club debuts on Page 2, ESPN.com takes an in-depth look at the story of Odessa (Texas) Permian High School football: FROM THE ESPN BOOK CLUB:

It's the first starring role in a feature film for the Grammy-winning singer and he doesn't disappoint. McGraw plays Charlie Billingsley, a former all-state Permian football star who peaked in high school and who has been on a downward slide ever since. Still bitter, Charlie takes his frustrations out on his son Don (Garrett Hedlund), who is never going to be the caliber of player his father was. McGraw, the son of the late Phillies closer Tug McGraw and husband of country queen Faith Hill, chatted about his role, his own athletic past and his seemingly unlikely collaboration with a rap star he met during NBA All-Star Weekend a few years back.
1.
You play a real bastard in this film. How tough was it for you to get inside the character of that character?
McGraw:
I thought the script was just incredible. It was so well written and the part of Charlie just sort of jumped off the page. It's just such a strong character. I didn't have to work to get into Charlie's skin because I think that what I did -- I like to think that he was so much different than me -- that it was easy for me to just sort of shut me off. I just let that character kind of take over and not let myself get in the way. I thought that he could be a good character, somebody who was not just some raving lunatic. There was something behind him. I thought that there was some meat behind him other than just being a loud-mouthed drunk.
2.
Charlie is a guy who's still stuck in his past glory. Can you identify with that?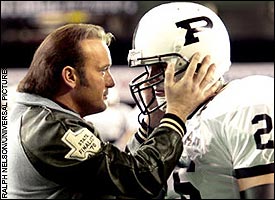 As Charlie Billingsley, Tim McGraw lives vicariously through his son, Don, and Permian's 1988 season.
Sort of. I played high school basketball, football and baseball. I was a jock. But our football was nothing on the level of those guys' football. I mean, we were good football players. All of my buddies -- we were all-state, all-district and all that kind of stuff. But I don't think we could have walked on the field with those guys. It's just a whole different world (with) 5A Texas football. I went to a B school or a C school. So, I can relate a little bit on how everybody was into football. I mean everybody loved coming to our football games and our basketball games. But I can't relate to just the complete devotion and religion that it is there. But it seems very exciting and fun for it to be that way. I would have loved to have played under those circumstances even though I enjoyed where I played. They played in a 20,000-seat stadium with Astroturf and that kind of stuff. I probably would have melted down when I walked down there. But Charlie, from his point of view, the best year of his life was his senior year in high school. Everything that happened to him in his life from that point forward -- from the day he graduated -- the way he felt about himself, the way everybody felt about him and everything in his life just went completely downhill. Nothing ever got anywhere close to that. And then his son comes along and just sort of shows up and wants to play football where he played football. His kid isn't as good as he was, and he's frustrated that he's going to loose his dreams all over again with his kid now. He's trying to give him advice, he just doesn't know how to do it right.
3.
You didn't know Tug was your dad until you were a teen, but did you know parents who were trying to live through their kids?
Absolutely. I'm sure when some friends of mine see the movie some of their dads will probably say, "Oh, I know where he got Charlie from." Everybody's been to a Little League game or a field and seen that guy show up. At every single game he's yelling at people. Even some of the coaches sometimes yell like that. I saw my share of them growing up.
4.
Did you meet your real-life counterpart?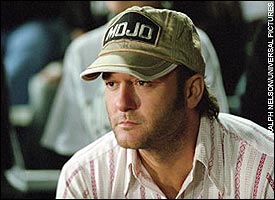 McGraw says it wasn't that difficult to leave his own personality behind and get into the character.
I didn't meet him. In fact, I never even saw a picture of him until I saw one hanging on the wall of the house where we shot the movie because art decorated the place, and there was a picture of him in a football uniform in high school. That's the only picture I ever saw. I never met him or any of the real-life characters. I met one guy, Buddy Hale, who was the principal of Permian High School who had gone to school with Charlie. I talked with him for about 20 minutes one day on the side of the football field about Charlie, but that was about it. I didn't really want to study a lot of pictures and meet him. I wanted to be the character that they had written in the movie.
5.
Are you worried about meeting him after he sees the film?
Oh, I hope not. How old is he now?
6.
What teams do you root for?
We love the Titans, for sure, and the Packers. I'm a Packers fan, so I've got the AFC and the NFC covered. And I've always loved the Saints, because I'm from Louisiana. So, I've got to say I love the Saints.
7.
What is it about high school football in the South that has this ability to captivate an entire town?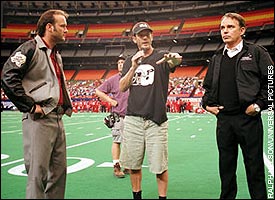 In his first feature film, McGraw gets some instruction from director Peter Berg, center, and actor Billy Bob Thornton.
Well, I think it's probably just part of the fabric of American life, and it has been for a long time. It's just in there. There's a sense of cohesiveness, I guess, for the community. You can step up rivalries. We were talking yesterday about how intense it gets. ... I was the same way when I played, and I probably still would be if I were a coach. But, you forget in high school athletics that it is high school athletics and the school doesn't have athletics just to have athletics. It's there to teach people something. It's there to teach them about teamwork, responsibility and listening to a coach. If it's done right, it's a good thing.
8.
What position or positions did you play in high school football, and what was your greatest athletic achievement?
I played wide receiver, defensive back, ran kicks back, ran punts back. I was on the kickoff team. I was always on the field. I played a lot. My greatest achievement was that I made all-district in all three sports (football, basketball and baseball) as a senior. I made all-state in a couple of them.
9.
So, you were a pretty good athlete?
Yep, the older I got the better I was, too! In another couple of years, I'll be all-world in everything! Yeah, I was a pretty good athlete, but I went to a small school, too. As good as we thought we were, we wouldn't have been able to walk on the field with Permian.
10.
You recently collaborated with Nelly. What was that experience like?
His manager called me up. I've always been a big fan of Nelly's. I'd met him at a basketball game during the NBA All-Star game in Atlanta a few years ago when I smoked him pretty good. We talked and had always talked about working together. So, he had written this song, and the first thing Nelly said to his manager was to call me because "he wanted to do it with a country singer. He's a bad-ass. He's got game, and he's got a fine-ass bitch!" That's what Nelly said, and I have to respect him for that. If you know Nelly, he's such a great guy, a nice guy, so you can't take anything wrong with that. So, I couldn't wait to work with him. So, to him this song sounded country, and I get in there and say, "Man, there ain't nothing country about this song!" It was fun, I had a great time. I hope we do a video together.
Miki Turner covers the fusion between sports and entertainment for Page 3. She can be reached at dmiki@aol.com
.