UNIVERSAL CITY, Calif. -- On the same afternoon that the Philadelphia Eagles secured their Super Bowl spot without Terrell Owens, the woman who played opposite T.O. in the controversial "Monday Night Football" commercial spot, appeared on stage at the Universal Hilton Hotel with her castmates from ABC's "Desperate Housewives" to talk about the show's phenomenal success.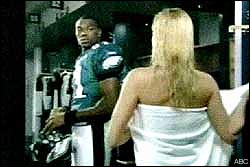 Anybody remember the score of the game?
The 'Desperate' stars fielded questions from television critics for nearly 30 minutes before someone was brave enough to ask Nicollette Sheridan about the uproar she caused by dropping her towel in front of Owens. Sheridan, clearly a little bored with the issue, tersely responded that she thought the whole thing was "absurd."
After the session, however, the 41-year-old actress, loosened up about the incident and a few other things with Page 3:
T.O.'s team is in the Super Bowl, so are you rooting for Philly?
Nicollette Sheridan: (Laughs) Oh, my T.O. ... I love him! Boy, what a stir we caused. Unintentionally though.
Are you pulling for the Eagles?
(Wistfully) I might.
Have you chatted with T.O. since taping that spot?
No, I haven't. It'll be amusing when we run into each other. We can have a laugh.
Whose idea was it to drop the towel?
Oh, here we go! I was given a script. I was given it the morning of the day that I left to go and shoot it. I didn't know whether or not I was really going to do this. ABC wanted me to go and Marc Cherry ("Desperate Housewives" creator/executive producer) handed me the script and off I flew. And we did this spoof, this skit. It was intended to amuse and entertain, not to offend.
Apparently, John Madden was supposed to be in the spot instead of T.O. Is that true?
I'd only heard T.O. It was really a last-minute thing that they asked me to do this. Obviously, I wasn't getting paid to do it. It was just, 'We need you to go and do this as a promo' and I said, 'Alright, it's been a long week, but I'll go.'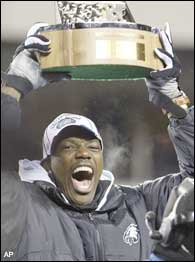 "Thank you, thank you! First off ... I'd like to thank me."
How was T.O. as an actor?
I thought he did an incredible job. He had cue cards and then after a few takes he started getting into the rhythm of it and the next thing you know, he was doing OK. If all else fails, he could be on some daytime soap opera.
How would you rate his sex appeal?
Woo! What kind of rating would you like?
Let's say 1-10.
Oh, well, you know, who can you really call a 10? I'll give him an 8.5.
So are you even mildly attracted to John Madden?
(Big laugh) I love athletes because I'm one myself! In fact, a group of us used to get together probably once every two weeks and play football. It was supposed to be flag football, but it turned into full tackle because they couldn't catch me!
What position did you play?
We were sort of all over the place.
Was it all women or a mixed group?
Oh, mixed. There were only a couple of women because you really had to be good to be in there. I made a lot of touchdowns.
Last time we chatted you told me you were really into horseback riding. Are there any other sports you're involved in?
Oh, yeah! Motorcycles. I like motocross. We go out in the desert. We went to Gobblin Valley in Utah. There were about 10 of us -- my fiancée and eight other guys. We ripped it up out there.
How long have you been riding?
Oh, I've been riding motorcycles since I was little.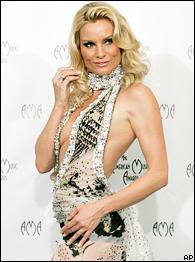 Even without her towel, Nicollette Sheridan drew stares at this month's American Music Awards.
What are you riding now?
I've had a Harley-Davidson since '91.
Anything else you're in to?
Skiing, it's great in Canada, and scuba diving and horses are still a big part of my life. I really have to get a ranch so I can have them at home because I don't like having to leave them.
What's your workout regimen? Are you into boxing?
You know I used to do kickboxing for many years before it became this very popular thing. For about a year I was doing it three to four times a week and I actually got really good at it.
So, you can kick some butt then.
When I saw "Million Dollar Baby" I was like, yeah!
So, you can kick some Hilary Swank butt.
Yeah!
So, let's put it out there. Pay-per-view?
(Big laugh) Hilary and I would have a good time in the ring. Throw down!
Gotta ask. Was there anything under that towel in the MNF spot?
I know that's so funny. Yes, I did have things under the towel. I had shorts on. I had Abercrombie shorts on and I had a contraption on my front covering my breasts.
Miki Turner covers the fusion of sports and entertainment for Page 3 in L.A. She can be reached at dmiki@aol.com