Editor's Note: ''Million Dollar Baby'' took home four Oscars, including Best Picture and Best Actress In A Leading Role (Hilary Swank), Best Actor In A Supporting Role (Morgan Freeman), and Best Directing (Clint Eastwood).
BEVERLY HILLS -- It's fitting that ''Million Dollar Baby,'' a film about a female boxer's journey to the top, received seven Oscar nominations for the 77th Academy Awards, because it stands to be one of the most competitive events in recent memory -- particularly the acting categories.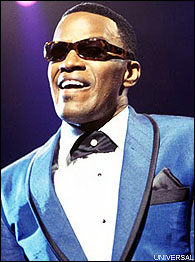 Jamie Foxx needs to do more Ray Charles and less Willie Beamen.
There are 10 fine actors vying for the title, but conventional wisdom (influenced by box office receipts) and Vegas oddsmakers have already narrowed the field to four in the best actor/actress fields.
For the men: In one corner, there's Ray Charles (Jamie Foxx, in ''Ray'') going up against Howard Hughes (Leonardo DiCaprio, in ''The Aviator''). Of course, no real punches will be thrown, but this fight should be more exciting than the ''Thrilla in Manila.''
For the women: Oscar winner Hilary Swank (''Million Dollar Baby'') takes on Annette Bening (''Being Julia'') -- an opponent she out-slugged in 2000 for the top prize.
Here at Page 3, we believe in giving you the full picture and all the information you need to best fill out your Oscar pools.
Personally, I use a secret, yet highly scientific, process to make my picks. And, if you remember, last year, my predictions were bang on (save for my refusal to pick ''The Lord of the Rings: Return of the King'' as best picture ahead of the clearly superior ''Mystic River.'')
More Oscars
For complete coverage of the 77th Annual Academy Awards, and to play the Predict The Winners Game, visit www.oscars.com.
Here's my insight into who'll win the industry's top prize in the Best Actor/Actress categories as well as who could've been a contender, and who got sucker-punched.
Then, check out my picks for Best Supporting Actor/Actress and Best Picture.
BEST ACTOR
Jamie Foxx, "Ray"
Leonardo DiCaprio, "The Aviator"
Clint Eastwood, "Million Dollar Baby"
Don Cheadle, "Hotel Rwanda"
Johnny Depp, "Finding Neverland"
OK, this is real simple: No one will lay a glove on Foxx. Vegas oddsmakers have the two-time ESPY host and double Oscar nominee as a 4-to-5 favorite over DiCaprio at 9-to-5.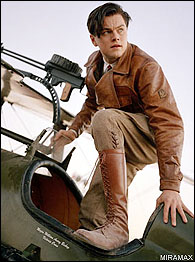 Whether it's a plane or a big boat, Leo's always in Oscar contention.
No disrespect to DiCaprio, who is also an executive producer on his film, he did a fine job portraying eccentric billionaire Howard Hughes. But, here's the difference between the two performances -- Foxx embodied Ray Charles. DiCaprio only played his part.
The long shot: Cheadle. Actually, the first-time nominee is very deserving but his studio should have been smart enough to release the film in '05, giving Cheadle a better shot in this category. Also, this film, which everyone should see, wasn't heavily marketed. There are folks in Peoria still asking: ''Where's Rwanda?'' However, if Foxx and DiCaprio cancel each other out, DC could be dusting off a place on his mantle.
The under cards: Although Eastwood is a two-time Oscar winner as a filmmaker and director (''Unforgiven''), he's never won a golden boy in the acting categories. Since he's also nominated for best director this year, his best bet is to focus on his bout with ''The Aviator's'' Marty Scorsese.
There's no doubt that Depp is due. He gives one of his finest performances ever in ''Finding Neverland.'' But even though that film has received critical acclaim, it hasn't made that much green. So, he should just try and look really cool for the cameras when Foxx is on his way to the stage.
Could have been contenders: Denzel Washington (''The Manchurian Candidate''), Billy Bob Thornton (''Friday Night Lights''), Javier Bardem (''The Sea Inside''), Gael Garcia Bernal (''The Motorcycle Diaries''), Liam Neeson (''Kinsey'') and Paul Giamatti (''Sideways'')
Who got sucker punched: Bernie Mac (''Mr. 3000'') Ben Stiller and Vince Vaughn (''Dodgeball''), Will Ferrell (''Anchorman''), The Rock (''Walking Tall''), DMX (''Never Die Alone''), Snoop Dogg (''Soul Plane''), Michael Moore (''Fahrenheit 9/11'')
BEST ACTRESS
Hilary Swank, "Million Dollar Baby"
Annette Bening, "Being Julia"
Catalina Sandino Moreno, "Maria, Full of Grace"
Imelda Staunton, "Vera Drake"
Kate Winslet, "Eternal Sunshine of the Spotless Mind"
The matchup between Swank and Bening is even closer than Foxx versus DiCaprio. Swank, who won her first Oscar playing a boy in ''Boys Don't Cry,'' is the first woman to ever be nominated for playing a pugilist. She'll probably score a few points for that distinction as well as getting props for the physical demands of the role.
Hilary Swank never boxes herself in to one role as an actress.
Bening, however, is an aging Hollywood sweetheart with three previous nominations and no wins. It also doesn't hurt that she's married to former Oscar winner Warren Beatty, a cat old enough to have partied with the real Howard Hughes. His age, however, might be an advantage since he probably has some significant pull among the Academy's older voters. He'll no doubt use that clout to pimp them on behalf of his wife.
Even though she's already got a golden boy and Bening has an ever-so- slight edge in Vegas, I'm banking on Swank to KO Bening again on Feb. 27. Under Eastwood's direction, Swank transformed herself into a lean, mean fighting machine and held her own against wily vets like her boss and Morgan Freeman.
Plus, she needs to win another Oscar so she can properly thank hubby Chad Lowe. Remember that 2000 gaff? No wonder the boy was crying!
The long shot: It's gotta be Winslet. If Bening and Swank cancel each other out ala Foxx and DiCaprio, she'll be rewarded for what is probably the finest performance of her career. Like Bening, she's a multiple nominee, but this is really the first time she's deserved to be in this category.
The under cards: If all was fair and equal in Hollywood Moreno and Staunton would be top contenders in this year's race. But unfortunately, they both had roles in good films that few people saw. That, combined with the ''Catalina/Imelda who?'' factor, will keep them out of the ring this time.
Could have been contenders: Nicole Kidman (''Birth''), Uma Thurman (''Kill Bill, Vol. 2''), Audrey Tautou (''A Very Long Engagement'')
Who got sucker punched: Halle Berry (''Catwoman''), Angela Bassett (''Mr. 3000''), Kirsten Dunst (''Wimbledon''), Queen Latifah (''Taxi''), Mary-Kate and Ashley Olsen (''New York Minute'')
Now check out: Best Supporting Actor/Actress and Best Picture
Miki Turner covers the fusion of sports and entertainment for Page 3 in L.A. She can be reached at dmiki@aol.com