Natalie, all grown up and sexier than ever on the set of "Closer."
BEVERLY HILLS, Calif. -- A few weeks ago, before the Screen Actors Guild Awards,
Page 3 ran my picks for best actor/actress
. Well, considering that more than half of the SAG voters also are voting members of the Academy of Motion Picture Arts and Sciences, you can see how smart I am.
I picked Jamie Foxx. He won the SAG. I picked Hilary Swank. She won the SAG. And even though I had pretty much made up my mind who was going to take home the Oscars in the supporting categories, my two picks -- Cate Blanchett of "The Aviator" and Morgan Freeman of "Million Dollar Baby" -- earned SAG awards.
Now picking the best picture will be a little more interesting because there might be an upset in this category. Prior to the SAG Awards, most Hollywood insiders were giving the edge to "The Aviator," which tops all films with 11 nominations. But then "Sideways" won SAG's motion picture cast award and "Million Dollar Baby" started punching its way into the collective consciousness of film critics nationwide.
It's a tough call, but I'm going to go with the "Baby." Films with sports themes have done very well this year, and you've got that amazingly talented trifecta: two previous Oscar winners -- Clint Eastwood and Swank -- and four-time Oscar nominee Freeman.
However, to make a more informed decision, let's take a look at the contenders below.
BEST SUPPORTING ACTOR
Jamie Foxx, "Collateral"
Clive Owen, "Closer"
Alan Alda, "The Aviator"
Thomas Haden Church, "Sideways"
Morgan Freeman, "Million Dollar Baby"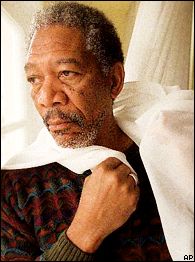 Could anyone leave a better voicemail message than Morgan Freeman?
Mr. Freeman, this will be your million-dollar payday baby! I'm picking the wily vet because the older he gets, the better he gets. Plus he's so, so, so overdue.
The long shots: Owen, as the ever-so-slightly-twisted spurned lover in "Closer." Although the film was dreadfully flat, his performance was steady and fluid. Alda, one of Hollywood's most beloved thespians over 60, is the sentimental favorite, and he could also score an upset if voters are swayed by his age and charm.
The undercards: Foxx was brilliant as Tom Cruise's unwilling accomplice in "Collateral," but DreamWorks, by design, didn't embark on a big promotional campaign on his behalf. Foxx, who already has won the Golden Globe and SAG awards for "Ray," has his eyes on the big prize. Church is an amazingly engaging actor and turned in a good performance in a good movie, but he's no match for any of his opponents -- this year.
Could have been contenders: Michael Madsen ("Kill Bill, Vol. 2"), Alfred Molina ("Spider-Man 2")
Who got sucker-punched: Stuart Scott, Michael Wilbon and Tony Kornheiser ("Mr. 3000"), Darius Miles ("The Perfect Score"), Vince Vaughn ("Starsky & Hutch"), Rip Torn ("Dodgeball"), Steve Carrell ("Anchorman")
BEST SUPPORTING ACTRESS
Cate Blanchett, "The Aviator"
Laura Linney, "Kinsey"
Virginia Madsen, "Sideways"
Sophie Okonedo, "Hotel Rwanda"
Natalie Portman, "Closer"

I'm sticking with SAG winner Blanchett. Like Foxx, who channeled the spirit of Ray Charles in "Ray," Blanchett ably embodied the ghost of Katharine Hepburn in the performance of her career.
That said, Golden Globe winner Portman might be able to score another win on Feb. 27, but I'm betting that her youth will work against her. She still has some dues to pay and has plenty of time to do so. And then there's Linney, who could play the role of spoiler in this race if Blanchett and Portman cancel each other out.
The long shot: Madsen. She very well could be a spoiler. She has gained some momentum since the nominations.
The undercard: Okonedo. She's absolutely brilliant, but this British actress has the "U" factor going against her -- she's unknown and unseen due to "Rwanda's" limited release.
Could have been contenders: Regina King ("Ray"), Meryl Streep ("Manchurian Candidate"), Sharon Warren ("Ray")
Who got sucker-punched: Sharon Stone ("Catwoman"), Christina Applegate ("Anchorman"), Christine Taylor ("Dodgeball"), Carmen Electra ("Starsky & Hutch")
Thomas Haden Church, the typical guy in "Sideways."
BEST PICTURE
"The Aviator"
"Sideways"
"Million Dollar Baby"
"Finding Neverland"
"Ray"

You can take my picks in the acting categories to the bank, but don't bet your special edition U2 iPod on my best picture selection. This selection is based on two things. First, "Ray," the film I liked the most, won't win. Second, Eastwood was robbed last year with "Mystic River," so "Million Dollar Baby" would be an appropriate makeup award.
And did I mention there's nothing better than seeing a woman kick butt on screen?
Yet, you can't ignore the epic brilliance of "The Aviator." It's too good to be a long shot, but it appears the former front-runner has run out of steam.
The long shot: "Sideways." It's funny and quirky and well-acted, but cinematically it's not in the same league as 2000 winner "American Beauty."
The undercards: "Finding Neverland" and "Ray." The first was more of an art-house masterpiece and the second made more money than any of the nominated films. However, "Ray" is more of a performance-driven piece than the top two contenders. Without Foxx, "Ray" is just another mildly compelling biopic.
Could have been contenders: "Kinsey," "Collateral," "Motorcycle Diaries," "Maria, Full of Grace," "Friday Night Lights"
What got sucker-punched: "Mr. 3000," "Walking Tall 2," "Soul Plane," "Spanglish," "Kill Bill, Vol. 2," "A Cinderella Story"
Miki Turner covers the fusion of sports and entertainment for Page 3 in L.A. She can be reached at dmiki@aol.com.