LOS ANGELES -- Oscar winner Billy Bob Thornton didn't have to do a lot of extensive research to play real-life football coach Gary Gaines in "Friday Night Lights," the story of Odessa (Texas) Permian High School's 1988 season.

As "Friday Night Lights" his theaters this Friday and the ESPN Book Club debuts on Page 2, ESPN.com takes an in-depth look at the story of Odessa (Texas) Permian High School football: FROM THE ESPN BOOK CLUB:

As the son of a high school basketball coach, Thornton was well acquainted with the many emotions men go through to win games as well as the support and adulation of the locals. Also, having grown up playing baseball in small-town Arkansas and parts of Texas, Thornton knew how important prep sports -- particularly football -- are in places where the local convenience store is one of the town's top attractions. But even though he could have gone directly to the source, Thornton deliberately chose not to confer with Gaines, who is now coaching at Abilene Christian College. "I didn't meet him before. I did that purposely because I didn't want to be imitating somebody," Thornton said of his performance in the movie, which opens nationwide Friday. "As an actor you have a tendency to (say things such as), 'Oh well, he always fidgets with the paper.' And then you start thinking about that too much. "But, I mean he's a coach from Texas. It's not like a stretch. It's not like they hired a British theater actor to play a Texas football coach. They hired a guy from Arkansas, so it wasn't like it was really too far off the mark." Thornton brings an element of believability to his portrayal of Gaines, who coached the Texas 5A school from 1986-89, winning a state title in his final season. He certainly has the accent down, wears a lot of V-neck sweaters, knows how to suck up to the Permian boosters and maintains a distant-yet-close relationship to his players that is right on. It's one of the defining traits of a respected leader. Some people -- particularly those who have been fed a steady diet of sports films featuring coaches whose departure from the asylum seemingly preceded their official release -- likely will find Thornton's performance rather understated.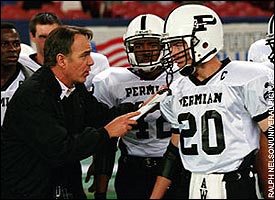 As Permian coach Gary Gaines, Billy Bob Thornton doesn't yell and scream, but he does get his point across.
He did that on purpose, too. Thornton, who watched tapes of Gaines and conferred with Gaines' real-life assistants, some of whom are in the film, said he wasn't interested in playing up the stereotype. "This guy, the real-life guy, he's a regular guy," Thornton said of Gaines. "He is a very sort of calm guy. I was really happy to hear that, because generally coaches are played as one-note, very intense guys who every moment of their life are screaming at somebody. I mean when they're ordering breakfast, it's intense. I didn't want to do that. I wouldn't have been interested in doing this part if he hadn't had different colors." Thornton, however, does know those coaches who bark when ordering their coffee in the morning. His baseball coach as well as his late father, Billy Ray, were fire-breathing guys when it came to their jobs. In the film, Gaines often found "for sale" signs on his front lawn after a Friday night loss. Thornton can relate. Although his family didn't have a lawn, there were often "rumblings" around town that the Thorntons should start looking for new digs when his father was coaching. "We did have to move a couple of times because of my dad. It usually wasn't when his teams were losing as much as it was that my dad couldn't ever get along with the school officials," said Thornton, who never played for his father. "My dad would either quit or get fired from almost everything he ever did. He finally found one school where he coached one or two seasons. "You have to understand that there's nothing in this movie that doesn't happen. In fact, they could have gone further if they wanted to, because there are real fanatics back there. It's their way of life."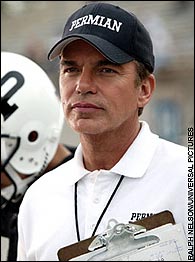 Growing up in Arkansas, Thornton learned that prep athletics aren't always kept in the right perspective.
It's a way of life that H.G. Bissinger, the Pulitzer Prize-winning author of "Friday Night Lights," found somewhat disconcerting. In his 1990 book, Bissinger questions how the citizens of an economically depressed town could approve the construction of a multi-million dollar, 20,000-seat football stadium when the school district's academic resources were horribly lacking. It's like Johnny got a D on his math quiz, but he made four key blocks and scored on a 10-yard run Friday night. Priorities. Bissinger also explored the impact those bright lights had on Permian athletes, some of whom were expected to perform beyond their abilities; and others who did exceed expectations but fell victim to unfortunate circumstances such as cocky running back James "Boobie" Miles. On the field, Miles, played by Derek Luke in the film, was a king when he was spinning his way into the end zone. But when Miles ripped his anterior cruciate ligament in a preseason scrimmage and was unable to perform, he was about as popular as the fry guy at Burger King. This scenario begs the question: Is "Friday Night Lights" about a glorious high school experience or a tragedy about boys who peaked too soon? "It's both," says Thornton, whose own major-league dreams were cut short when he broke his collarbone on the first day of training camp for the Kansas City Royals. "For some people, it turns out OK, and for some, it doesn't. It just shows the potential for either thing. In other words, you take a poor kid who has no chance at an education, scholarship or something like that, or to make a decent living (and), through sports, they have that opportunity. And also, if that's all they have, if something happens, one twist of a knee or whatever, your future's gone. "It's also about politics in small-town America. I grew up in a town where they were obsessed with this. The football team wasn't like some high school glee club. It was really the social life of the town. It was the cornerstone. They are that obsessed."
Although Thornton's dream was to play for the St. Louis Cardinals -- he's a lifelong fan -- he says he really never was blinded by the lights. His injury (he was hit by an errant ball while talking to another player) wasn't exactly career-ending. But once he recuperated, he decided he was perhaps better suited for music. "I'd always been into music," he said. "My band was playing more, and then I got the opportunity to be a roadie for a lot of famous people like the Nitty Gritty Dirt Band. I still loved baseball, but I didn't want to cut my hair anyway. I was like a hippie in those days. And in college, they don't let you wear your hair long, and you have to go to bed early and stuff. "Probably having been an athlete helped me more with playing this role than having grown up with a coach dad. We always want to be accepted by people. Some people can take it better than others -- take the constant pressure from a coach or a teacher or whatever. And some people are just too sensitive to do it. So, you've got some kids who might not even want to be on the team or whatever, but they're trying to get love from their dad or people in general. That stuff forms who you are later on, and hopefully this movie says something about that."
Miki Turner covers the fusion between sports and entertainment for Page 3. She can be reached at dmiki@aol.com
.