Everyone loves a good brawl. Whether you've taken a few punches to the face when you went "Superfly Snuka" on the school bully, or watched an old-fashioned rumble in the ring on Pay Per View, a good battle is priceless.
When the beatdown happens in the sports arena, it's even better.
When Kevin Garnett took an Anthony Peeler 'bow in the chin, I waited for his reaction with baited breath. And I'll freely admit that I was disappointed, even mildly offended, when KG didn't put Peeler in a headlock. Fines? NBA Fines? We don't need no stinking fines! Isn't that right, KG? Can I get an "Amen," Artest?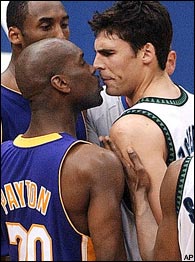 The NBA is nothing if not one, big happy family.
Well, it might not always happen on the hardcourt, but in the reality TV world, fights are expected and retaliation is the law of the land.
Over the years, there have been some downright nasty feuds between characters/contestants on reality shows. Must-see TV, indeed.
I scrolled through my memory bank for the 10 best brawls. But before I can talk about the best fights, you need to know the players.
Below are the 20 best characters to appear on a reality TV show. (And click here to check out the 20 most despicable reality players of all-time.)
The formula for calculating these two lists is beyond scientific. There are Q-ratings and statistical theories to take into consideration.
Ah, who am I fooling. You know how reality television works. Basically, it's just about who can stain your brain with their allotted 15 minutes of fame.
There actually were two ground rules I followed while creating this list:
1) Sometimes bad guys are really good for TV, and ...
2) Don't include reality dating shows, even if it "stars" a (soon-to-be) fifth-string quarterback.
Reality TV's Best Stars:
1. Will, "Big Brother 2": Told viewers at home one thing, and his competitors the complete opposite. If there was a reality show Hall of Fame, he would be the first inductee.
2.
CT, "Real World: Paris": In my mind, the best reality character of all time. CT was the triple threat -- he raised hell, never held back his opinions and was a hit with the ladies.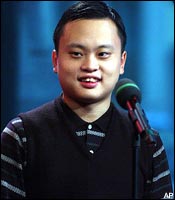 William Hung is what happens when keepin' it real goes wrong.
3.
William Hung, "American Idol": It was only a matter of time before one of the jokers became more successful than a winner. I'm waiting for Hung's voice and Ricky Martin's body to appear on one of those "identity theft" credit card commercials.
4.
Richard Hatch, "Survivor: Borneo": On the show that busted the door open on the reality craze, Hatch was the first winner. And he did it by being a fat, naked, openly-gay guy. Somewhere Nathan Lane shed a tear.
5.
Matt Kennedy Gould, "The Joe Schmo Show": Gould was set up to be a sucker, but he handled it like a champ.
6.
Corbin Bernsen, "Celebrity Mole 2": Either he is really off the wall or a horrible actor. Odds are it's a little of both, but he was hysterical.
7.
Cara, "Real World: Chicago": Ferris Bueller took a day off in Chicago. Cara took her clothes off -- for nearly every guy in the city.
8.
Zachariah Selwyn, "Dream Job": Yes, it might look like I'm sucking up to ESPN by even mentioning this show, but Zachariah was the only reason anyone watched.
9.
Rupert, "Survivor: Pearl Island": The fan favorite, he is the only Survivor contestant who still looks like he lives on a deserted island.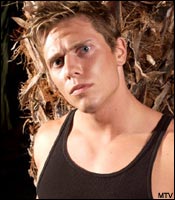 Will Mike, or his alter ego "The Miz," ever make it out of the RR/RW Challenge vortex?
10.
Mike, "Real World: Back to New York": Mike really developed as a character in the Real World/Road Rules challenges where he dominated every event and scored with nearly every girl. The whole alter-ego "Miz" thing is a little disconcerting, though.
11.
Paris Hilton and Nicole Richie, "The Simple Life": The best tag team to hit television since Shawn Michaels and Marty Jannetty. They could air "The Simple Life 45: Paris Takes a Nap" and I'd still watch.
12.
Ozzy Osbourne, "The Osbournes": You can't understand a word he says, yet you watch every week.
13.
David, "Real World: New Orleans": Asked every girl in New Orleans to "come on, be my baby tonight." Most agreed. (Seriously, how awful is it to watch someone totally bomb singing a really horrible song, but they think they are
killing
it?)
14.
Ruben Studdard, "American Idol": The Jackie Robinson of mainstream reality TV, he did what no African-American woman on "The Bachelor" could do -- win.
15.
Troy, "The Apprentice": No degree? No problem.
16.
Jordan, "Sorority Life": Jordan knew she was too good for the sorority. I knew 75 girls in college just like her.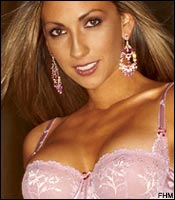 Katrinaaa, I've just met a girl named Katrinaaaa ...
17.
Katrina, "The Apprentice": I would buy $10 lemonade by the gallon from her. You would, too. Please, you know you would.
18.
Dax, "Punk'd": His antics gave Ashton Kutcher a hit show ... and a little bit of street cred, before the trucker hat just crushed it.
19.
Zach, "Amazing Race 3": A two-person competition, Zach won it all despite having a weak partner. Hmmm, similar concept used on "Newlyweds," right Nick?
20.
Adam Mesh, "Average Joe": The best of the worst, he ended up getting thousands of letters from women looking to be Average Jane, which led to a spin-off and the best three-week relationship of his life.
Click here for Reality TV's Worst Stars