With several pro athletes picking up the mic and a multitude of musicians strapping on the spikes, it appears that many athletes and rock stars would love to pull a Freaky Friday-like switcheroo.
SPORTS & MUSIC

Page 3 will examine the connection between sports and music all summer long. Also, catch SportsCenter's music series all this week at 6 p.m. ET on ESPN.


Bon Jovi rocks a new arena


Coming up:
At-bat songs for all 30 MLB teams

The hip-hop and hoop connection

Peter Gammons' musical bend
After minutes of intense research, and a chat with Matchbox Twenty guitarist Adam Gaynor, I realized that although they all have boatloads of fame, fortune and -- most important, talent -- the rockers also have tons of Aretha Franklin-style r-e-s-p-e-c-t for their more cutup counterparts.
"For a guy like me, who is blessed to be in the majors of his game, I just have the utmost respect for the athletes," said Gaynor. "For me to run across the stage for two hours is fun, and you have to be in somewhat good shape, but to look at what they do, it's pretty hard for me not to get emotional when a team wins a championship. I have no association with (the) Detroit (Pistons) whatsoever, other than I respected the hell out of their game and how they play."
And while Gaynor jokes that he is "the best natural athlete in the business," there are guys like rap mogul Master P and country star Garth Brooks who looked to take their obsessions with basketball and baseball, respectively, to the next level.
Each tried to parlay their affinity with their chosen sport into a second career. Master P, under birth name Percy Miller, unsuccessfully tried out for both the Hornets and Raptors in 1999, while Brooks did the Spring Training gig under a minor-league contract with the Padres that same year.
Brooks was clearly awestruck by the major-league experience. During an ESPN.com chat session after taking BP with the Pirates, Brooks actually uttered the phrase, "I can't believe I have a locker next to Jason Kendall."
Jason Kendall? That's like Allen Iverson saying, 'Man, I can't believe I stood on stage with Hootie and the Blowfish.' It just shouldn't happen. Speaking of Hootie, Darius Rucker and his crew are also huge sports fans and even sing about how "the Dolphins make me cry" in their 1995 hit "I Only Wanna Be With You." Gaynor, also a Dolphins fan, has a different plan for the team.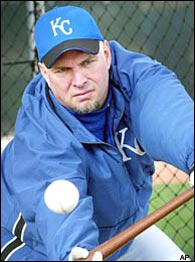 Garth and other rockers should stick to making hits in the studio.
"Do they make me cry? I just want them to win," said Gaynor. "What I'm doing is making sure Jason Taylor is prepared on defense. We are having a lot of pow-wows or secret meetings if you want to call them, and I told them to just look for me deep." Joining them in the "I can't ball, but I can sing about it" category (
They play golf
, does that count?) are Barenaked Ladies who dream of being "a hero like Phil Esposito" in their song "Celebrity." The shout-out technique is a huge hit with hip-hop artists: Nelly raps that he's "just Kidd'n like Jason," A Tribe Called Quest do "the impossible like Brodway Joe," and Outkast looks to "catch a beat running like Randy Moss." Some of sports rock star fans go beyond mere mentions in their lyrics; sports factors into their band names. Lead singer of Five For Fighting, John Ondrasik, is such a huge NHL buff, the band is a play on NHL penalty-time minutes. Ondrasik is the real deal, and actually does some writing for Inside Hockey.
The Buckners, a Beantown based rock group, are named after former Red Sox groundball specialist, Bill Buckner, and Pearl Jam was known as "Mookie Blaylock" before re-naming the group after Eddie Vedder's Aunt Pearl's special jam. But to keep the tribute real, they titled their first album "10" in honor of the NBA guard.
Then there are the Zambonis, a rock group who has put out albums called "100% ... Hockey and Other Stuff," "More Songs about Hockey ... and Buildings and Food," and list on their website The Beatles and Wayne Gretzky as their biggest influences.
Hmm, do you think they're hockey fans?
Whether it's Bruce Springsteen singing about a high school baseball star in "Glory Days" or John Mellencamp singing about Jack hoping to be a football star in "Jack and Diane," the glorified world of the sports icon is commonly featured in music. Nada Surf doesn't beat around the bush in their song "Popular"; they sing, "if you are a quarterback" and "never the last picked" and have a "cheerleader chick" then you are popular. In Meatloaf's hit "Paradise by the Dashboard Light," he simulates a baseball game radio broadcast with Phil Rizzuto doing the play-by-play, as a metaphor for sex. Basically Meatloaf is saying that the only way to score is to lay down the suicide squeeze, but his girlfriend is blocking the plate like a young Mike Scioscia. Doesn't he realize that all he has to do is tell her he's a rock star? That usually does the trick. Sports works its way into music videos like U2's "Stuck in a Moment." There is also the athlete cameo where at any point on MTV or BET you can find Baron Davis, Lennox Lewis, Roy Jones Jr., Edgerrin James or a number of other athletes making appearances in music videos.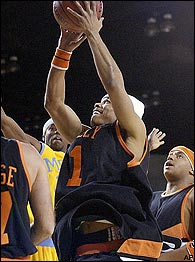 Nelly could also be the starting point guard for the Bobcats.
Having the best of both worlds is the ultimate scenario, a situation perfected by Jon Bon Jovi and Jay Z, who are living by the "if you can't beat 'em, buy 'em" philosophy. Bon Jovi is a part owner of Arena Football's Philadelphia Soul, while Jigga has a piece of the New Jersey (or is it Brooklyn) Nets. "Country Grammar" rapper Nelly is the most recent musician to jump on that bandwagon; he is a part-owner of the NBA's expansion Charlotte Bobcats.
As management, these rock stars may not suit up in a uniform, but they can still live out their sports fantasies. "I don't think I'd want to be an owner of a team," said Gaynor who follows both New York and Miami teams. "I can break down defenses, but it doesn't mean I can run a team. Can I coach pee wee or little league? Probably." What's next in the world of sports and music? According to Gaynor, the challenge is set to seek out a new stadium anthem. "I'm a huge Queen fan but I think it is more important that we as a nation find something to replace 'We are the Champions,' " said Gaynor. "Let's try to do that in the next couple of years." How about Aretha's "Respect"? That seems to fit the bill.
Jon Warech is a freelance writer for various publications. He can be reached with questions or comments at JonWarech@aol.com.