When Shaquille O'Neal held his first press conference as a member of the Miami Heat he joked about walking naked on the beach. Four games into the best start in team history and Miami's focus during halftime is on lace g-strings.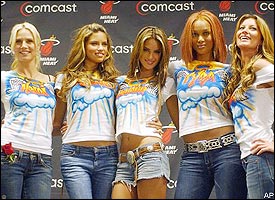 See, good things happen when Shaq's on board.
You gotta love South Beach.
As part of the Victoria's Secret "Angels Across America" promotional tour, supermodels Tyra Banks, Heidi Klum, Gisele Bundchen, Adriana Lima and Alessandra Ambrosio sat front row during Tuesday's Heat-Wizards game, and gave out four $1000 gift certificates to lucky winners during halftime. They also signed autographs and puckered up for a few lucky guys on the "Kiss Me Cam."
Not overshadowed, of course, was the Big Aristotle and the big man on campus, Dwyane Wade, leading the Heat to a 103-93 victory against the Washington Wizards -- an impressive feat with five of the best looking women in the world sitting courtside.
While the connection between sweaty men and sexy underwear isn't so obvious, having the "Angels" stop at the hottest show in town makes perfect sense.
"This team is huge," said Ambrosio. "We thought it would be so much fun over anything else."
Next stop on the tour: Vegas and LA -- where the models will stop at the Hard Rock Hall of Fame and the walk of fame in Hollywood.
Jon Warech is a freelance writer for various publications. He can be reached with questions or comments at JonWarech@aol.com.