July, 12, 2014
Jul 12
1:45
AM ET
It's been a rough two days for the world's best player. After his incredible Day 2 effort, Phil Ivey faltered over the past two days and was eliminated during the past level in 430th place. Event 25 bracelet winner
John Kabbaj
led out for 80,000 and Ivey moved all-in for 225,000 more on the turn of a 9-9-2-2 board. Kabaaj called instantly and Ivey reacted stunned, looking on in disbelief. Before the cards were flipped, Ivey said to Kabbaj, "Jacks?" Sure enough, that's what his A-K was up against. The cameras set up as Ivey waited for the river card, then bolted down the back hallways of the Rio upon seeing the 5c. Ivey earned $25,756.
[+] Enlarge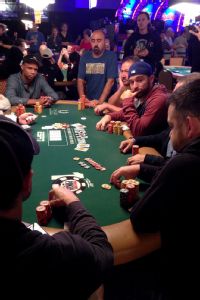 Andrew Feldman/ESPNPhil Ivey (left) stares at the board in disbelief on his final hand.
Nearly 100 players fell during the past two-hour level. NASCAR's Jason White fought for the entire day as a short stack, but couldn't avoid some bad luck.
"I'll be back," said White after his elimination in 350th. He earned $33,374 for the finish that was cut short in a key hand against David Einhorn where his J-J lost to 6-6. David Paredes, Maria Mayrinck, Owen Crowe, Chris DeMaci, Michael Binger and Thayer Rasmussen were also among the casualties.
At 2.3 million, Dan Smith remains the biggest stack, but there are a number of players who are under 800,000 in chips that shouldn't be missed:
John Juanda - It's been a slow day for Juanda who has demonstrated great patience. He has 430,000 in chips and is looking to best his 31st-place finish in 2005. Juanda's last main event cash came in 2012 (234th).

Brian Hastings - The bracelet winner and high-stakes cash gamer has $1.1 million in live tournament earnings. The only thing that might hurt Hastings is his obsession with Open Face Chinese poker which is he playing on his iPad in between hands.

Mark Newhouse - The last member of last year's final table is still fighting. He chipped up early today and had a well above average stack, but has been short for the past few hours. He has 280,000 in chips. If there's anyone who knows how to grind in order to make it to the next level, it's Newhouse.

Maria Ho - Ho is seated at the feature table, but she's still under the radar in the reporting. She has 700,000 in chips and is seated with ...

Brian Townsend - During poker's zenith, Townsend was one of most prolific onliners in the game. Now he has a shot at a main event title with 800,000 in chips

Jon Turner - "PearlJammer" finished 299th in 2013 and 344th in 2011. His resume is strong and all he needs is to win that one flip that has evaded him numerous times over the past few years.

Ali Eslami - A high-stakes mixed-game player, Eslami doesn't often player tournaments, but won't miss the main. Oh, and he snuck into the Amazon Room last night.

Mukul Pahuja - Reigning World Poker Tour Player of the Year.

Taylor Von Kriegenbergh - WPT Champion has $1.4 million in lifetime tournament earnings

Matt Waxman - WSOP bracelet winner, WPT champ. Been short for two days now.

Mike Sowers - 14 WSOP cashes and five final tables (two runner-ups).

Bryan Devonshire - Devo isn't involved in the poker world much at all anymore, but the nature guide loves the main event. He finished 12th in 2011.
There a number of other players that with over 300 to go deserve some attention. From here on out I'll try to highlight the accomplishments of those remaining in contention to paint a better portrait about the field that remains.
July, 11, 2014
Jul 11
9:37
PM ET
The flood of players out the door continued during Level 17 and all remaining players have locked up a pay day of at least $25,756. After a period of constant all-ins, the pace has slowed of late as players are now taking this time to position themselves for a deeper run.
Michael Finstein is looking to make his first WSOP main event cash count. The Bright, Mass. native was the first player over two million in chips and has played the role of eliminator throughout the day. He seized the lead when he won a big pot against Rocky McNatt with his 10-10 connecting on a 10-9-3-9-9 board against McNatt's K-K. He added a bit more shortly after knocking out Lisa Tehan, Joe's wife, who just missed her largest career tournament cash by a few hundred dollars.
Dan Smith, now seated at a secondary feature table, has 1.9 million in chips which is good enough for a second-place stack. At the main feature table, Phil Ivey has struggled to gain any momentum since his latest table joined the feature set. His three-bets haven't been getting through and he's now playing with a sub-370,000 stack. Ivey's table broke for the second time today right before the dinner break and a new table, featuring Maria Ho and Jared Bleznick, will take their seats when action resumes
Kenny Tran's elimination represents many of the bustouts right now. With players so deep, it takes real coolers to get all the chips in the center and Tran was unlucky enough to run kings into the aces of Pete Kaemmerlen for all of his stack. Other notable eliminations include Jonathan Little, Abe Mosseri, JJ Liu, Bryan Yoon, Phil Galfond, Daniel Alaei and the five-time consecutive casher, Ronnie Bardah.
Thx for all the support guys and girls.Love you all and I'll be back next year for number 6 and maybe nov 9:) living the Dream

— Ronnie Bardah (@RonnieBardah) July 12, 2014
Here are the top 10 stacks at the break:
1. Michael Finstein (2.0 million)
2. Dan Smith (1.9 million)
3. Andoni Larrabe (1.7 million)
4. Danny Yousefzadeh (1.7 million)
5. Zach Jiganti (1.6 million)
6. Matthew Leecy (1.4 million)
7. John Gorsuch (1.3 million)
8. Jing Wang (1.3 million)
9. Griffin Benger (1.2 million)
10. Mark Herm (1.2 million)
When players return, blinds will be 4,000/8,000 with a 1,000 ante.
Small blinds:
NASCAR driver Jason White doubled towards the end of the level. He has 250,000 and was the recipient of a Phil Hellmuth pep talk in the Orange section. They met last night at Haze. … Leif Force is looking to make a second deep run in the main event to add to his 11th-place finish in 2006. … Two more levels (four more hours) are planned for Friday. … Players received bags of chips at their table this morning courtesy of Ruffles. Players utilized those far more than the stress relief pucks from another WSOP sponsor, Dough. … The WSOP staff did a great job today with the bubble and payouts. I've seen years where it hasn't been so smooth, but this operation was run perfectly.
July, 11, 2014
Jul 11
6:49
PM ET
A
champagne bottle popped
inside a packed Amazon Room early on Level 16. Everyone cheered as the remaining players took off their glasses, hoodies and headphones to share a quick handshake or hug. The champagne was distributed to anyone who wanted it, glasses were provided, as others asked waiters for beers or shots of Patron or Jager. A player pulled out his iPad and
got on FaceTime
, bringing his relatives into the room with him. Cell phones were out, texts were sent and the moment these players had searched for since their starting flight last weekend had finally arrived.
Except for the three people standing with the tournament staff in the center of the room, this was the best moment of the main event for the entire place. Players had made the money in the biggest tournament of the year. They had every right to celebrate and show their excitement and now, it's back to business.
[+] Enlarge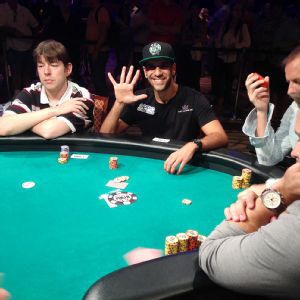 Andrew Feldman/ESPNRonnie Bardah has cashed in the main event for five consecutive years.
Day 4 play began with 746 players looking to survive the bubble and earn a minimum of $18,406. As short stacks hoped to make it, the stalling became brutal. The floor staff -- which issues warnings and threatens to start 10-second countdowns for all those trying to make each hand last as long as possible -- was called repeatedly to tables. Players were, rightfully, getting frustrated.
With 695 players left, tournament director Jack Effel declared that hand-for-hand action would begin. Dealers would deal one hand, then stand up at its completion. If there was an all-in and a call, the hands would remain covered until ESPN cameras were in place to cover the action. On the first hand of this effort, there were five players at risk and with two players needing to go home, it seemed likely that we'd be one and done.
The first hand had reached the river by the time its action was picked up by Effel who walked from table to table calling the progress. A roar came over the Amazon Room as Mark Newhouse rolled over 5-5 for quads to eliminate John Dwyer who held queens full. One down.
At the next table Zhen Cai waited for the cameras, but he already knew he was trailing with Q-Q to the A-A of Darren Keyes. The aces held and players were in the money.
There were now three more hopes for Cai and Dwyer to not go away empty-handed. All they needed was one more elimination and they'd share the purse for 693rd, or multiple spots if more players were knocked out. They got their wish on the next hand as Harry Kaczka cracked Kori Hunter's aces with 8d-9d with a rivered two pair. The other two players, Stuart Rutter and Paul Tedeschi, doubled through and kept their dreams alive.
Cai, Dywer and Hunter each received $6,135 for their tie in 693rd place. Cai also won a seat into the 2015 WSOP main event by picking out a high card in a stunt presented by WSOP.com.
Ronnie Bardah was all smiles as the bubble broke, and it's that smile we've seen at this very moment in the tournament for each of the past five years. This was a record-setting finish for Bardah who has finished 24th, 453rd, 540th and 124th in this event since 2010. He's one of the shortest stacks in the field now, but nobody left can compete with his experience.
Well, maybe a few players. Specifically Phil Ivey and Mark Newhouse. Ivey lost a big pot to Kyle Keranen recently and dropped to 646,000 after a strong start. Dan Smith leads with 1.8 million with the blinds at 2,500/5,000 with a 500 ante. Smith earned $2 million from his victory in the $100,000 event at the Bellagio just before the main and has 16 career WSOP cashes that include three WSOP final tables.
Small blinds:
The line for payouts has expectedly been busy with 90 players already heading home in the first hour since the bubble burst. … Want to re-live the bubble?
Go here
. … tournament director Effel was wearing a GoPro camera today. Not sure how it will play into coverage, but definitely a new angle. … Brothers Mukul and Vinny Pahuja cashed in the main event. … Lots of foot traffic in Amazon today. Definitely one of the best days to come and watch. … Purple (500) chips are getting colored up during the break. … NASCAR's Jason White survived the bubble. … Players out, but in the money: Olivier Busquet, Randy Ohel and Ben Yu. …
Rainbow Hat guy
(Zach Hall) made it through. … Faraz Jaka seated on an outside feature. At the table next to him is Phil Galfond. … These new outside feature tables are RFID equipped.
July, 11, 2014
Jul 11
5:42
AM ET
Day 3 of the World Series of Poker main event was unexpectedly halted Thursday with 746 players remaining and 53 minutes remaining in Level 15. With the money bubble approaching rapidly, the tournament staff needed to have all hands on deck to handle payouts and the hectic nature of the moment. As the clock approached midnight, it wasn't feasible to organize and the decision was made to stop the action. The bubble also will serve as the start of ESPN's WSOP main event coverage this year, which begins Sept. 28.
On a day when many of the biggest stars and former champions faltered, Andrew Liporace seized the Day 3 chip lead. Liporace bagged 1.1 million in chips, just one big blind over the second-place stack of Danny Yousefzadeh.
[+] Enlarge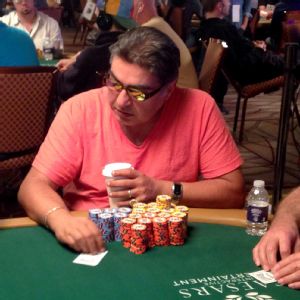 Andrew Feldman/ESPNDanny Yousefzadeh was the first player over 1 million in chips on Day 3.
"I feel crazy lucky," Liporace said to ESPN.com over Twitter. The New Orleans native has had big chips in the main event before, owning a top-five stack on Day 2 in 2010. In that effort he failed to cash, but was victorious in a $5,000 event at the Seminole Hard Rock Showdown in 2012. Yousefzadeh was the first player over 1 million in chips and managed to get there with Phil Ivey to his right. Being chip leader isn't anything new to the man with over $700,000 in tournament cashes and a WSOP Circuit main event title to his name.
"I feel wonderful. I was running good all day and was playing well today," Yousefzadeh said. "It's a good start. I got my trophies, I'm in it for the money. The deeper I go, the better I'm going to feel about it. All I'm going to care about is my daughter. That fame stuff is not for me. I have a 7-year-old daughter, Ariella, who means everything to me."
Ivey didn't fare well against Yousefzadeh, but still managed to
bag 552,500
for the night thanks to a strong finish. He'll begin Day 4 with two other half-million stacks, held by 2012's 38th-place finisher Kyle Keranen and Jing Wang.
A total of 1,125 players were sent home short of the money Thursday and some of them were the most prolific stars of the game. Daniel Negrenau didn't make it out of the first level of the day and defending champion
Ryan Riess
couldn't reach the dinner break. Johnny Chan, Robert Varkonyi and Chris Moneymaker's eliminations left Huck Seed as the only former champion still alive in the event. Antonio Esfandiari, Erik Seidel, Marvin Rettenmaier, Barry Greenstein, Gavin Smith, Dan Kelly and Layne Flack were just a few of the pros to fall and the celebrities didn't do any better.
One of the most dramatic eliminations came at the end of the night. For obvious reasons, Paul Pierce wasn't just another player in the main event, but the focus of much attention since he sat down at the felt a few days ago. The NBA star put up a real fight despite a number of tough table draws, and ultimately fell during the final level of play Thursday. On his last hand, Pierce called a three-bet from Christopher Smith in the cutoff. After a flop of As-Jh-3d, Pierce checked and Smith bet 15,000. Pierce called, leading to a turn 6s where he checked-called a bet of 35,000. A river 4s enticed an all-in from Pierce and sent Smith into the tank. After some time, Smith ultimately called and showed A-J for a better two pair than Pierce's A-4.
Pierce was eliminated in approximately 800th place out of the 6,683 players.
"It's a great atmosphere that has a lot of cool people," Pierce said. "This is the world of poker right here in the Rio. This is the whole world coming to one spot for the last two months and you get a chance to enjoy it. I get a chance to be amongst the best."
A WSOP min-cash is $18,406. Using @paulpierce34's 2013 salary, Pierce would've made that in 2.5 mins on the court.

— Andrew Feldman (@AFeldmanESPN) July 11, 2014
After Riess' exit, only one member of the 2014 WSOP main event final table remained: Mark Newhouse. The 2013 ninth-place finisher finished the day with 423,500, an amount he believed he didn't come close to having at this point a year ago.
"I feel just having been this far, I definitely have more experience than the rest of them," Newhouse said. "It should put me ahead of them."
Some other Day 3 survivors include Faraz Jaka, Allen Cunningham, Michael Binger, Ali Eslami, Kenny Tran, Martin Jacobson, Maria Ho, Brett Richey, Matt Waxman and three-time WSOP champion Jeff Madsen.
"My game has just come a long way. I've been playing well," Madsen said. "It goes without saying that nothing compares to the [main event bracelet]. It would be the sickest thing ever to be the world champion. It's becoming more of a thought, but there's a lot of work for it. That would be amazing."
Here are the top 10 chip counts from Day 3:
1. Andrew Liporace (1.12 million)
2. Danny Yousefzadeh (1.12 million)
3. Raul Mestre (988,500)
4. Jesse Wilke (975,500)
5. Scott Blackman (935,000)
6. Andoni Larrabesanchez (923,000)
7. Stephen Graner (911,000)
8. Rasmus Larsen (883,000)
9. David Tuthill (850,500)
10. Roman Valerstein (850,500)
Play resumes at noon PT with the blinds at 2,000/4,000 with a 500 ante. The final 693 players will earn at least $18,406 and the one who survives the rest will pocket $10 million.
July, 11, 2014
Jul 11
1:35
AM ET
Mehrdad Yousefzadeh was the first player to reach seven figures in chips during Level 14. Yousefzadeh has spent a few hours in Phil Ivey's big blind and the chips have headed in his direction steadily throughout the last level. Ivey, who has about 400,000, has a frustrated scowl on his face, much different (and more expected) than the casual, smiling Ivey who was in the Amazon Room on Day 2.
[+] Enlarge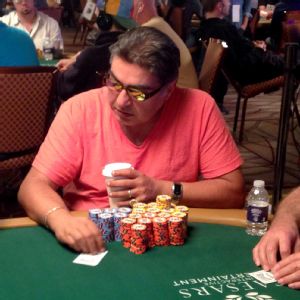 Andrew Feldman/ESPNDanny Yousefzadeh was the first player over 1 million in chips on Day 3.
Yousefzadeh is the only player over 1 million, but a number of players are cruising with monster stacks as well. With approximately 850 players remaining there are six players over 800,000 in chips, including Raul Mestre who finished Day 2 overall second in chips. Isaac Baron held the lead during early play, and remains a contender with a ninth-place stack of 725,000 in chips.
Huck Seed doesn't have a huge stack, but he is the last former main event champion playing after Chris Moneymaker went down in frustrating fashion. Even after running into quads, Moneymaker sat healthily with more than 50 big blinds. Late in the leve, he flopped a set of eights on a board of 8s-7h-3s and after the betting escalated to where over 320,000 was in the center of the table, Raymond Ezzie seized it all as his As-Ks hit the Js on the turn to give him the winning flush. A disappointed Moneymaker bolted out the door and down the hallway as quickly as possible, failing to make the money in this event once again.
Seed has approximately 200,000 at the final break of the night. He last cashed in the main event in 2012.
The biggest rail by far belongs to Paul Pierce who is putting up a fight on Day 2. Seated at a table filled with successful live and online pros, including Michael Binger and Harry "ugotabanana" Kaczka, Pierce has held his own and currently sits on a stack of 180,000 in chips. He desperately wants to cash in this event. For him, it's not about the money, but validation.
"It would be great," Pierce said of the potential of making money. "It's showing me how far I've come over the years as a poker player and learning the game. It's more than the cards. You have to endure the atmosphere. You have to endure a lot of things when you come to a big tournament like this."
The atmosphere for Pierce includes added pressure. With ESPN cameras ready to capture every hand and a number of members of the media ready to report on his every step, concentrating on what's in front of him is key. To keep him focused he's utilized a constant massage, sunglasses and headphones ... just like any other seasoned pro.
Other recent eliminations include John Hennigan, Christina Lindley, Marvin Rettenmaier, Haralabos Voulgaris, Steven Dannenmann and Kyle Cartwright. Players have one more two-hour level to play tonight, but it's possible that action will be stopped earlier if the tournament staff believes the money bubble is approaching too quickly.
Small blinds:
Earl Barron busted out from the event, but is hanging around the Amazon Room keeping an eye on Paul Pierce. Derek Gregory, too. … Jeff Madsen has an autographed picture of Phil Hellmuth with him. … Blinds are now 2,000/4,000 with a 500 ante. … 2013 main event final table member Mark Newhouse has over 600,000. … Raj Vohra is among the leaders. He's been in
this spot
before. Let's see if he's learned to slow down. … The green 25,000 chip is being introduced during this level.
COLUMNISTS
Bernard Lee
The main event stands alone
Bernard Lee provides a personal look into the World Series of Poker main event and what makes the tournament one of a kind
Lance Bradley
Player of the Year race taking shape
Bluff's Lance Bradley explains why the leaders in the Player of the Year race mid-way through the WSOP are unlikely to emerge as the winners come November.
Dave Tuley
Pescatori learning from experience
Max Pescatori made his mark in poker, but his stature in Vegas began with success in another arena.
Andrew Feldman
Just $10,000 and a dream
The final nine players are ready to take their seats in Las Vegas. Who will emerge with the life-changing victory?
Tim Struby