Commentary
Roland de Wolfe's Fantasy Final Table
Updated:
September 6, 2007, 6:07 PM ET
By
Bluff magazine
When we asked Roland de Wolfe to describe his fantasy World Series of Poker final table lineup, he looked at us like we were idiots: "A bunch of bad players," he answered quite reasonably.
Fortunately, we persuaded him to enter into the spirit of the thing a little more, and so here it is: The 2007 WSOP main event final table, starring Roland de Wolfe and …
Mike Matusow
It's good to have Mike around because he creates a lot of banter. He's a good player, he's fun to be around, and there's always the chance that he might blow up. Mike likes to trap, so I'd use a lot of small bets to find out where I was in the hand. I'd try not to get committed and not to bluff him too much. I'd stay aggressive but I'd be careful not to fire huge bets at him. I'd call him down, too, to try to put him on tilt. Matusow blow up!
Phil Hellmuth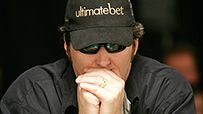 ImageMastersShould you really pick Phil Hellmuh for a fantasy final table if you still want to win?
Everyone at the table will be needling Phil and he'll be good for his usual comedy routines -- he thinks he's the best in the world, but no other top pro does! It'll be good to have him and Mike together. I'd try to put him on a hand and play him accordingly. I'd try to make some moves on him because he's a pretty tight player. If he's raising a lot preflop, I'll come over the top, but otherwise, I'll try to take the pot away on later streets.
Daniel Negreanu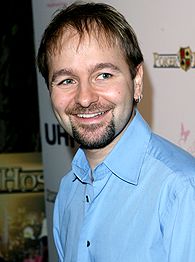 Jesse Grant/WireImage.comDaniel Negreanu is always entertaining at the table.
Daniel and Mike are always winding each other up, so it'd be fun. Daniel's a very good player, but it'd be interesting to see how he does with that lineup. He's a massive calling station, so I wouldn't try to bluff him at all. In a big pot I would make sure I had the hand because I know he makes some very thin calls and he'd pick off my bluffs. I'd probably value-bet pretty thin, too.
Gus Hansen
Again, the banter with Mike would be great. He and Gus are always sending each other up and telling each other how badly they play. Gus is likely to make some funny moves with funny cards and so it's always best to be on the front foot when you're playing against him. If you let him take control of the action, it's much harder to put him on a hand. It's better to be in a position where you're attacking and he's defending. There are certain aggressive players that you want to trap, but he's not one of them because he could be playing anything. Like Negreanu, you'd much rather have him call you down thinly.
Thomas Wahlroos
Thomas is my mate -- he's a bit of a live wire. He can go off on one and throw a chair at someone or just do something ridiculous. He'll get involved with Mike and annoy Gus. He can play wild and he'll get a lot of action from the other players.
Jamie Gold
I'd pay a lot of attention to Jamie's tells and betting patterns because we've seen a lot of his game and so he'd be easier to work out. It'd be interesting to see how Jamie played against a field like this. One thing's for sure: None of the above would be playing to go up in the money. On last year's table a lot of people were just looking at the money jumps and trying to move up. But these sickos would be gambling to win. Jamie got some cards last year, but I think he played well; it would be interesting to see how he did against a top lineup like this.
Generic Anonymous, Crazy Scandinavian Internet qualifier
By this stage, people will be less likely to be crazy -- especially the amateur players. It's easy to play crazy in the early stages, but when there's millions of dollars at stake, a player like this will probably be scared to play a pot. I'd like to put pressure on them, which would be harder to apply to the other players.
Generic old Texan rock
You want to be getting position on these guys and getting the most from your hands. They're probably easy to put on a hand, so you need to work out if you can take pots away or if you have to give it up. You want to isolate the weaker players so you can play heads-up against them. A lot of the table depends on the size of the stacks, of course -- we're not all going to be going in even to the final. If Gus, for example, has a massive chip lead, it's going to be completely different than if he's the short stack.
If you enjoyed this article, subscribe to the No. 1 poker magazine in the country, Bluff magazine.
SPONSORED HEADLINES
MORE POKER HEADLINES
MOST SENT STORIES ON ESPN.COM