Commentary
Down to two
Updated:
November 9, 2009, 9:44 PM ET
By
Bernard Lee
| ESPN.com
Editor's note: The final table will be broadcast on ESPN at 9 p.m. ET Tuesday.
After a battle for nearly 18 hours in the Penn and Teller Theater, the last two combatants in the World Series of Poker main event are left standing: Darvin Moon and Joe Cada. The heads-up confrontation for the bracelet commences Monday night at 10 PT. Cada enters with more than a 2-to-1 chip lead (2.3-1, to be exact) with $135.95 million, compared to Moon's $58.85 million. Moon basically stayed at the same chip level from which he entered the final table (he started with $58.9 million), while Cada, in essence, captured everyone else's chips.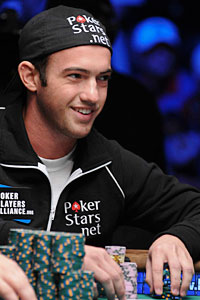 IMPDI 2009The champ returns to ESPN on Tuesday night.
Moon started out fairly strong, but made a couple of ill-advised bluffs along the way, which puts dents into his chip stack. However, about two-thirds of the way through the final table, he put two bad beats on Phil Ivey and Steve Begleiter 13 hands apart. These two key hands brought his chip stack back, but more importantly gave him his momentum back. After knocking out Eric Buchman in fourth place, Moon stayed out of the way and watched the other two go toe-to-toe.
Cada's ride to the final two was not nearly as smooth. Entering the final table with $13.2 million (fifth in chips), he would have a long road ahead of him. After starting out quickly, winning two of the first four hands, he fell under $2.5 million in chips about one-third of the way through the final table after his A-J lost to Antoine Saout's A-K. However, he was able to double up several times, twice miraculously when he flopped sets versus Jeff Shulman and Saout, both times saving his tournament life. Finally, he eliminated Saout in third place when a king fell on the river.
As we enter heads-up play, let's look at the final two a little more in depth.
Darvin Moon:
The logging company owner from Oakland, Md., entered the 2009 WSOP main event the ultimate amateur. He doesn't own a credit card or e-mail address. However, he was able to make it to the poker's largest stage and now is just one step away from becoming the world champion.
[+] Enlarge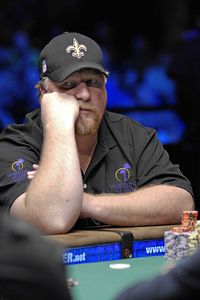 IMPDI 2009Darvin Moon will try to overcome the chip deficit and win the bracelet Monday night.
Moon has humbly said, "There were 6,300 players better than me." However, this player is a better player than he gives himself credit for, while playing by his own rules and getting lucky at the right times. Moon played fairly conservatively preflop, but when he got into a confrontation, he would put lots of pressure on his opponents with huge pot-size bets.
Although he only has 30 percent of the chips, one double-up early would give him the chip lead. Ultimately, if Moon gets the cards or good fortunate at the right time, this man could become the 2009 WSOP champion.
Joe Cada:
In 1989, Phil Hellmuth stunned the poker world by winning the WSOP main event title over two-time defending champion Johnny Chan. With this victory, the 24-year-old became the youngest player ever to win the WSOP crown. That record stood until last year, when 22-year-old Peter Eastgate broke his record by besting Ivan Demidov.
Eastgate may not hold the record for long, as the 21-year-old Cada has a chance to break it Monday night. Cada has been playing online for more than four years, recently focusing on heads-up cash games. Thus, this matchup falls right into his power alley. He definitely feels fortunate to be in this situation and said on the Poker Edge, "If anyone hears me complain about poker ever, you can knock me out. I give you permission."
One critical piece of Cada's run was his cheering section. Although at times somewhat rowdy and contentious (at one point, Cada fans were fighting among each other during the final table), they never let him get down. With Cada almost down to the felt, they let their man know that it wasn't over just yet. Even when he lost a hand, you heard this boisterous group urging their favorite player on. Overall, you have to believe it had a positive impact on his run to the final two.
The final table was simply exhausting, but looking over my hand histories, there were some great encounters that I'm sure will be broadcast on ESPN on Tuesday night. Here are my top 10 hands at the 2009 WSOP final table:
10. K-Q becomes Akenhead's new favorite hand (Hand No. 44):
With only 14 players remaining, James Akenhead miraculously survived when his K-Q outflopped Jamie Robbins' A-A. At the final table, with blinds $150,000/$300,000 and antes $40,000, a short-stacked Akenhead pushed all-in for $4 million from under-the-gun once again with Kc-Qh. After Begleiter called, Buchman reraised to $12 million to isolate Akenhead and got Begleiter to fold. After Buchman flipped over his Ah-Ks, Akenhead was about a 70-30 underdog heading into the flop. After a flop of Jd-3s-2s and a turn of Kh, Akenhead prepared for his exit. However, the poker gods decided it was not his time to leave just yet, delivering a miracle Qs on the river, allowing him to triple up to almost $13 million. The crowd exploded for the first time, but certainly not the last.
9. Moon's bluff has no fold equity (Hand No. 45):
On the very next hand, Moon and Saout got involved in a huge hand. Saout raised to $750,000 from the cutoff seat and Moon called from the small blind. After the dealer revealed a Ks-Jh-2c flop, Moon led out for $2.2 million. However, Saout reraised to $6.65 million, leaving him with only $3 million behind. Nevertheless, Moon pushed all-in and Saout insta-called, flipping over Js-2h for two pair. Surprisingly, Moon flipped over Ah-4d, needing runner-runner. After the turn (3d) gave hope for Moon, the 2s on the river sealed the double-up for Saout.
8. No déjà vu for Schaffel's Ah-Ac (Hand No. 68):
After a very slow start, Schaffel entered the $200,000/$400,000 (antes $50,000) level as the short stack with about $7 million. However, on hand No. 54, he finally got a boost to his stack when his Ah-Ac got all-in versus Akenhead's Kh-Kc, allowing him to double up to almost $15 million. Just 14 hands later, Schaffel looked down at Ah-Ac again and raised to $1.25 million. After Beglieter called, Buchman reraised to $5.75 million. After a moment, Schaffel declared he was all-in and Beglieter folded. Standing up, Buchman asked for a count and eventually called. Amazingly, it was the exact same hand that Akenhead had -- Kh-Kc. Unfortunately, the result was not the same as the dealer cruelly put the Ks on the door. However, there was still hope as the rest of the flop (Qs-Jh) gave Schaffel a possible straight. But his tournament was over when the Kd fell on the turn, giving Buchman quad kings and the chip lead. Schaffel's run was over in eighth place.
7. Moon can't bluff Begs (Hand No. 90):
Moon played only 13 of the first 90 hands, winning 11 of them. However, the two losses were both ill-timed bluffs and lost him significant chips. In this particular hand, Moon raised $1.3 million from under the gun (he said he held K-Q). After Ivey folded, Begleiter reraised to $3.9 million and Moon called. After the dealer flopped 4s-3s-2d, Moon checked-raised to $15 million after Begleiter bet $5.3. After a moment, Begleiter shoved all-in. Although Moon only had to call for $6 million more, he felt he was basically drawing dead and folded, even with so much invested in the pot.
6. Suited connectors derail the Begs express (Hand No. 153):
Playing a solid game for the first half of the night, Begleiter had become the chip leader. However, this following hand put a severe crack in his hopes of becoming world champion. With blinds $300,000/$600,000 (antes $75,000), Begs raised to $1.25 million from the cutoff with 8c-7c. Saout reraised to $4.7 million, but with position and chips, Begs decided to make the call. When the dealer revealed 9h-8h-3c, Saout checked. After Begs led out with $6.3 million, Saout announced he was all-in for about $15 million more. Looking sick, Begs had a huge decision, but eventually called. After Saout flipped over Ah-Kh, they were basically 50-50. However, Saout won the coin flip when the dealer delivered the 10h on the turn (and the Kc on the river). For the first time, Saout became the chip leader with $52.3 million and Begs had dropped to fourth in chips with $18.5 million.
5. Ivey almost chokes on apple versus Moon (Hand No. 175):
This final table was definitely headlined by one player: poker superstar star Phil Ivey. The crowd was thoroughly backing its hero, hoping to see him play heads-up for the most important title in the poker world. Moon made sure that this dream would not be fulfilled. Ivey played the short stack masterfully for the first half of the night. Finally, with blinds $300,000/$600,000 (antes $75,000), Ivey shoved all-in from under the gun with Ac-Ks. After everyone folded, Moon in the big blind called with Ad-Qs, which made Ivey approximately a 70-30 favorite to double up and get right back into the thick of things. As the crowd eagerly awaited the flop, Ivey calmly munched on an apple, awaiting his fate. Unfortunately, the dealer flipped over a nightmare flop of Qd-6s-6c, which sent echoes of moans throughout the theatre. The turn (3c) and river (5c) were no help and Ivey was sent packing in seventh place.
4. Moon eclipses another player, this time Begs (Hand No. 187):
Just 12 hands later, Moon got involved in another huge hand. This time, Begleiter raised from under the gun to $1.6 million. After everyone folded to Moon, he declared that he was all-in and Begleiter snap-called with Qs-Qd. After Moon revealed his Ac-Qh, he was once again a 70-30 underdog. It didn't matter. This time the dealer placed out a safe flop (8s-7s-4d) and turn (3d). Now, Begs was one card away from becoming a force at the final table again. However, the Ad fell on the river, and the crowd exploded. Moon was now back in the hunt for the 2009 WSOP title, while Begs was eliminated in sixth place.
3. Shulman's jacks fall to Cada's set (Hand No. 195):
At one point (Hand No. 123), Cada was down to less than $2.5 million. But a couple of timely double-ups and multiple times taking the blinds and antes, Cada got back into the thick of things. However, his run was almost halted in fifth place. After Shulman raised from under the gun, Cada moved all-in from the small blind with 3h-3c. After Shulman insta-called, Cada's crew was screaming for a 3 and they got their wish with a 8h-4h-3d flop. The turn (7s) and river (Qh) added no additional drama, allowing Cada to survive, while Shulman was now the short stack at the table.
2. Buchman's four-bet induces the largest pot of the tournament (Hand No. 264):
With four players remaining, Buchman was poised to make the heads-up match as he was the chip leader. However, the following hand completely changed his fate. With blinds $500,000/$1,000,000 (antes $150,000), Buchman looked down at Ah-Qc on the button and decided to raise to $2.5 million. After Cada folded, Saout reraised to $8.5 million from the big blind. Buchman four-bet all-in to put Saout to the ultimate test. After a few moments, Saout called, turning over Ad-Kc. The flop (Kd-10h-7c) was good news and bad news for Saout as he hit his king, but now gave Buchman four outs (jacks) instead of three. However, the turn (Kh) and river (6d) did not help Buchman. After this critical hand, Saout was our new chip leader with almost $90 million and Buchman became the short stack with only $9.8 million.
1. Ladies disappoint the Frenchman (Hand No. 272):
Heading into three-handed play, Saout was the chip leader with $80.6 million and Cada was the relative short stack with $39.2 million. With over 39 times the big blind, Cada was not in trouble and the media felt this could take another hour or more, but it was almost over on the very first hand of three-handed play. Sitting in the small blind, Cada raised to $2.55 million and Saout reraised to $7.3 million from the big blind. Undeterred, Cada declared that he was all-in and Saout insta-called with Qs-Qh, After Cada revealed his 2s-2d, it looked like the long night would finally be over. Once again the poker gods were shining down on Cada, similar to Eastgate last year, as the dealer flopped Cada another tournament-saving set (9s-7s-2d). After the remainder of the board (3h-6s) ran safe, Cada and Saout flipped spots on the leaderboard -- Cada had $78.5 million and was our chip leader and Saout had fallen to the relative short stack with $40 million.
There were too many unbelievable hands that night, so I can't leave without giving you the one that ended the night. Here is an extra bonus hand:
Cada wins the race to heads-up (Hand No. 276):
With Cada holding the chip lead, he raised from the button to $2.25 million. Saout pushed all-in and Cada quickly called with Ad-Ks. As Saout revealed 8s-8h, the most critical race of the night was on. If Saout had won, he would've been the chip leader once again and Cada would've become the short stack. If Cada had won, the long night would finally be over.
The board came 5h-5c-4s-10d-Kc
As you can imagine, there was absolute exuberance among Cada's fans and sheer dejection on the side of Saout's family and friends. A great ride for the Frenchman as he finished in third, taking home $3,479,670.
There should be more memorable hands Monday night. Don't forget to watch all the action on ESPN Tuesday night starting at 9 ET. Also, listen to my WSOP wrap-up show on The Bernard Lee Poker Show on Wednesday night starting at 7 on www.RoundersRadio.com. Our guests will include 2009 November Niners Steven Begleiter and Kevin Schaffel, and maybe some other surprise visitors.
ESPN Poker
Bernard Lee is a columnist for ESPN.com and the co-host of ESPN Inside Deal. Since finishing 13th in the 2005 WSOP Main Event, Lee has earned over $2 million in career earnings, including three poker titles. Along with his contributions to ESPN.com, Bernard is the weekly poker columnist for the Boston Herald and also the host of a weekly poker radio show in Boston, "The Bernard Lee Poker Show".
WSOP November Nine Coverage
Final Table Weekend
• 11/11: Cada's poker career begins now

• 11/7-11/10: Final table blog

• 11/10: Final WSOP thoughts »

• 11/10: Doyle Brunson and Joe Cada »

• 11/10: Joe Cada wins

• 11/8: Recapping Saturday's action »

• 11/9: Heads-up and best hands

• 11/8: Nine-to-two preview show

• 11/7: Audio Blog Part 2 »

• 11/7: Audio Blog Part 1 »

• 11/6: Final table preview

• 11/6: Final preparations »

• 11/5: Previewing the final table

• 11/5: Hellmuth breaks down the nine »

James Akenhead
• 9/10: Short stack has big plans

Steven Begleiter
• 10/8: Bullish on Begleiter

• 10/6: ESPN Inside Deal

• 8/27: The Poker Edge »

Eric Buchman
• 10/29: Playing for the money

• 8/25: ESPN Inside Deal

• 8/7: The Poker Edge »

Joe Cada
• 10/23: "The Kid" ready to make history

• 10/20: ESPN Inside Deal

• 7/30: The Poker Edge »

Phil Ivey
• 10/22: 4 days, 3 nights and $1 million

• 10/14: My day with Phil Ivey

• 10/6: ESPN Inside Deal

• 9/30: The Poker Edge »

Darvin Moon
• 9/29: ESPN Inside Deal

• 9/25: The Poker Edge »

• 9/17: A different dream for the chip leader

Antoine Saout
• 11/02: Saout supported by France at WSOP

Kevin Schaffel
• 10/27: ESPN Inside Deal

• 10/15: The summer of Schaffel

• 8/13: The Poker Edge »

Jeff Shulman
• 10/23: The Poker Edge »

• 10/1: The villain?

Check your results!
• Play and win: Play Poker Pick 'Em

MOST SENT STORIES ON ESPN.COM