Commentary
Back to Flack
Updated:
June 23, 2008, 3:52 PM ET
By
Gary Wise
| ESPN Poker Club
The ghost of Stu Ungar constantly looms over the world of poker and its signature tournament. Ungar emerged victorious at the World Series of Poker's main event three times, in 1980, 1981 and dramatically in 1997 after years of suffering at the hands of his own demons. Those same demons would claim his life 16 months later.
It was half a year before Ungar's unfortunate demise when Layne Flack scored his first major tournament finish, a second-place showing at the 1998 WSOP worth $133,000 in prize money. A year later, Flack won his first bracelet and the money, unfortunately, provided him the opportunity to live a lifestyle reminiscent of Ungar's. For those who knew Flack, that lifestyle was very much a part of the equation as he earned his "Back-To-Back" nickname with twin bracelets in 2002 and 2003.
After spending the next several years battling drug abuse, Flack acknowledged the road has been difficult, but it has turned a corner.
[+] Enlarge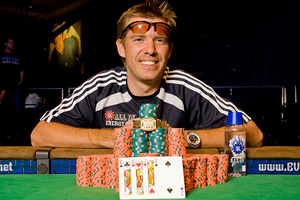 IMPDI for the WSOPLayne Flack has 19 career cashes at the WSOP.
"I got off track pretty bad for a while," he noted. "I've spent the last year regrouping and getting my life back together. My personal demons were the toughest road to hoe. I'm through the toughest part. Now I'm starting to reap some rewards, so now it feels like I'm doing something right."
Some believe that Flack has been through the worst of it. Others simply hope that Flack can sever his connection with Ungar permanently.
"I've heard a lot of people I respect in this industry connect Layne Flack and Stu Ungar," WSOP historian Nolan Dalla said. "I think the reasons for those comparisons are quite obvious: Their poker talent is unquestionably phenomenal and their personal issues and down periods have been legendary. With Layne, we still haven't seen what he makes of his life, so the jury is still out on him."
Friday night, the jury was given reason for hope. The assembled were treated to one of the most dominant performances in recent WSOP history, with a sober Flack running over the opposition to claim Event No. 34, $1,500 pot-limit Omaha with rebuys, for his sixth bracelet and $577,725 in prize money. It was his first bracelet in a very long five years, and the biggest cash win of his career.
To get there, Flack employed a style reminiscent of his personal history: ballistic aggression with no regard for the money at hand. It's a tactic that seems reckless on the surface, but is actually incredibly effective in rebuy tournaments, in which the player with the most money to burn often emerges triumphant.
"I come from Montana, where we have a lot of little tournaments with a lot of rebuys," said the 39-year-old Flack. "I learned through those tournaments that you should fire, fire, fire until you get a hold of the chips and then you hold on to them. I went from rebuying $6,000 to getting to $30,000, then back to zero, back up to $30,000, back down to zero then out of the rebuy period with $40,000. You have to keep getting it in and hopefully you beat the clock by having chips."
In all, Flack spent $36,000 on the buy-in, rebuys and the add-on at the end of the rebuy period. He needed to place 12th or better to secure a profit.
"We got down to two tables and I said, 'Everyone's a winner here but me, right?' You wouldn't want to try to win it that way every day," he said.
Topping a final table that included close friend and former backer Ted Forrest, Flack moved into rare territory with the win. It puts him in a tie for seventh place in bracelets won, even with T.J. Cloutier, Men Nguyen and Jay Heimowitz. Only Phil Hellmuth (11), Johnny Chan (10), Doyle Brunson (10), Johnny Moss (8), Erik Seidel (8) and Billy Baxter (7) have more.
"To be a part of history in the making is great," Flack said. "To make history and be known as one of the elite group of players is a great feeling. Sometimes we forget how great it really is."
Even after his night of success, memories of Flack's drug issues are still clear for him and those who watched as he squandered a rare talent.
"For lack of a better term, he was viewed as a waste of talent," said Dalla, looking back wistfully at what could have been. "He had enormous problems at the time. I remember interviewing Layne Flack and trying to ask him serious questions and he was irreverent to the point of being absurd. I would ask serious questions and he would answer, 'The Easter bunny.' I'm not making this up; he was that far out of it. It's remarkable that he was able to play as well as he did."
Flack now feels renewed, and it hasn't gone unnoticed.
"You saw the transformation," Dalla said. "I don't think I've ever seen him so straight. Not just when it comes to poker, but on a personal level also. I've known him for 10 years and never seen him speak with any seriousness; this was the first time I've seen that from him.
"If you play poker, you have to conquer demons. They take different forms: financial constraints, family pressures, personal bad habits, distractions … whatever they are, we all have them. Everyone says they don't, but everyone has potential demons and they do come out. In Layne and Stuey's cases, they were dragons … all consuming. Watching Layne now, it's amazing to see someone coming out of a fog they've been in since they were 18, 19 years old. He's living clean and taking steps to correct things. With Stu Ungar, when he won in 1997, I never believed he'd come out of it. You could just see Stu Ungar inherently was incapable of changing."
Now, with bracelet in hand, Flack is looking forward.
"I've been putting [the past] all behind me and staying in the present at all times," Flack said. "If you look back and dwell on the things that have happened in the past, you can be thankful for them happening, since without them you wouldn't be here. Life to me is like a poker game. If you don't overcome your beats, you're never gonna get here. I've learned to overcome those things and I've seen that in every aspect of life."
It's a powerful lesson that Ungar never learned, and paid the ultimate price for. Now, with his re-emergence, there's hope for Flack. Hope that he can stay away from the demons. Hope that he can reclaim the brilliance he once flashed with Ungar's frightening regularity. This bracelet sparks the dawn of a new road. One devoid of ghosts.
Gary Wise will cover the WSOP in its entirety for ESPN.com and in his blog at wisehandpoker.net.
Gary Wise has contributed to ESPN.com since 2007. He is well-studied in the history of poker and presents a unique tableside view of the goings-on in the poker community.
Google author profile