Commentary
Making a difference
Updated:
September 29, 2008, 11:51 AM ET
By
Gary Wise
| ESPN Poker Club
In the wake of Scotty-Gate, there are questions each television professional needs to be asking themselves with regards to what victory is worth and responsibility to the game. TV pros aren't just competitors. They're entertainers and representatives of the industry. As such, there are those who feel that behavior like Scotty Nguyen's was completely unacceptable.
"I'm very disappointed in what Scotty did," said New York-based Victor Ramdin. "I think it was totally uncalled for. He knew what he was doing. It was out of line. Being a great poker player isn't what does it for me, being a great sport is. If you're big in the field, well respected, you should carry yourself in a way that deserves that respect.
[+] Enlarge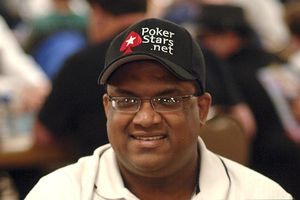 S. Girolami/Lotus PR Victor Ramdin enjoys playing at PCA against those who don't see the live felt too often.
"When you put up your money for a big event, you should do so with the understanding we should all behave ourselves," Ramdin continued. "I don't care how big a player or small a player you are, we should all treat one another with respect."
It's not hot air.
Ramdin shares a storyline with Nguyen that saw both men come to America -- Nguyen from Vietnam, Ramdin from Guyana -- seeking the dream this nation has offered to immigrants for generations. It was through that odyssey, that they each discovered the game that would ultimately propel them to fame and wealth.
"It was difficult for me to get out," said Ramdin of leaving Guyana. "[America] is a great country. You can have all of your dreams by working hard and doing the right things for this great country. It took me three tries to get into this great country. I actually arrived in 1989, but got my papers in 1998."
That was the beginning of an American story that saw Ramdin make his mark as the owner of multiple Dollar store franchises in New York. Their earnings fueled a poker career that includes a win at the World Poker Tour's 2006 Foxwoods Poker Classic and a long-standing sponsorship with PokerStars.
Ramdin's citizenship papers allowed him the luxury of traveling back to his home country freely. That in turn allowed him to become more involved in his charity, Guyana Watch.
"Guyana Watch started in 1992," Ramdin said. "In a nutshell, it involved a team of US doctors going to my home country, down to Georgetown, Guyana. It's a third world country, a lot of poor people. We do makeshift clinics throughout the country, in a different part of the country every year. We go to different areas we think need help."
While helping in general is well and good, the organization has a more focused goal.
"We see approximately 3,000 people a year on our annual trips," Ramdin recalled of the post-World Series of Poker sojourns he's made with medical personal and poker professionals. "That's about 500-600 per day. 40 percent of them are kids. Our ultimate goal is to find kids in need of surgery, specifically heart surgery, because there is no surgery available in our country. If you're born with a heart defect, you're left to die. We work to find kids who need that kind of aid and provide it to them. Obviously, we can't go and say 'We're only helping kids.' We go there and help anyone in need of help. We have the medication, the doctors and the support staff. That process helps us find the kids who really need the surgery we're talking about."
It's an arduous process leading to an expensive procedure.
"We do approximately five to seven surgeries a year," the 40-year old Ramdin beamed. "Over my life, I've funded 18 open heart surgeries. The organization as a whole has done something like 50 total."
Ramdin's passion and charisma have combined to shine a light on those efforts within the professional poker community. Time and again, he's recruited stars of the game to give their time to the cause.
"This past year, I had Lee Markholt with me," said Ramdin. "[He's a] very hard-working guy. In past years, I've had Phil Ivey and his wife, Barry Greenstein and his girlfriend, Howard Lederer and his wife and a few other players from the east coast who have supported me over the years."
It's a number that continues to grow, following the example Ramdin has set.
"In part, it's important for poker players to give back because of the perception we're not contributing to society, making a living by playing a game," admitted Ramdin. "'Must' isn't the right word, but you should give back. We're dealing with millions of dollars when we gamble and giving a little shouldn't hurt. We should be setting an example because we're out there playing poker for an audience, for our fans. They look up to us."
The obligation goes beyond representing the game.
"I think everyone in society should give back." Ramdin said. "You've got to give what you can afford. If you have extra money, you should give it back to make someone else smile in this world. There are so many ways to give back and make someone smile. My best friend would be a guy who goes out once a year and gives back. Not necessarily his money, but his time. Go out and do something for humanity. That will make you my best friend for life."
That Ramdin has so many 'best friends' is an indication the message is getting through. While performances like Scotty's are going to be better remembered on an individual basis, it's the Ramdin's of the poker world who may ultimately turn the tide of mainstream opinion. That Ramdin can kill two birds with one stone by representing the game and doing some good for his homeland makes his dedication that much easier. His work is never done though; he's constantly trying to enlist a few good poker players.
"Make sure you tell them to visit the website,www.guyanawatch.org," Ramdin scolded with his best recruiter's voice. "We don't just want your money. We'd love for you to join us."
Gary Wise is a regular contributor to ESPN.com. You can read more of his thoughts on poker in his blog at www.wisehandpoker.net.
Gary Wise has contributed to ESPN.com since 2007. He is well-studied in the history of poker and presents a unique tableside view of the goings-on in the poker community.
Google author profile
MOST SENT STORIES ON ESPN.COM