Commentary
Chasing history
Updated:
October 20, 2008, 5:16 PM ET
By
Gary Wise
| ESPN Poker Club
Poker years lately have been much like dog years. As each year goes by, new records are set. Given the recent explosion of the game, every year is bigger and better, making years past seem like ancient history.
It seems as if it has been a very long time since Barbara Enright made her way to the final table of the 1995 World Series of Poker main event. The only woman ever to make the final table of poker's biggest tournament, Enright eventually finished fifth. She lost when her preflop all-in with pocket eights was called by Brent Carter and his 6-3 off suit. Carter hit two pair, and as Enright exited, she covered her eyes to hold in the tears as she mourned what could have been.
[+] Enlarge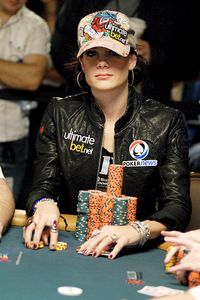 Eric Harkins/IMPDITiffany Michelle was down to her last few chips on Day 2, but still made an impressive run at the 2008 WSOP main event.
The thing is, poker might have lost more that day than Enright ever did. Although women have made recent strides, they remain the great untapped demographic. While the world has learned how to play, woefully few role models have inspired women to come to the table. Instead, there has been a locker room environment that often brings out the worst in this writer's graceless gender. A lady champion would have set a precedent and sent a message much as Chris Moneymaker's victory did, one such as, "This person, with whom the viewer has much in common, emerged victorious. So can you."
Some of the ladies are still waiting for that call to action.
On Tuesday night, ESPN's broadcast of the WSOP will focus on the most serious attempt by a female player to join Enright in her final table glory in more than five years. Once best known for her work as an on-camera personality for PokerNews.com, Bluff Media and other industry entities, Tiffany Michelle shocked the world when she emerged as one of the chip leaders in the late stages of the main event. With the reality of the November Nine format rearing its head, the poker world waited with bated breath to see whether this young, attractive ambassador of the poker world could become its next media sensation.
"I didn't really understand the history on the line," Michelle said about her one-mindedness during the tournament. "I was just coming in and playing my game. I didn't get it until on the last day. Everyone started talking about how I'd done certain things that hadn't been done very much. I think that's fortunate because of the extra pressure it would have put on."
Indeed, to anyone close to her, it was obvious that Michelle was very much in her comfort zone. Michelle was a performer looking for a stage, and once she found it, she was at ease. Through the first five days of play, as her confidence built, she found herself playing the best poker of her life. For all of the hoopla surrounding her rise, for all of the endorsement talk and attention, in all of the good ways, she was ready for her close-up, Mr. DeMille.
Michelle is not alone among the women who have made history in the main event. Joining her, along with Enright, are several luminaries who have paved the way for all successes that follow:
Colette Doherty: The first woman to play in the main event, Dougherty was a product of the second-most-powerful national poker community at the turn of the '80s. Terry Rogers, called a scoundrel by some and a pioneer by others, hosted the Irish Open, a small tournament by today's standards, both by buy-in and number of registrants. Still, when Doherty won the tournament in 1981 (good for some 22,000 British pounds), Rogers apparently insisted she register for the main event immediately.
Marsha Waggoner and Wendeen Eolis: Waggoner and Eolis are still a part of the competitive poker scene and share the distinction of having become the first women ever to cash in the main event. Finishing 19th and 20th respectively in the 1993 main event eventually won by Jim Bechtel, the ladies easily survived the money bubble, as 28th place was the last to miss out on the green. Each received $12,000 for her finish.
Annie Duke: The 1994 main event won by Russ Hamilton proved to be the money debut of Duke, the greatest female competitor in main event history. Although Duke may claim another woman is the best female tournament player (Kathy Liebert heads the money list) or the best female poker player (Jennifer Harman's constant participation in The Big Game is a claim Duke can't match), the record book eliminates all doubt that Duke's main event results easily surpass those of the rest of her gender.
Duke finished two spots into the money in 1994, earning $16,000 for her 26th-place finish. Then, in 2000, she put together what might be the greatest performance of her career: a 10th-place finish in the main event while being eight months pregnant. Her 47th-place finish in 2003 made her the top female finisher, and her 88th-place finish in the biggest tournament of all time (the 2006 main event) made her runner-up in that regard to Sabyl Cohen (who soon afterward became Sabyl Cohen-Landrum). Her four cashes in the main event is a record among women. By comparison, contemporaries Liebert and Cyndy Violette have cashed only once each, while Harman never has.
Tiffany Williamson: The victim of remarkable Internet vitriol, Williamson became a villain of the 2005 main event with slow play that went beyond deliberate. Opponents repeatedly called the clock on the Englishwoman, who explained away her rate of play to lack of experience.
Williamson holds the record for the highest finish in the main event for a woman representing a nation (England) other than the United States. She finished 15th, good for a purse of $400,000. It's the most any female player has ever won in the main event. She hasn't cashed at the WSOP since.
Maria Ho: A regular presence in high-stakes games on the West Coast, Ho was the last lady standing a year ago in the 2007 main event and eventually finished 38th. Ho's performance netted her $237,865, the record for an American woman in the main event entering 2008.
Michelle credits her close friend Ho with providing her inspiration for her run this year.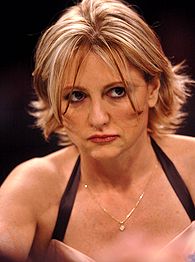 Steve Grayson/WireImage.comJennifer Harman is one of the top female players in the world, but she has never cashed in the main event.
"It's not about carrying the torch for women, it's about playing to get first place," Ho said about her run. "I can't even fathom how big it would be for a woman to make the final table. At this point, poker is so huge, and there are so many women who want to get into bigger buy-in tournaments. To see themselves represented that way would give them the confidence to know they could play without being intimidated. It would be great."
She went on to make a good point about why that role model would be different than someone like Harman.
"[Harman] is a great player, and we all know she's in The Big Game, but that's not really achievable for most people," Ho said. "The WSOP gives us a more attainable goal."
Once eliminated this year, Ho transformed herself from player to supporter/coach, providing Michelle with the kind of advice that can come only from experience. It's not easy to stay calm in the late going of the main event for any young player. Being the last woman standing and trying to join Enright in history or even surpass her only adds to the pressure.
Tuesday's episodes will begin with the start of Day 6. At that moment in tournament time, Michelle stood fourth in chips of 79 remaining players. Would she prove able to continue her run? Would she break Williamson's record for largest cash or Enright's record for best finish? Tune in to ESPN's broadcast to see whether she made a large step toward Day 7 and maybe beyond.
Gary Wise is a regular contributor to ESPN.com. You can read more of his thoughts on poker in his blog at www.wisehandpoker.net.
Gary Wise has contributed to ESPN.com since 2007. He is well-studied in the history of poker and presents a unique tableside view of the goings-on in the poker community.
Google author profile
SPONSORED HEADLINES
MORE POKER HEADLINES
MOST SENT STORIES ON ESPN.COM