Commentary
The potential price of a prop bet
Updated:
June 8, 2010, 4:03 PM ET
By
Gary Wise
| Special to ESPN.com
Money makes the poker world go round, much in the way it does in a real world in which the dollar has a more tangible value. In poker circles, it just takes a little more to make a dent on the psyche. That's why Simon Watt's victory in Event 11 ($1,500 no-limit hold 'em) at the 2010 World Series of Poker had the attention and appreciation of poker's elite cadre of television stars.
While Watt earned $614,248 in winning the tournament, it was the money that didn't change hands that was the story of what Terrence Chan has called the biggest game in poker history (with some fascinating analysis to match). Watt's heads-up opponent was Tom "durrrr" Dwan, he of the highest-stakes cash games and every poker television show under the sun. Dwan, who has never won a WSOP bracelet, has made such lofty wagers predicting he'll do so this year, that securing that initial victory will ensure him the most profitable day of his life. He's not talking about the first-place money. In fact, it's possible that should that win come in the main event, the majority of his windfall would come from his side action.
[+] Enlarge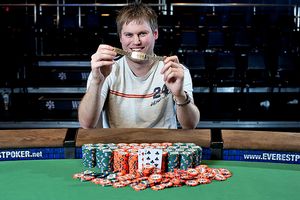 WSOPphotos.comThis picture of Simon Watt was perhaps the best thing many prop betters could've imagined at the end of Event 11.
Dwan has taken a bevy of bets against the best players in the world, including wagers on his chances to win a bracelet this year, chances to win two bracelets in the next three years and most money won throughout the WSOP. Failure to achieve any of his goals seems likely to result in a mid-seven-figure loss, while a win may creep into the eight-figure range.
"I have a bunch of money bet to win a bracelet," Dwan told CardPlayer cameras on Monday. "I have a bunch of money bet to win two bracelets in three years. Those are both really huge bets. Then I have a ton of other bets relating to the series. A bunch of those are 'most amount cashed,' which I'm looking in good shape for after yesterday because I won $380,000 or something. So I made $380,000 or whatever that the Rio's giving me, I think I had 20 percent in cross books, I think I made another $100,000 in side bets on that tourney and I probably made another $400,000 to 500,000 in equity, so … it wasn't a bad day and today I can say I wasn't complaining about it. However, yesterday after I busted out, I was very close to my having a much, much better day. I was kind of tilted."
At just 22 years old, Dwan has made himself the early focal point of the WSOP. That was never more apparent than early Monday morning, when more than a dozen televised poker stars were constantly seen dashing between their own tables and the feature table area.
"I think it was pretty amusing that one of the tournaments I should have the worst chance of winning, being a 2,500-person no-limit hold 'em tournament, I was at the final table of, while one of the tournaments I should have the best chance of winning, being the stud eight-or-better with only 100 people … was going on and obviously a lot of people who'd bet against me were in the stud eight-or-better," Dwan said. "Apparently a lot of people in the stud eight-or-better were staring at the screen, asking, 'How many chips does he have? How many chips does he have?'"
"Does anyone in poker have any money left if 'durrrr' wins that tournament?" Mike Matusow screamed as Dwan approached the final table. "I know I don't!"
Matusow, being his usual hyperbolic self, won't go broke if Dwan gets a bracelet, but the $32,000 he'd have to pay off in the event of a Dwan victory is no pocket change. He'd win $10,000 should Dwan fail to reach his objective. That's just pocket change compared to some of the other numbers being thrown around.
"I have a big bet against Tom," said Eli Elezra, one of the most successful bracelet bettors over the past few years. "I have 3-1 against his winning a bracelet. I can lose $750,000 or win $250,000. He's a friend, but I do it because I think it's profitable. I'm ahead in all those bets. It's mostly for financial reasons, but it's for fun too. I love a good sweat, it keeps things exciting. If Tom makes a final table, I have a good sweat, you know?"
Apparently, Elezra felt it wasn't good enough. Despite Monday's close call, he was happy to take on more action. "Huck Seed bet $100,000 against Tom's $325,000," Elezra recalled. "With nine people left, Tom was the chip leader. I bought Huck's bet for $82,500, so now if Tom wins a bracelet, I lose over $1 million."
Is Eli worried he'll lose?
[+] Enlarge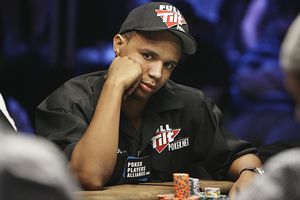 AP Photo/Laura RauchNo shock here: Phil Ivey has a lot of money riding on prop bets this summer.
"I've got Phil Ivey on my side!" Elezra said with a laugh. "How can I lose? Phil's going to lose $3 million if Tom wins a bracelet!"
Even in the high-stakes poker world, that's a staggering number.
There are some who question the wisdom of Dwan's approach. "With bracelet bets, you're not making a sound financial plan," said Brandon Adams, a Harvard economics professor who moonlights as one of the top cash-game players in the world. "If you win a bracelet, you've already had a good summer, right? You're piling pain on pain and glory on glory. It makes more sense to have more balance. Bracelet bets put unbelievable pressure on you. As long as they loom over your head, it's really all you can think about. They're relentless. Where it might be the healthy choice to take a day off, when you have those bets you're bound to feel a certain degree of guilt when you do anything that doesn't work towards the aim of winning them. It's all-encompassing."
Adams also said such wagers can limit a poker pro's options. "The other thing about bracelet bets is they don't always make a lot of sense for guys who play the cash games," he said. "You never know how the games are going to be. In 2007, I had a bet for most cashes, but we ended up cancelling because the cash games were so good. The guys like Phil [Ivey] and Tom who are putting so much on the line with bracelet bets are putting themselves in a position where they can't [audible to cash games] when the action is good because they have so much on the line in their WSOP bets."
Ivey's use of proposition betting as motivation reached remarkable levels last year, when he allegedly won multiple seven-figure wagers with his two bracelet wins. This year, he again has multiple bets out on himself, including a challenge with Howard Lederer in which he must win a total of two bracelets in the next three WSOPs (2010-2012). It's alleged the stakes are upwards of a few million. While Lederer wasn't talking totals, he did confirm that he's bet against Dwan and he's also put money on Ivey against Dwan, all of which means Howard is among the throng who owes thanks to Watt.
A few of the other interesting bets we've heard about at the tip of a very tall iceberg:
• On the eve of the Series, Lederer played host to 10 other high-stakes players including Daniel Negreanu, Barry Greenstein, Erick Lindgren, Andy Bloch and Phil Galfond for an auction-themed WSOP fantasy pool. Each player started with an auction pool of 200 'dollars' with which to nab a total of eight players. The cost to enter: $25,000, with the majority those fees going to the winner. Bloch got Ivey, spending $102 to get him.
"Pools are all about the fun," said Negreanu, who received the second-highest bid in the pool. "I'm a fantasy pool geek anyways and to do it in poker is even better. It's always fun to have a rooting interest in WSOP events. It means you have someone to track at almost every final table, so the pools keep things great that way." Negreanu has bracelet bets against both Dwan and Ivey that could earn him $200,000 each.
Of course, the fantasy pool's $25,000 entry fee doesn't include side action.
• Justin Bonomo has bet that one of 66 residents of Panorama Towers -- the glossy, high-end Las Vegas condo complex in which he resides -- will win a bracelet, taking the short end of 10-1 odds. He's done so at personal risk, with a loss costing him somewhere in the six-digit range, which Bonomo called "a substantial chunk of my bankroll."
Players on Bonomo's list include Greenstein, Joe Sebok, David Williams, Phil Laak, Antonio Esfandiari, Isaac Haxton, Scott Seiver, Brock Parker, Nick Binger, Michael Binger and Jean-Robert Bellande.
• Matusow and Ted Forrest, who had a $100,000 weight-loss bet two years ago, are back at it. This time, it's Forrest who must lose the weight. Forrest, who weighed 188 pounds when the wager was made in early May, must reach 139 pounds by Sept. 24, or he'll have to pay Matusow $150,000. Should he succeed, he'll win $1 million. As a bonus, if he makes weight by July 15, he'll win $2 million. Severing of limbs is not allowed.
Measuring somewhere in the vicinity of 5-foot-10, Forrest is apparently serious about the weight loss, taking his side of the action a step further. He's wagered $1,500 against Justin Smith's $180,000 that should he make a final table during the WSOP (which runs until July 17), he'll weigh in at 139 pounds within 24 hours of his elimination.
• Surprisingly, Laak didn't have any side action on his attempt at the world record for the longest poker session ever played. He should have gotten some: He lasted more than 115 hours before finally calling it a night. His efforts raised money and awareness for Camp Sunshine, which supports children with life-threatening illnesses and their immediate families. Congratulations kid, you're in the Guinness Book.
Gary Wise is a poker columnist for ESPN.com.
Gary Wise has contributed to ESPN.com since 2007. He is well-studied in the history of poker and presents a unique tableside view of the goings-on in the poker community.
Google author profile
SPONSORED HEADLINES
MORE POKER HEADLINES
MOST SENT STORIES ON ESPN.COM
World Series of Poker Coverage

ESPN.com's poker team is bringing you all the action from the 2010 World Series of Poker.
Poker Home
STORIES
VIDEO
RESULTS AND SCHEDULE
POKER PODCAST
CHATS