Commentary
Joe Cada begins WSOP defense
Updated:
July 7, 2010, 3:50 PM ET
By
Gary Wise
| Special to ESPN.com
It's an annual right of passage. Each year, one player wins the World Series of Poker main event, and a year later, the world watches them return to the scene of the crime. Half of the attention revolves around the question of whether the championship win was legit. The other half is more focused on the champion's reign. Joe Cada knows all eyes will be upon him as he begins his title defense on Day 1C of the main event Wednesday.
A year ago, the now-22-year-old Cada became the youngest champion in poker's history. After eight days of superb play in which he never risked all of his chips, he hit a hot streak at the right time at the final table. Deprived of stellar opening hands, he nonetheless found himself the last man standing after drawing out with the worst of it on multiple occasions. Cada understands there may be a skewed perception of his title.
[+] Enlarge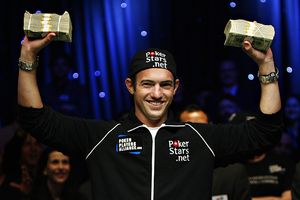 AP Photo/Isaac BrekkenJoe Cada begins his title defense on Day 1C at the feature table.
"I don't mind," said Cada. "I did get lucky. I knew what I was doing, but I got lucky to win. I thought I played some of my best poker over those eight days. I mean, the final table was a little bit different. During the eight days I just kept chipping up, waking up with hands. The final table didn't work out that way."
How that final table did work out left many viewers with the belief that they'd seen the luckiest player win. Having that perception follow you around could be a burden for some in a game where ego often reigns.
"Joe's one of the best players I know of," says Dean Hamrick, a fellow bracelet winner who befriended Cada through their online play before Cada's rise to fame. "I think he got a bad rap because of the way he won the tournament last year. People don't know he was never all-in before that final table. He played phenomenally. He played well for eight days, then got lucky when the cameras were watching. He gets a bum rap."
Despite his young age, Cada takes a remarkably mature view on the public's perception of his title run.
"I mean, I don't really care, everyone has their opinions," Cada says. "They're tournaments. A lot of times, the math makes things so standard that you have to make your move. I didn't just jam because I had a small pair. There was a lot of math involved with opposing ranges and that's how you play. It's poker, that's how you have to play. They can think what they want. I'm not too worried about public opinion."
It's that last line that's made Cada's ambassadorial reign a remarkable one. Despite his indifference to how he's viewed, he's still taken upon himself the responsibility to promote poker (which sometimes unfairly comes with the championship). Cada's age, charm and the fact that he's American made him a natural target for mass media opportunities that weren't available to Jerry Yang and Peter Eastgate, the champions who preceded him. Despite the attention, by all accounts, Cada's very close to the same kid he was a year ago.
"Life is the same. Same house … same car … I'm still pretty lazy for the most part," said Cada, who earned $8,546,435 with his main event title. "I live the poker player life. Get up, play a little, do what I want to. I bought some new WaveRunners. I gave my older ones to my family. The rest of the money is sitting in the bank."
He then hastily admitted, "I donated some back during this year's WSOP though."
It's been a tough 2010 WSOP for Cada, who entered 13 events without a cash.
"I mean, it's tough to the point where I strive to do good and I'm competitive and I keep busting out," he said of his limited participation. "I can't go play the next day because it gets to me. I don't think people's play has changed too much against me or I'm playing too badly; streaks just happen."
Cada understands that part of the issue he's been facing at this year's WSOP is the massive amount of attention focused on him. The pressure that comes with celebrity can be a distraction, and like Eastgate before him, Cada's dealing with the new reality of a bursting bank account, which for some could easily lessen the competitive fire.

"I didn't lose the fire," Cada insisted. "In order to play and grind I don't have the fire because I don't have to grind [multitable tournaments] every day anymore, but I haven't lost my focus. Even before the main [event], if I sat down and played for $5 with my family, I'd still be competing. I like to win. I don't like to lose."

"I can tell you he's a rare individual," said Cada's agent Dan Frank, with whom Cada chose to honor a handshake agreement despite lucrative offers from larger firms. "It's not often you find someone in the sports/competition world who can handle an extreme life-changing experience with such grace, humility and modesty. He's one of the most level-headed kids I've ever met. It's almost at the point where he's uncomfortable talking about his accomplishments."

"Joe's one of the nicest kids in the world," said Hamrick. "It's so rare to find a kid with that kind of success who hasn't let it go to their head. I don't think you'll find many people who have anything bad to say about Joe. I'm sure not one of them."

Frank and Hamrick have seen Cada undergo one change through his year in the spotlight: maturation when it comes to opening himself to others and sharing his life with them.

"He's learned to open up to the people who want to connect to him, let him in, be a little more extroverted," remarked Frank. "I think he's learned the value of that. I think he's been able to take a little more joy in realizing that other people are living through him and enjoying that championship through him -- specifically his family. Letting them share in his success, I think he's come to understand how important it's been to them."

"I got used to interviews and autographs and all that, but sitting in front of the camera is tough," said Cada. "I was always the guy who couldn't give a speech in class. The whole thing has forced me to open up a lot. I think that's a real positive that I've taken away from this whole thing. Probably the most positive thing."

Now, Cada is ready to defend his title. Despite the unnatural feel of his place in the spotlight, he's not ready to give up without a fight.

"I've always said I can't wait until there's a 2010 winner," said Cada. "Not necessarily a new winner, though. Winning again would be fine by me, but once there's a new guy, the craziness will be over with. I'll still be around, but a lot of the attention will be directed toward the next time, which would be good. I'm not that big a fan of attention."

Should Cada lose, he'll still be a fixture in the poker world. The championship keeps with it a certain cachet. He's enjoyed his relationship with PokerStars, and while his one-year contract runs out later this year, he says if the industry giant is interested in continuing to work with him, the feeling is mutual.

In the past year, Cada's life has changed dramatically. He's been paid to play, he's seen the perks of stardom and he's pursued his role as poker ambassador with vigor. But he's shown us this year the one thing we need to know about this affable young star: Joe Cada is still Joe Cada. Regardless of how he does on Day 1C, that's not going to change.

Gary Wise is a poker columnist for ESPN.com.

Gary Wise has contributed to ESPN.com since 2007. He is well-studied in the history of poker and presents a unique tableside view of the goings-on in the poker community.

Google author profile
SPONSORED HEADLINES
MORE POKER HEADLINES
MOST SENT STORIES ON ESPN.COM
World Series of Poker Coverage

ESPN.com's poker team is bringing you all the action from the 2010 World Series of Poker.
Poker Home
STORIES
VIDEO
RESULTS AND SCHEDULE
POKER PODCAST
CHATS