Commentary
Bellande surviving at WSOP main event
Updated:
July 16, 2010, 3:01 PM ET
By
Gary Wise
| Special to ESPN.com
Editor's note: Coverage of the 2010 World Series of Poker begins July 20, 2010 on ESPN
Love him or hate him, people are going to have strong opinions about Jean-Robert Bellande. Bellande's "being broke and living like a millionaire" persona, his positively slimy depiction on "Survivor: China" and his willful playing to the cameras are among the aspects of his brand that are sure to emit powerful reactions.
[+] Enlarge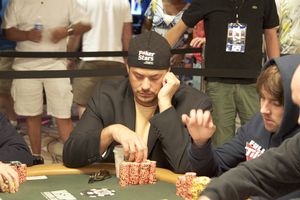 Laura Lane for ESPN.comJean-Robert Bellande began Day 6 with a slightly below-average stack.
Bellande was amongst the 79 remaining players from a starting field of 7,319 who'd survived through the end of the sixth day of play in the 2010 World Series of Poker main event. While Day 5 saw his stack size create a graph akin to lie detector patterns, on Day 6, he had to dig deep to survive.
"His mouth is very large," said 2010 bracelet winner Matt Keikoan. "I really like the guy. I think it's hilarious. I like having him at the table because he brings action. I think we should be at a feature table the way he's playing. He's playing pretty well. He's a little over the top sometimes, but he's playing well overall."
Redmond Lee, a 24-year old from London, expressed a vastly different opinion. "I think he's an idiot," he said. "He's just … he talks a lot of rubbish, tells people what he thinks they're doing in certain situations and makes bluffs in silly situations, but he's running good. I don't think he's trying to get under people's skin. He seems desperate for fame and attention. I think it's just 'there's a camera on me, give me love!'"
Bellande admits he loves the camera, and as with everything in his life, he isn't afraid to talk about it.
"I absolutely play up to the cameras," admitted the 39-year-old Vegas native, a sheepish grin on his face. "You're in the hand anyways. I enjoy it. Right now, maybe I should rethink that though, because my goal is to be WSOP champion and there are a lot of goals between now and then. Right now, the goal is to make it through Day 6."
Bellande's provided himself an opportunity to do just that, finishing Day 5 with 946,000 in chips, another topsy-turvy chapter in what's been a topsy-turvy odyssey.
"At the beginning of Day 1 I ran really well, but I went down to 20,000 at the end of the day," said Bellande. "Then on Day 2, I rode the 20,000 right until the very end when I exploded from 20,000 up to 127,000. Day 3 again, I opened again with an explosion, got up to like 350,000, but then got knocked all the way down to like 109,000 in chips. Then on Day 4, I went from 109,000 up to 350,000, then I hit quads against Karina Jett and went up to 700,000, then took a hit back down to 350,000."
Bellande started Day 6 with 946,000 in chips. By the day's end, he was at 700,000.
It's a whirlwind tournament path taken by a man whose life has always been one of extremes. Bellande got his start when he made a trip to Los Angeles' Bicycle Casino to play blackjack. After winning $20,000 in that game, he decided to try the poker tables, where he promptly lost $13,000. The numbers are indicative of the attitude he's had toward money throughout his life.
"Being broke and living like a millionaire," Bellande says with a smile, citing the title of a book idea he once had, which has since been lost to other whims. "[Poker pro] Brandon Adams was concerned because he saw me doing well and thought I'd lose my credibility. I was like, 'Don't worry, I have broke covered dude! I can get back here in a heartbeat.' Basically, right now, I'm just living today. Even though I may not be blessed financially, I've been blessed with relationships and opportunities that have afforded me the opportunity to live the life of a millionaire even though I haven't been a millionaire. I've flown on private jets, yachted in Monte Carlo, flown all over the world in first class. When it comes down to it, though I've lived this lifestyle for longer than 10 years, I have practically no debt and I'm not worried about tomorrow."
All that is starting to change as his most immediate tomorrows offer him the greatest opportunity of his professional career. On the brink of both increased fame and fortune, he insists he's keenly focused on the latter.

"Right now, I'm seeking dollars, not fame," said Bellande, his facial expression suddenly taking a serious turn before returning to toothy-grin mode. "I mean, maybe I'll get a feature table tomorrow -- 12K, ship it! I think a lot of people would like to see me do well. There are a lot of poker players who'd like to see me do well. The cash games would be off the hook. You know, right now I'm not really worried about the celebrity involved in poker. Making the final nine, I'm not sure how much it would affect my celebrity anyways. It would definitely establish me as a more credible success in the poker world and I haven't done a lot in the last few years. Making the final table would be a huge achievement even outside of the money. It would say, 'This guy isn't just a luck box. He's taken his beats and fought his way back through.'

"I'm looking to be successful. I want to win $9 million. When I do, I want to keep it, invest and get wealthier. That's the goal, but I'm also not afraid to put it on the line. Yesterday, I risked half my stack on a stone-cold bluff. I'm not afraid to put my bankroll out there and sometimes I get cracked. But you know what? Tomorrow I'll show up with some more case money."

One reason he needn't concern himself with celebrity is the notoriety he achieved on "Survivor: China." Presented as what he termed "the bad boy," his depiction was that of a made-for-TV villain, one that made him a familiar and memorable figure in American popular culture.

"I certainly think that my presence at the final table would bring in a new viewership," he said. "Two million people watch the WSOP main event live broadcast. Sixteen million watch 'Survivor' week to week. There might be a public base out there that doesn't care too much about poker who might be curious to see how 'the survivor' does. Maybe there will be a little press towards that and that could bring in some new viewers."

Asked about the similarities between "Survivor" and the main event, he immediately saw the connection. "There's definitely a similarity between 'Survivor' and WSOP," said the one man who can claim he made it through more than a week of both. "Surviving on 'Survivor,' a lot of it has to do with understanding the people around you and the relationships you have with them and sorting out when people are lying and being truthful and you're doing an awful lot of that in poker. While we were on 'Survivor,' the goal was to survive every three days. Here, the goal is to try and survive the level, survive the day and survive the tournament.

"Being the ultimate survivor to me wouldn't be nearly as great an accomplishment as winning the WSOP, mainly because my passion is with poker. Many of the people I care about absolutely love this game and we're married to it for life. That's the ultimate goal. When I walk into the Rio, there's a nostalgia that hits me. It's like walking onto Wimbledon. This is it. Every year, this is the event I look forward to most. Any pro will tell you the saddest day of the year is the day you get knocked out of the main event. It hasn't happened this year and hopefully it won't happen on Day 6."

When Bellande speaks with that passion, it's easy to understand why he's so popular. The man talks with an openness that's seldom seen in an industry that coined the phrase "keeping the cards close to the vest."

"There's some glory to being a poker player, but there's some real struggles too," Bellande admitted. "I've gone through some difficult times. People should be aware that basically, making a living as a poker player isn't easy. There are a lot of ups and downs. There are a lot of players better than me who have gone bust after seeing enormous success. They don't go around telling people they're busted. There are some huge names who people assume are millionaires and if people only knew such and such is broke such and such is broke … they're all over the place!"

Bellande's honest streak has spawned a Twitter feed that's quickly growing in popularity, @brokelivingJRB. There, Bellande has kept a running count on his poker (and presumably, life) bankroll. "That's why my Twitter is so popular, because of the honesty of saying, 'I have $160,000 right now' or 'I'm bust.' That's what I bring to the table: just an honesty in who I am and the struggles I'm going through. Sometimes it's glamorous, sometimes it's brutal."

It's as easy to admire the honesty as it is to look down upon the fiscal irresponsibility. Bellande provokes extreme reactions that are matched only by the extreme actions he takes in an extreme life. Regardless of how you feel about him, though, he keeps you interested. A spot for him in the November Nine could inspire a lot of similar reactions.

Gary Wise is a poker columnist for ESPN.com. Today, he's sending out birthday wishes to Dr. David Hardie. Happy 71st, Doc!

Gary Wise has contributed to ESPN.com since 2007. He is well-studied in the history of poker and presents a unique tableside view of the goings-on in the poker community.

Google author profile
World Series of Poker Coverage

ESPN.com's poker team is bringing you all the action from the 2010 World Series of Poker.
Poker Home
STORIES
VIDEO
RESULTS AND SCHEDULE
POKER PODCAST
CHATS
MOST SENT STORIES ON ESPN.COM