Commentary
The other Mizrachi family
Updated:
October 27, 2010, 3:28 PM ET
By
Gary Wise
| Special to ESPN.com
Are you sick of hearing about Michael "The Grinder" Mizrachi yet?

You couldn't be blamed if you are. Poker pundits love to attach assorted descriptors to "Year of the …" as the patterns of the World Series of Poker play out, and to call this the Year of the Mizrachi wouldn't be inaccurate. Think about everything this one family has done at the WSOP this year:

• They started with Grinder winning the Poker Players Championship, only the second most-prestigious tournament of the series.
• To win, Grinder had to knock out brother Robert in fifth. Needless to say, the occurrence of two brothers making the same final table in a WSOP event can be filed under "not very often."
• Grinder followed up the win with a sixth-place finish in the $10,000 seven-card stud championship and an eighth-place finish in the $10,000 limit hold 'em championship.
• Despite that, Robert holds the edge in WSOP cashes with six (including two eighth-place finishes) to Grinder's five.
• Michael, Robert and younger brothers Eric and Danny all made it past the money bubble in the WSOP main event, making theirs the first family to score four cashes in one main event. It's believed no family had three cashes in a single main event prior to this year.
• Grinder survived the eight days of main event play to make the November Nine.
• A win, among other things, would give Grinder a share of WSOP Player of the Year honors.

Not too bad for a guy people were calling washed up before the series.
[+] Enlarge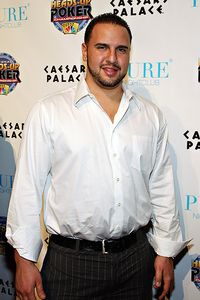 Ethan Miller/Getty ImagesMichael Mizrachi could become the co-owner of the 2010 WSOP Player of the Year title with a win in the main event.
With Grinder already riding high going in, he made an immediate splash in the main event. He finished Day 1A with 142,650 in chips, good for third place among those who started on that day. By Day 3's end, though, he was down to 91,700, good for fourth in his family. You can imagine the beating he took at dinner that night.
It was Day 5 when he finally entrenched himself as a force in the tournament. Finishing with 1.7 million in chips, he was still only third among the brothers, but he had breathing room he hadn't experienced for almost a week. That allowed him to surge, moving his stack to 7.5 million by the end of Day 6, good for second in the overall standings as the last of his brothers was eliminated. With the family hanging on his success, his fall to 16th among 27 players at the end of Day 7 caused some concern, but he managed to limp into the November Nine with 14.4 million, good for seventh place.
It's been a whirlwind for the Mizrachi clan, with its most famous son right in the middle of it. You probably know by now that Mizarchi rose to fame with his monumental World Poker Tour success in early 2005, then fell on hard times as the up-and-down reality of professional poker hit him. What you may not understand though, is that part of that may have been because he had other priorities in his world. We all know about his family, but you probably don't know about his family.
"Sometimes, I wish I had a 9-to-5 job so I could spend more time with my kids," Mizrachi told ESPN.com from Austria. "But my job is 9 at night to 5 in the morning."
Mizrachi, as much as anything, is playing for his kids. Six-year-old Paul William, 4-year-old Julie Malka and 2-year-old Joseph Nadji are the inspiration that keeps Mizrachi going back to the table and focusing on the task at hand. Poker is the job that puts money in their college accounts and food in their mouths.

"I don't think they know really, like they don't comprehend the size of the November Nine," Mizrachi estimated. "They know what I do, though. The thing about having many kids, though, is they talk to each other, with each other. They talk about what's going on. I keep them informed, too. We talk a lot when I'm out of town, on Skype. Skype helps a lot. I tell them how the day is going, what I'm doing. They ask when I'm coming home, which breaks my heart a little, but they need to understand that Daddy's going to work.

"They watch me on TV a lot. When I'm away, they know I'm doing stuff for TV and magazines. The older one doesn't like that poker takes me away from being a dad, but he asks questions. I try to explain to them that someone's got to bring the money home. When I'm home, I try to do as much as I can. Chuck E. Cheese, Disney … Julie likes horror films."

The 9-to-5 sentiment is real. Mizrachi, whose home is in Miramar, Fla., finds himself torn between family and job more often than he'd like, but he understands how the priorities weigh out.

"You want to spend more time as a father than a player, but you've got to split it," he said. "My kids are my first priority, my career is my second. Both are very important to me. Being on the road can be tough and being home is refreshing. When I won the championship, the kids came after that when I made another final table. The World Series can be a grind and that really picked me up. They helped me regroup. They made me feel better."

Grinder's wife Lily stays home full-time in order to make up for Grinder's absence. "She doesn't work because we think it's important to have her there with the kids," Grinder said. "Now, there's high-stakes poker in Florida and that gives some more temptation to be out of the house, but I still want to spend that time with them. It'll be different when they get older."

Then he smiled, adding, "Then, I might get to bust one of them in a tournament."

Win or lose at the final table, Mizrachi will have had a tremendous 2010 WSOP and will have the most important aspect of his world taken care of for a long time to come. No matter how poker goes, the kids will be there for him and vice versa.

"The best part is just being with your kids, enjoying them, doing stuff with them, listening to them, talking to them," he said. "Hearing what's going through their mind, how they feel. I'll spin them around or have pillow fights. That's the best part of my life"

Of course, winning the main event wouldn't be too bad, either. Then his bank account might be as rich as his life is.

Gary Wise is a poker columnist for ESPN.com. You can follow him on Twitter via @GaryWise1.

Gary Wise has contributed to ESPN.com since 2007. He is well-studied in the history of poker and presents a unique tableside view of the goings-on in the poker community.

Google author profile
2010 WSOP Final Table Coverage

ESPN.com's poker team is keeping you up to speed with each of the nine players at the 2010 WSOP main event final table. When action resumes on Nov. 6 there will be 1 hour, 14 minutes and 46 seconds left in Level 36 (blinds: 250,000/500,000 with a 50,000 ante).
November Nine Breakdown
Jonathan Duhamel
Age: 23
Chip position: First, 65,975,000
Seat: 4

John Dolan
Age: 24
Chip position: Second, 46,250,000
Seat: 3

Joseph Cheong
Age: 24
Chip position: Third, 23,525,000
Seat: 2

John Racener
Age: 24
Chip position: Fourth, 19,050,000
Seat: 7

Matthew Jarvis
Age: 26
Chip position: Fifth, 46,250,000
Seat: 6

Filippo Candio
Age: 26
Chip position: Sixth, 46,250,000
Seat: 8

Michael Mizrachi
Age: 29
Chip position: Seventh, 14,450,000
Seat: 5

Soi Nguyen
Age: 37
Chip position: Eighth, 9,650,000
Seat: 9

Jason Senti
Age: 29
Chip position: Ninth, 7,625,000
Seat: 1