Commentary
Joe Cheong a student no more
Updated:
November 2, 2010, 7:13 PM ET
By
Gary Wise
| Special to ESPN.com
It's a good thing the date of the World Series of Poker main event final table is fixed, or the debate asking which of the nine competing players is superior might linger forever. For fans of any game, such questions are the essence of sport -- comparing records and qualifications and measuring superiority in not entirely quantifiable ways. These unanswerable questions can linger for eons.

For most, the debate with the 2010 November Nine obviously starts with Michael "Grinder" Mizrachi, given his fame, his live tournament winnings and his strong WSOP. Those in the know, however, understand that fame is not the measuring stick of poker skill. Just about every player at this table has some claim they can lay upon the title of best among them. When you look at all of the moving parts, it may be Joe "Sublime" Cheong who has the best arguments in his favor.
Think about it: Cheong, 24, has experience and success in both the live and online arenas. He's accumulated millions in winnings over the past two years, has played in north of 5,000 tournaments in that time, and his twin degrees in -- get this --psychology and math (with an emphasis on probability and statistics) certainly don't hurt. On top of all that, we've seen him take on brutal beats on this year's broadcasts without so much as breaking a sweat. He may be the complete package.
Cheong's run to the November Nine has been dominant. After finishing Day 1D with three times his starting stack, he managed to finish each ensuing day among the top 20 percent of the surviving field. His real assault began on Day 5, when he finished third in chips. He finished Day 6 in 10th and Day 7 with the chip lead. He was only deprived of that lead going into the final table when Filippo Candio's 7-5 beat Cheong's A-A despite getting all-in after a 6-6-5 flop. Of course, it's hard to complain about going into the WSOP main event final table third in chips.
[+] Enlarge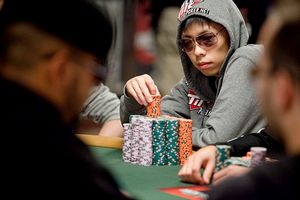 WSOPPhotos.comJoseph Cheong played a patient game during the final day and will enter the final table third in chips.
Where most top players begin their playing card education in childhood, Cheong barely touched a card until his college years. Born in Seoul, South Korea, his family moved to California a half-decade later. "My mom doesn't do any kind of gambling," Cheong said. "My dad hasn't done much either. We never did any card playing when I was growing up. The first time I played poker was in first year of college, in a friend's dorm room."
Even then, he didn't dive in. "We were just playing $5 tournaments then," Cheong continued. "It stayed mostly like that until the end of my third year, when I broke up with my long-time girlfriend. That gave me a lot more free time and poker was always something I was interested in. My roommate and I had been sports betting every day online and were doing pretty well, and we saw an ad for poker on the site we were betting on. That's how I got started with online play. Within a year of my breakup, I was playing full-time."
Cheong credits his work with David "The Maven" Chicotsky and Ari "BodogAri" Engel as the moment poker really started to click for him. "I started playing the summer after my third year and I won 15-20 thousand dollars," he remembered of the summer of 2008. "I spent some of that money to go learn with David and Ari. I basically sat behind them and watched for three days. Watching them allowed me to understand people were doing this for a living, that here was a professional way to approach the game. Bankroll management, respect for tilt, that kind of thing. Then came home and made 30-40 thousand dollars in the next six months."
"He came a couple of times over a couple of years," Chicotsky recalled. "He was a super sweet guy, very receptive, eager to learn. He'd come for a four- or five-day boot camp, then came with some friends and they ended up living with us for a bit. He went home with a system we'd provided him in place, then came back with a whole new approach and before we knew it he was infinitely better than us."
The new approach was born in March 2009, when Cheong made the conscious decision to start playing every hand in order to expand his understanding of the game. "I started experimenting," Cheong admitted. "I lost big that March because I wanted to see how it'd play out. It was long-range thinking. It helped me develop a whole different approach to the game and I started having a lot of success."
Chicotsky understood quickly that the student had surpassed the teacher. "Whatever we taught, he took it, ran with it and did way more than we'd preached," he said. "I really appreciate the credit, but he's so smart, you just knew he'd really succeed with poker. I teach them everything I know, then they go out into the real world. Whatever I had, he took and one-upped and then some. As a poker player, he's a top 25, top 50 in the world even if you take this tournament away. I've been saying that for over a year."

Despite that lofty praise, Cheong seems far more interested in playing poker than being recognized for his skills. When asked about the importance of winning the championship and the responsibilities that come with it, he makes an uncommonly honest admission.

"I have an inside joke with my friends where I tell people I'd rather finish second than first," Cheong explained, a wry smile to his voice. "I think there's some truth to it. If I could take first-place money and finish second I'd do it over taking the win. I think I'd rather not be known for that one accomplishment for the rest of my life. I'd rather be thought of a better rounded person. I don't play poker to be famous."

Of course, it's too late. Cheong's dominance in this year's main event has to have captured the attention of the viewing public, let along the poker world. For a quiet 24-year-old on a rapid ascent, the attention is now inevitable. Considering the short time he's been playing and the improvement he's still experiencing in his game, winning the championship may not be singularly defining. It could merely prove to be the first bullet point on a remarkable poker career from a man who plays with a passionate love for the game.

"When he plays, he has a smile on his face," Chicotsky said. "Imagine what he'll do when he's 50. I just hope the same 10 live pros aren't still on their mantle then, because he deserves to be there. He's better than they are."

He'll have a chance to prove it soon.

Gary Wise is a poker columnist for ESPN.com. You can follow him on Twitter via @GaryWise1.

Gary Wise has contributed to ESPN.com since 2007. He is well-studied in the history of poker and presents a unique tableside view of the goings-on in the poker community.

Google author profile
SPONSORED HEADLINES
MORE POKER HEADLINES
MOST SENT STORIES ON ESPN.COM
2010 WSOP Final Table Coverage

ESPN.com's poker team is keeping you up to speed with each of the nine players at the 2010 WSOP main event final table. When action resumes on Nov. 6 there will be 1 hour, 14 minutes and 46 seconds left in Level 36 (blinds: 250,000/500,000 with a 50,000 ante).
November Nine Breakdown
Jonathan Duhamel
Age: 23
Chip position: First, 65,975,000
Seat: 4

John Dolan
Age: 24
Chip position: Second, 46,250,000
Seat: 3

Joseph Cheong
Age: 24
Chip position: Third, 23,525,000
Seat: 2

John Racener
Age: 24
Chip position: Fourth, 19,050,000
Seat: 7

Matthew Jarvis
Age: 26
Chip position: Fifth, 46,250,000
Seat: 6

Filippo Candio
Age: 26
Chip position: Sixth, 46,250,000
Seat: 8

Michael Mizrachi
Age: 29
Chip position: Seventh, 14,450,000
Seat: 5

Soi Nguyen
Age: 37
Chip position: Eighth, 9,650,000
Seat: 9

Jason Senti
Age: 29
Chip position: Ninth, 7,625,000
Seat: 1