Commentary
A decision between career and home
Online poker players in Washington face a critical decision
Updated:
December 10, 2010, 4:58 PM ET
By
Gary Wise
| Special to ESPN.com
Dan "Wretchy" Martin has made his living the last four years playing online poker, earning more than $3 million in tournament winnings. Despite an accounting degree, Martin became a professional poker player and has become one of best online.
On Sept. 17, he went to work, logged on to PokerStars, paid $215 to enter Event 35 of the World Championship of Online Poker, played for more than 15 hours, outlasted 1,881 players and won $160,544 for his efforts.
A week later, his life was turned upside down as he was in the position of choosing between his very lucrative job and the place he called home, thanks to a Washington state law that makes playing online poker for money illegal.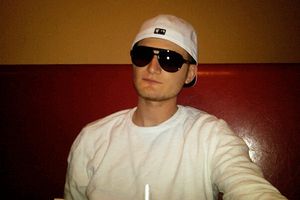 Dan MartinDan "Wretchy" Martin has earned over $2 million in online poker action.
"I won [that tournament] and then a week later PokerStars actually called me and told me I couldn't play on their site anymore," said Martin, 24, who splits time between Portland, Ore., and Seattle. "It's strange to have people tell you that [you] can't do what you want in your home."
That call from PokerStars was one link in a chain of events stemming from a Washington Supreme Court ruling in the case of Rousso vs. the State. Lee Rousso sued the state for the right to continue playing online poker, once his hobby was made illegal by a 2006 revision to a section of the Revised Code of Washington (RCW 9.46.240).
The court upheld the amendment that made wagering on online poker a Class C felony, which calls for a maximum punishment of five years imprisonment and a $10,000 fine per violation. To put things in perspective, an online professional playing 24 simultaneous tables (a common practice) will make a conservative estimate of 750 wagers in a given hour. That one hour of online poker could be punishable by a lengthy jail term and $7.5 million in fines.
In the days following the Supreme Court ruling, PokerStars issued a statement saying it would no longer allow residents of Washington to play in real money games:
"In light of this decision, following extensive consultation with our legal advisors, we believe that the right course of action is to now block real money play by Washington residents on the PokerStars.com site. This policy will remain in effect until the law changes or subsequent legal challenges succeed."
Full Tilt Poker, the industry's other giant, followed suit last week.
With the ruling, the sites' decision to pull out of Washington was academic. With regulation a constant possibility, keeping at least one eye on operating within the boundary of the law is in the sites' best interests. Losing the ability to have players from Washington temporarily, in the face of the greater evil of losing the entire country to regulation, was a no-brainer for the industry giants.
Washington state Sen. Margarita Prentice, an ex officio member of the Washington State Gambling Commission, was behind the 2006 law that made playing online poker a felony. The state House of Representatives passed the law 93-5. The state senate passed it unanimously.
Four years later, Prentice remains opposed.
"I just think some of these arguments are utter nonsense," Prentice told ESPN.com. "You mean you're going to move so you can play poker? Gee, lots of luck in your life. … I have nothing against card playing. That's fine. If you want to do that, but I'm sure not going to worry about someone … you know. Let them go pump gas."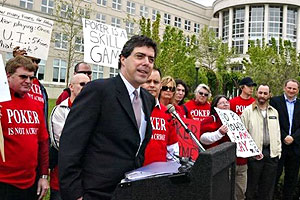 Poker Players Alliance Lee Rousso and fellow members of the Poker Players Alliance came together for a rally before the Supreme Court case this year.
"Wow," said U.S. Rep. Barney Frank (D-Mass.), chairman of the House Financial Services Committee and the federal government's most vocal advocate for online poker legalization and regulation. "The intolerance of that is just appalling, but that's the attitude that goes with the sense you have the right to dictate other people's lives to them."
"She denigrates both poker players and people who pump gas," said former U.S. Sen. Alfonse D'Amato, chairman of the Poker Players Alliance (PPA), a lobbying group that's now 1 million strong. "She is why people are angry, because of the arrogance of those in government who say they know what's best for you."
Washington's stance on online gambling is tied to its relationship with the state's casinos. Critics of Gov. Christine Gregoire claim she wanted to protect the Native American tribes that run the casinos from the competition from online sites. In doing so, she, along with Prentice, who advised her in the negotiations, prohibited all state residents from playing online for money, critics said.
When the state House and Senate voted the ban on online poker for money into law, it did so with little delay or debate.
"That bill passed after one quick committee hearing," said state Rep. Bruce Chandler, one of the five who voted against the amendment. "I voted against it because I believed it was wrong to target the player instead of the host or producer of the website. To make it a felony I thought was excessive. It was an effort to try to regulate online gambling from outside of the state without the authority to regulate the host. I'm not a big gambler myself, but I don't believe they should go after players who choose to gamble online. I don't think it should be a criminal offense and I thought it was overreaching."
Rousso, the plaintiff in the failed Supreme Court case and a once-avid online poker player, said: "[Prentice] read the law on the record, then the senators who'd never read it passed it because it had her seal of approval. People don't think about what they're voting on. … No one stepped up to say, 'This was wrong.'"

"It's a complete travesty that they legislate morality, but ultimately this is all about money," said Phil Gordon, a renowned poker pro who resides in Washington. "Always has been. They legislated the law for economic purposes. They were trying to protect the Indian casinos in Washington state."

How so?

"It was passed because the Indian casinos were scared the online casinos would take their business," Gordon said.

Despite these complaints, Prentice continues to insist the law only adds online gambling to past legislation.

"All we did was insert the word 'Internet' into our gambling law," Prentice said. "When it comes to gambling, if it isn't permitted, you can't do it. It isn't legal just because it isn't mentioned. We were attempting to be consistent with the federal law."

Rousso says what hurts him most is the fact that his hobby is now considered a criminal act.

"When I was a kid, my life consisted of going to the track and playing poker," the 52-year-old Seattle native said. "I faded out of that lifestyle, so when I discovered Internet poker, it was an amazing find. Suddenly, I could play again. Now, I can't. I haven't played in a while. Just having your favorite hobby labelled a criminal act is heart-wrenching for most folks."

His lawsuit, filed on July 6, 2007, was personal at first. "I was offended and thought the law was wrong," he said.

However, he lost in trial court and on appeal. The ruling in the state Supreme Court was unanimous.

"The question before this court is not whether Internet gambling, including playing poker on-line, should be illegal," the court ruling said. "That determination is reserved to the legislature, and the legislature addressed the issue by enacting and amending [the law], which criminalizes the knowing transmission and reception of gambling information by various means, including use of the Internet. Since sending and receiving gambling information is illegal, Internet gambling in the state of Washington is effectively banned.

"It is not the role of the judiciary to second-guess the wisdom of the legislature, which enacted this ban. The court has no authority to conduct its own balancing of the pros and cons stemming from banning, regulating, or openly permitting Internet gambling."

"I do believe that the court thinks the law is a stupid one," said Gordon. "They said as much. 'It's not about whether it's a good law, it's whether it's constitutional or not.' They basically said, 'If you want it overturned, you need to elect the right legislators.'"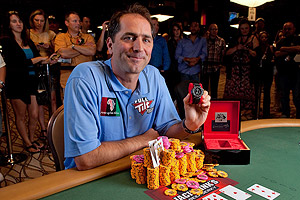 WSOPPhotos.comWashington state resident Phil Gordon travels to his office in Idaho to play online poker.

Rousso's next step may be the United States Supreme Court. If so, he'll have to file by Dec. 22.

"I've always thought if I was going to win, it would have to be in the U.S. Supreme Court," Rousso said. "It's an uphill battle to get a state statute tossed. [The state courts] believe they owe a lot of deference to the legislature. One of the odd things about this case is the state clinging to this legal fiction that the state of Washington is anti-gambling. The U.S. Supreme Court will be less interested in that, so I'll have a chance there."

Not everyone is convinced that the case is ready for the U.S. Supreme Court.

"We welcome the fight, but given the record of losing at every level, I don't know if we're ready to take it to the federal Supreme Court," said PPA director John Pappas. "Ultimately it will be Lee's decision."

Until then, players like Gordon and Rousso will have to find other ways to play online.

"I do not play online poker from the state of Washington," Gordon said. "I live literally 50 yards from the Idaho border, so when I want to go play, I go to the office I have set up in Idaho and play. Obviously, I don't think I should have to do that."

No one has been arrested for playing online, according to the Poker Players Alliance, but the climate has forced several professionals, including Lee Watkinson, Brandon Cantu and Lee Markholt, to leave the state. Others seem poised to follow.

Matt Affleck, who finished 15th in this year's World Series of Poker main event, is a Seattle resident who estimates he would take a 50 percent pay cut by sacrificing online play. He also thinks the casinos would benefit from online poker because it would "increase interest in the game."

Prentice disagrees.

"I've never really understood all of the hysterics, and all of the beefs," Prentice said. "I just can't see anybody who's having any major suffering over it."

Frank argues that it's a "basic principle of individual freedom."

"You ought to be free to do what you will in the comfort of your home," he said. "I always thought that was the basis for the form of government we had."

For now, the fate of the case is in Rousso's hands. But the reality is that poker players in Washington have a long, arduous road ahead of them if they're going to effect change. Martin has spoken of trying to organize a class action lawsuit against the state, but understands he'll likely run into the same pitfalls as Rousso.

"This law has forced me to change my life 100 percent," Martin said. "Where I live, my relationships … It's almost like getting fired from your job, where you have to go relocate somewhere else. "

Gary Wise is a poker columnist for ESPN.com. You can follow him on Twitter via @GaryWise1.

Gary Wise has contributed to ESPN.com since 2007. He is well-studied in the history of poker and presents a unique tableside view of the goings-on in the poker community.

Google author profile
SPONSORED HEADLINES
MORE POKER HEADLINES
MOST SENT STORIES ON ESPN.COM