Commentary
First-round matches set at Heads-Up
Updated:
March 4, 2011, 3:39 PM ET
By
Gary Wise
| Special to ESPN.com
Editor's note: There were a number of changes to the field at the last minute. Carlos Mortensen replaced Gabe Kaplan giving "The Matador" a deserving bid. Annie Duke and Howard Lederer had to withdraw, and they were replaced by David Oppenheim and David "Viffer" Peat.
Last week I speculated on what could be. In the wee hours of Friday morning, we saw possibility become reality. The National Heads-Up Poker championship, considered by many to be poker's all-star game because of the cast of characters and national television audience, held its draw party in the depths of Pure nightclub in Las Vegas. With the field assembled amongst other glitterati as the bracket was determined, one-by-one names were pulled and paired as the story of this tournament took shape. Now is the time we reflect on what still can be and what we can only hope to see develop.
[+] Enlarge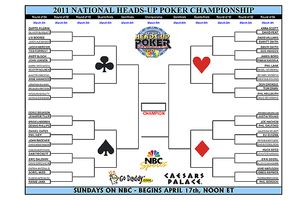 NHUPCClick to enlarge and view the full bracket.
Clubs Bracket:
• Dwyte Pilgrim versus Olivier Busquet
• Liv Boeree versus Jason Alexander
• Jason Mercier versus Ted Forrest
• Andy Bloch versus John Juanda

• Barry Greenstein versus Scotty Nguyen
• Annette Obrestad versus Ayaz Mahmood
• Jonathan Duhamel versus Melburn Whitmire
• Nicolas Chouity versus Antonio Esfandiari

Fun first-rounders: Actor Alexander faces off with astrophysicist Boeree, and two must-have mainstays will show down when Greenstein and Nguyen play their eliminator. But the fun matchup will see online qualifier Whitmire start his gauntlet against the world champion. Duhamel's gotten back in the groove, so Whitmire will need to bring more than a slingshot to take down the giant.
Prospective second-rounders: Seriously, can't you just hear Pilgrim trash-talking "Costanza" all through their match? He'll probably force Alexander to stay in character, too.
Prospective third-rounders: In what's actually a pretty tame bracket (Busquet, Mahmood, Chouity and Whitmire water down the name recognition), Obrestad and Duhamel could battle on behalf of their respective genders with the future on the line.
Final I'd like to see: Nguyen versus Pilgrim. Both guys love to talk at the table, and you know Scotty will down a few. Could turn into something epic if the cards come just right.
Diamonds Bracket:
• Bertrand Grospellier versus Justin Young
• Joe Hachem versus Phil Galfond
• Vanessa Selbst versus Eli Elezra
• Peter Eastgate versus Chris Ferguson

• Huck Seed versus Jennifer Harman
• Erik Seidel versus Allen Cunningham
• Mike Matusow versus Greg Raymer
• Tom Marchese versus Phil Gordon

Fun first-rounders: Eastgate's return gets ugly quick against former champion/two-time runner up and fellow world champion Ferguson. Harman versus Seed and Seidel versus Cunningham are two matches that are sure to cut down a couple of Full Tilt pros, but it's a flash back to the 2004 World Series of Poker that has to be the most exciting match of this bracket's first round.
[+] Enlarge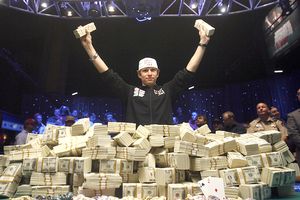 AP Photo/Isaac BrekkenPeter Eastgate faces off against 2008 NHUPC champion Chris Ferguson in Round 1.
While Raymer and Matusow have since patched their differences, there was a time when they were considered to be amongst televised poker's most bitter rivals. Now, Matusow is welcoming the Fossilman to FTP, as evidenced by Raymer's showing at the draw party decked out in full red, white and mostly black. (Editor's note: Raymer's deal with FTP is, at the moment, only for the NHUPC.)
Prospective second-rounders: "I told him he should give his seat up," said Matusow of Gordon before the draw party. Gordon's inclusion seems to be the most contested amongst poker fans, and Matusow could have a chance to back up his claims. Meanwhile, two historic NHUPC players could revisit their 2010 first-round shocker in which the lifetime-winless Seidel beat the player with the greatest NHUPC win percentage ever, Seed.
Prospective third-rounders: Eastgate could meet another world champion in Hachem; Raymer could meet another new FTP teammate in Harman, Cunningham, Seidel or Seed, but we like the idea of 2010 CardPlayer Player of the Year Tom Marchese matching up with any of those old-schoolers.
Final I'd like to see: Ferguson and Seed are amongst the most successful players in the event's history, but Eastgate versus Raymer could pit two world champions with additional storylines against one another, with Raymer trying to beat a replacement champion on the PokerStars roster.
Hearts Bracket:
• Kara Scott versus David Peat
• David Williams versus Emmitt Smith
• Gavin Smith versus Gus Hansen
• James Bord versus Frank Kassela

• Phil Laak versus Daniel Negreanu
• Michael Mizrachi versus Vanessa Rousso
• Don Cheadle versus Tom Dwan
• Phil Hellmuth versus David Benyamine

Fun first matches: Gavin Smith and Hansen will probably have more side action on their match than the $25,000 entry fee, while Laak and Negreanu may not stop talking throughout their match, but it's Cheadle and Dwan that stands out here. Cheadle has history in the NHUPC: He beat Phil Ivey in 2007. Now, he'll take on Dwan with a potential Round 2 date with Hellmuth on the line.
Prospective second-rounders: Easy pick: Hellmuth versus Dwan. Remember when Dwan challenged Hellmuth to 30 heads-up matches for $100,000 each on national TV? That was at the NHUPC, and any revisiting of Hellmuthian embarrassment is good times. Hellmuth, who told ESPN Thursday he will not be patched by any online site during this event, has made his peace with Dwan since, but the rest of us are still waiting to see Phil pick up the gauntlet … not that Dwan would finish the challenge anyway.

Prospective third-rounders: You can never go wrong with Hellmuth versus Negreanu.

Final we'd like to see: It's either Cheadle versus Emmitt Smith in the greatest upset of all time, or Mizrachi versus Kassela in a WSOP Player of the Year revenge match. Or maybe anyone versus Kara Scott, just because.

Spades Bracket:

• Doyle Brunson versus Jennifer Tilly
• Erick Lindgren versus Dennis Phillips
• Daniel Cates versus Phil Ivey
• John Racener versus Chris Moneymaker


• Sam Trickett versus Carlos Mortensen
• Eric Baldwin versus David Oppenheim
• Patrik Antonius versus Sorel Mizzi
• Eugene Katchalov versus Faraz Jaka


Fun first-round matches: Talk about the other matches all you want, but internet eyes will be on "Jungleman" Cates versus Ivey. Cates, the heads-up hold 'em phenom who has destroyed Dwan thus far in their challenge, may just offer the best poker player in the world more than he'd like. The guess here is that Ivey is a lot more interested in this match than he'd have been against most of the other entrants.

Prospective second-rounders: Antonius versus either Katchalov or Jaka would make for brilliant poker. Really, I just didn't want to list Ivey in every entry here.

Prospective third-rounders: Moneymaker versus Phillips makes a good "nice guys finish first" matchup, but no one can hold a candle to Ivey versus Brunson, should they each survive to round three.

Final we'd like to see: Mizzi earned an automatic entry by winning the Bluff Player of the Year, but some felt he should have been removed from this tournament after Racener's accusations of Mizzi cheating in private games. Both players are in this bracket, and should they each start 3-0 they'd face off here. It might be ugly, car wreck ugly, and we'd all slow down to watch.

Friday's play will eliminate half of the field as we go down to 32. Keep your eyes on ESPN.com for further National Heads-Up Championship updates and predict some first-round results at Sportsnation.

You can read more of Gary Wise's musings at jgarywise.com.

Gary Wise has contributed to ESPN.com since 2007. He is well-studied in the history of poker and presents a unique tableside view of the goings-on in the poker community.

Google author profile
SPONSORED HEADLINES
MORE POKER HEADLINES
MOST SENT STORIES ON ESPN.COM