Commentary
Erik Seidel earns $4.3 million in 69 days
Updated:
March 11, 2011, 4:56 PM ET
By
Gary Wise
| Special to ESPN.com
Erik Seidel had a pretty good 2010. It started with a win in January at the Aussie Millions ($110,000). He came in second at the National Heads-Up Poker Championships ($250,000) in March and scored three final-table appearances at the World Series of Poker, bringing his yearly winnings to $536,615. Despite that seeming success, he insists now that if he was offered a repeat for 2011, he wouldn't have taken it. You can hardly blame him.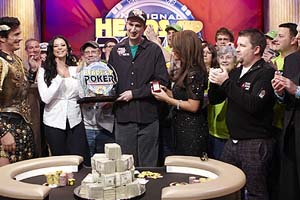 NBC/National Heads Up PokerErik Seidel won his third title of the year at the 2011 National Heads-Up Poker Championships.
As of today, 2011 is 69 days old and Seidel has won $4,342,283. It's the most anyone has won playing live tournament poker in the first 69 days of a calendar year, and it's not remotely close. His 2011 live tournament winnings thus far exceed the career earnings of all but 77 poker players, most of whom have one huge WSOP cash serving as the foundation for their bloated numbers. He's averaging almost $63,000 a day, despite taking some time off since this past weekend, when he swathed through the NHUPC field like a machete does tall grass. It was his third tournament win and fifth six-figure score of the year.
Seidel's heads-up triumph -- never an easy task -- started with his surviving a first-round coinflip for all of the chips with Allen Cunningham. On Day 2, he toppled two fellow posterized Full Tilt Poker pros -- Jen Harman and Phil Gordon -- in back-and-forth matches. On Day 3, he started with a drawn-out match against Vanessa Selbst, then fought back from a 3-1 chip deficit against young gun Andrew Robl and then finally swept Chris Moneymaker in a tough final. That's a long, hard weekend, but you'll have to forgive us if we're not entirely sympathetic.
In an already remarkable career that's spanned almost three decades, Seidel is seeing its zenith. Seidel's 2011 started with a seemingly innocuous third-place finish at the PokerStars Caribbean Adventure's $5,000 six-max no-limit hold 'em event, where he won more than $46,000. Three days later, he won almost $300,000 by finishing fourth in that same series' high-roller event. Seidel then flew to the Aussie Millions, and his third-place finish in their $100,000 (Australian dollars) event netted him $618,139. Suddenly, he was up $1 million with the year only 22 days old.
"Each success has been a step and there wasn't a moment where I realized, 'Wow, I'm running well' and expected to keep running well," Seidel told ESPN. "After the 100K, I thought, 'This is amazing, I'm freerolling for the year,' so I put up $250,000 to play that insane event."
The insane event in question was the Aussie Millions' $250,000 Super High Roller, the biggest buy-in event in live tournament poker history. That's where Seidel scored his first tournament win of 2011. He won $2,472,555 and was vaulted to the top of live tournament poker's all-time money list.
"I got through that, won that and it's gone from there," Seidel said. "I have to say that any attention I pay to the all-time money list I consider a sign of my own immaturity. It's kind of silly. I do enjoy it, I am glad I made No. 1. It was kind of a goal. I understand there were some people, Daniel [Negreanu] in particular tried to make some noise because it affected him the most. I think the 250K should count. It's an open event. I don't see any reason why it shouldn't count. It's a somewhat historic event and there will probably be another next year, another the year after and I'm not really sure what the argument is for not including it. "
A month after the big score in Australia, Seidel won his second tournament of the year, a $25,100 buy-in High Roller event at the L.A. Poker Classic, to the tune of $144,570. A week later, in front of NBC's cameras, came his third, for another $750,000.
"Each tournament has felt like a gift," he said. "Each result's been incredible. It's been a really amazing thing to go through, but at no time did I think, 'I'm running well, so I can do this.' That's just not the way my mind works."
Just how remarkable has the streak been? "I really don't know, it seems amazing," Seidel admitted. "Obviously it's a crazy aberration, but I wonder if it's more unlikely than Grinder [Michael Mizrachi] winning the Players Championship then making the final table of the WSOP main event. Obviously it's an insane streak, but I don't know how insane."
"The thing is, is it less likely than winning a 7,000-player tournament?" asked Howard Lederer, Seidel's friend of a quarter-century. "Well, someone's got to win the main event. There are a lot of great young players out there, but we don't know they're going to be great yet. A guy like Elky [Bertrand Grospellier] can have this kind of a run and you give that credit, but it's not the same thing. When someone like Erik does it, someone who you know before the run is one of the best players in the world, I give the achievement more credit. It's statistically significant."

Statistically significant or not, this run has reminded the world of just how good this quiet man has been since his emergence at the 1988 WSOP. His loss to Johnny Chan, proceeding his eight bracelet wins, brought Seidel unwanted focus from the poker public. While the attention he'll receive for his 2011 accomplishments will be of a decidedly more positive blend, he still worries about the added pressures that he sees coming with the attention he's receiving now.

"I'm very uncomfortable with [fame]," admitted the gentle giant. "My nightmare is I'm going to go the WSOP and it'll be tougher to get to my table, to leave my table, to take breaks. Until now, it's been pretty nice. You go to a restaurant and people say hi and are generally nice and it's not that much of a hassle. I felt most comfortable being anonymous at the table and even recently, in the last few years, I'd be at the table and young kids would think, 'OK, there's a dead spot,' like I did when I saw an older person at the table. That will change now and people will expect me to play well and I'm going to disappoint them.

"I am a little concerned about it, because I'm so happy and in love with the life that I had where I don't have many obligations and I can go play the tournaments I want to and I don't need the obligations in my life."

He then added with a smile, "I'm not throwing the money back, though."

It's understandable. The attention is the side effect of the $4,342,283 benefit of an incredible 69 days for what, as of December 2010, may have been poker's only underrated living Hall of Famer. That's all over with. Now, with a nationally televised championship and unchartered success, Seidel must brace for the affection and adoration of his public. It doesn't seem like the worst trade off in the world for the 2011 of his dreams.

You can read more of Gary Wise's musings at jgarywise.com.

Gary Wise has contributed to ESPN.com since 2007. He is well-studied in the history of poker and presents a unique tableside view of the goings-on in the poker community.

Google author profile
MOST SENT STORIES ON ESPN.COM