December, 6, 2013
Dec 6
4:07
PM ET
The Nuts is a recurring feature that takes a look at the best poker players in the world. This feature aims to produce a list of the best players at the moment. Our panel of 10 is composed of ESPN.com's poker contributors (Bernard Lee and myself); ESPNdeportes.com poker editor Nahuel Ponce; Bluff magazine editor-in-chief Lance Bradley, senior writer Tim Fiorvanti and information manager Kevin Mathers; WSOP.com managing editor Jessica Welman; PokerNews editor-in-chief Donnie Peters; World Poker Tour's Eric Ramsey; and PocketFives' Dan Cypra.
We have a new No. 1 player in the world, and no, it isn't WSOP Champion
Ryan Riess
. The World Series of Poker main event final table turned a lot of heads and while many fans and players gained some new respect for the game's most notable finalists, especially Amir Lehavot, zero of the November Nine have found their way onto this list.
The standout performer since the last rankings has been the standout performer for pretty much the entire year … and his career. Daniel Negreanu is the new No. 1 player and really, with his recent efforts in the felt, the only surprise is that it didn't happen sooner. Negreanu capped off a tremendous WSOP season with a 25th-place finish in the main event and a victory in the High Roller. His sixth bracelet victory was his second piece of jewelry this year and along with all those cashes came $3.2 million, his second-best winnings total since 1997.
Negreanu's jump over Phil Ivey was only a matter of time. Ivey hasn't put in the effort on the tournament felt to even sniff a big score and the panel couldn't deny Negreanu's quest any longer. Ivey has played a bit online, but with no tremendous earnings, it's tough to give him the nod. Ivey has $17 million in live tournament earnings, but only a couple hundred thousand in 2013. There's little doubt that when he decides to jump feet first into the action, he'll contend for the top spot once again.
The latest installment of the Party Poker Premier League concluded last week with Sorel Mizzi holding the top spot over the elite field. Mizzi earned $400,000 for the title and quietly put together a 2013 campaign that included $3.8 million in tournament winnings, most of which came from the GuangDong Asia Millions HK$1M buy-in event. In the Premier League, Mizzi battled past ESPN's No. 3, Vanessa Selbst (12th), and No. 4. Scott Seiver (fourth). Seiver's run over the past few months include back-to-back cashes in the Alpha8 series and a sixth-place finish in the WSOP Europe High Roller.
Marvin Rettenmaier's run on the World Poker Tour continued over the past month with two deep runs (10th in Paris, fourth in St. Maarten). Derrick Rosenbarger's managed to avoid Rettenmaier's success on his run to the title at WPT Montreal, but those instances come few and far between for one of the most consistent no-limit hold 'em tournament players in the world.
Consistency means a different thing to Philipp Gruissem, a player that panelist Eric Ramsey says is "impossible to ignore." Plain and simple, Gruissem owns the high roller scene around the world. The German superstar has won three high roller events in 2013, including back-to-back Alpha8 titles. In the two WSOP high rollers, Gruissem finished first and third and at PCA, he finished fifth. Gruissem, with his $4.6 million in earnings this year, makes his debut at No. 6. For those that are wondering, his quest at an Aplha8 three-peat will take place in South Africa in February.
Mike Watson, No. 7, added another WSOP final table to his resume at WSOPE and continued to coast throughout a year that made him stand out from the masses and at No. 8, Phil Hellmuth captured his 100th career WSOP cash, continually keeping him part of this conversation.
The name Niklas Heinecker probably isn't one that rings a bell, but he's immersed himself in the conversation of best online cash game players around very quickly. Heinecker has more than $9 million in earnings in 2013, with a pretty even split between live and online action. His recent successes have come against online legend Victor Blom in the high stakes games on Full Tilt. The final spot belongs to Noah Schwartz who captured his first bracelet at WSOP Europe and has been a stalwart among the tournament scene for years. Schwartz also received plenty of air time during this year's WSOP broadcast when he finished 52nd.
Players have a few more majors to attend in 2013 including the WPT's Five Diamond in Vegas and the Prague Poker Festival. They're all chasing Negreanu, but really, the race is over. Congrats on an incredible 2013 Daniel and your new No. 1 ranking.
Did we leave out your favorite player? Who should be ranked higher? Who should be completely off the list? Leave us your thoughts in the comments below. Here's a look at December's top 10:
On the bubble
The bubble boy this month was Ole Schemion who pocketed another two five-figure scores over the last two months. The German 20-year-old had his second consecutive year of at least $1.3 million in tournament winnings and continues to thrive online as well. … WSOP champion Ryan Riess did receive some consideration, but he was far from the top of the list in anyone's rankings. He may have beaten the biggest field of the year, but he'll need to do more than just that to say he's the best in the world right now. … Many of the players on this list have found great success in high roller events and Jeff Rossiter is another name that panelists were considering to add to the collection. Rossiter's recent fourth-place finish in the ACOP Macau was his latest six-figure score in a career that's included many. … Jason Mercier was back into rankings consideration after his WSOP Europe final table as well, but it seemed like too little, too late for the former No. 1. … David Benefield, Jason Koon, Tobias Reinkemeier, Steve O'Dwyer, Justin Bonomo, David Peters, David Baker, Martin Finger and Chris Moorman also received consideration this month.
Final thoughts
Bradley:
In the four years we've been putting The Nuts together, this is by far the one I agree with the most. Sure, I'd move a few people up or down a spot or two, but there's only one egregious inclusion and that's Phil Hellmuth. I say that because he hasn't really been on top of his game since January when he finished runner-up in the NBC Heads-Up event. The only real omission for me is that of David Peters – he's probably the least hyped tournament killer on the planet but yet he's fourth in BLUFF Player of the Year race
Feldman:
Negreanu finally gets his due. Is there much more to say than that? The challenge with removing Ivey is that if he's able to put something together ... anything ... he probably jumps back into No. 1 since he'd be "back." For now, and probably as long as he's able to continue to put up numbers, Negreanu will hold onto that spot. He's a focused and determined player when there's something he wants and his motivation this past year is pretty clear. He wanted to be the first player to win the WSOP Player of the Year award twice. He wanted to be Player of the Year. His chances to win both seemed slim entering October, but he proved once again that he thrives under pressure.
There were a number of players I was unsure about this month and I think the omission of Steve O'Dwyer tops my list. Heinecker's surge is simply incredible, but when playing at those stakes, the downswing is inevitable. We may have published this at a time when he's at his peak, but that's something to keep an eye on. Regardless, $9 million in a year is insane.
As for Hellmuth, yeah, he probably shouldn't have made the list, but you can't argue with his results and 100 cashes is a pretty incredible effort. Many thought years ago that the game passed him by, but he's still here and still cashing.
Finally, for Ryan Riess: You won and said you're the best. Now it's time to prove it and if you do, a spot on this list is waiting.
November, 6, 2013
Nov 6
3:49
AM ET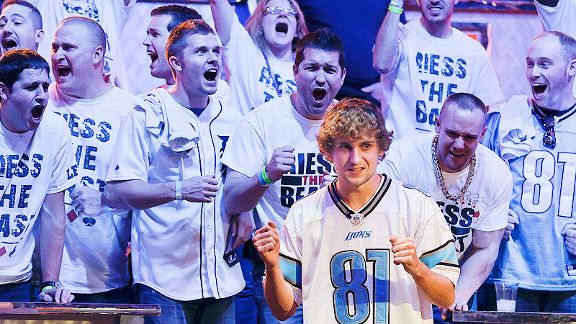 AP Photo/Julie Jacobson2013 WSOP main event champion Ryan Riess celebrates in front of his rail at the final table.
LAS VEGAS -- There's no better moment in poker than watching the crowning of a new world champion. On Tuesday night, tears and emotions flowed from the hundreds of friends and family of Ryan Riess as he won the 2013 World Series of Poker main event. As the final card hit the felt, the 23-year-old from Clarkston, Mich., standing on the rail with his supporters, fell to the ground. He had outlasted the field of 6,352 players and, in what was the greatest moment of his life, was simply overcome. Cheers, streamers and photos snapped in the seconds that followed, and out of everyone who had made the trek to the Rio, the first people on top of him to celebrate: his parents.
Others tried to pile on, but Riess stood up and hugged his mom and dad who were beaming. He was in tears. His mom, voiceless from cheering on her son, was also in tears. At 23, their son had fulfilled his dream.
"He's just a gentle soul," Cheryl Riess said after the win. "We're just so proud."
The pride on her face grew as he left his supporters and went over to his devastated opponent, Jay Farber. They embraced, both of them sub-30 millionaires with great promise ahead not only in poker, but life. The two had bonded throughout the November Nine process, and over the past two days it was clear they shared a great amount of respect for each other.
Riess left Farber and went back to his crew. They were his rocks through nine grueling days of main event play. He gave out high-fives and countless hugs before being presented with the bracelet and the $8.3 million stacked in bundled bricks.
"I was overwhelmed with joy," Riess said of his championship moment. "I was so happy. I started crying and I was just speechless. My parents told me they were proud of me and they loved me. It was awesome."
Riess made his way back to the friends that he missed the first time around. Everyone had their moment of celebration with him. A moment none of them will ever forget.
The 89-hand heads-up match featured highs and lows for both players, but it was clearly Riess' night. Farber entered heads-up with the lead and extended it early, but Riess found an aggressive gear that he didn't display during Monday's play, giving him the boost. He kept constant pressure on all streets and on a short stack without the cards, Farber couldn't compete. Riess ground his opponent down and, as his A-K defeated Farber's Q-5, he earned the victory. Ironically, those are the two cards that were engraved into the WSOP bracelet in May as placeholders for the champions actual cards.
Riess leaves the Rio with a spotlight that will follow him throughout the rest of his career. He began that career just 13 months ago on the WSOP Circuit and its motto of "First the ring, then the bracelet" came true once again. This time, that bracelet is the biggest one of all.
Many of his friends are Circuit grinders who aspire to accomplish what Riess has just done. He wasn't just playing for himself Tuesday night at that final table, but for a group of players who put their heart and soul into the game for their "one time." He represented the thousands of dreamers who play the professional game at a lower financial level and gave a face to a tour that needed a true icon. Riess' deep roots on the Circuit and this victory can benefit the tour and, while some may strive for his attention to promote different initiatives, hopefully the WSOP will realize that Reiss' most important asset to the game may be his ties on that front.
Riess, more than any of the recent WSOP champions, can make a difference in getting new players into the game.
After Greg Merson won a year ago, I pointed out that his effort as ambassador may have been completed prior to the final table. He wanted to escape the tournament scene and simply go back to the biggest cash games in the world. This year, it's entirely different. Riess doesn't have a game plan, and that may be the best thing for him. He turned down all sponsors prior to the final table because he didn't want anything standing in his way. He wanted to make his own decisions and have a clean slate no matter what happens. Well, kid, you've got plenty of time, and money, to figure it out.
Riess will continue to be a role model for his brother and sister and his degree in hospitality from Michigan State will, for now, go unutilized. What matters most to the champ at this moment is his family and friends. At 23, it shouldn't be any other way.
Enjoy your moment, Ryan. You've earned it.
November, 5, 2013
Nov 5
8:37
PM ET
It's Ryan Riess versus Jay Farber for $8.3 million, the diamond-studded bracelet and the title of world champion. Follow along tonight and join the conversation as the action plays out in Las Vegas.



November, 5, 2013
Nov 5
7:01
AM ET
After eight hours of final table action, Jay Farber and Ryan Riess earned their way to heads-up and the final day of play in the 2013 World Series of Poker. Only 19 big blinds separate the two and when action resumes Tuesday at 9 p.m. ET (on ESPN), fans will get to see two very unique styles and personalities who have the potential to shape the future of the game.

There were many highlights from the first day of the final table, but here are my biggest takeaways.

1. Play didn't exceed expectations

Many of us expected the final table to play out differently. Play in general was relatively tight, something that is rarely seen at this level of competition. The pay jumps are significant and the ability to hide your bluffs is essentially nonexistent and it seemed the players just reacted differently under these circumstances. The pressure was on and perhaps nobody was affected more than JC Tran, who went from being chip leader to completely card dead and simply struggled to get going.

"I definitely didn't expect this," Tran said. "Finishing fifth was possible, but not the way I imagined it. ... I'm not 100 percent happy with the way I played."

I guess that leads me to admit I was wrong. I tweeted last week about my perceived skill level of this final table, but after what we saw Monday night, I was clearly wrong on that. Looking at the final table as a whole before action began, we had nine players with established results, but seeing the big picture Monday night, there were spots of weakness and indecision that made many, both in attendance and on Twitter, confused. Other players may have taken and pushed their advantages in different spots, but again, under the lights with so much on the line, a typically standard decision may not be easy.

2. Coolers dominated the action

Over the past few years at the final table, the eliminations didn't come primarily from "setup" hands. The coolers during the final table (coolers are situations where big hands run into other big hands), really dominated the way everything played out. Even though Mark Newhouse doubled up with his Q-Q against Marc-Etienne McLaughlin's K-K, that hand set the tone for the evening.

The one hand that really changed the course of the event was McLaughlin's K-K against Farber's A-A for an 80-million chip pot. McLaughlin had done incredibly well getting back into contention after being the short stack for most of six-handed play, and just when everyone thought it would be a three-horse race, Farber picks up aces and happily knocks out McLaughlin. Farber also picked up aces against kings on Day 6 (versus Noah Schwartz) and that hand was pivotal to him reaching this point.

Michiel Brummelhuis and Amir Lehavot suffered similar fates in hands that just seemed to play themselves. After grinding for 8 days, a cooler is perhaps the least desirable way to be eliminated.

3. Poker can be a spectator event

Part of the intrigue about the WSOP final table is that family and friends are along for the ride. The support each of the nine players received was incredible and the emotions that these players shared during every quick break was priceless. The rails helped keep the players on even keel and the constant chants by the crowd kept the energy up. While those in attendance couldn't see the cards, the excitement in the room was palpable because of a dedicated group of friends hoping to see their player become the next world champion.

The best rail award of this year definitely goes to McLaughlin. The "Larry Walker" cheer, in reference to the former Montreal Expos star, really earned McLaughlin a few walks in the big blind. They made a difference.

There also were a number of costumes, including a few people in panda suits, who entertained everyone. Especially when a person in the aforementioned panda suit falls down in the stands, runs onto the stage and is escorted out of the Rio by security.

4. The underdogs

When you watch Tuesday night's coverage of the final table there's sure to be a lot of discussion of the backgrounds of Riess and Farber. Riess is less than two years into his poker career and already has ridden the roller coaster of emotions that comes with the pursuit. Farber really does have a day job (even though it's a night job), and that greatly limits his time playing poker. These are two players who aren't the most polished, but they play with heart and will earn the respect of all as a result.

After play and interviews concluded around 2 a.m. PT, both underdogs decided to do one more thing together Monday night -- go to the club. Farber was arranging tables before he even left the Penn and Teller Theater.

5. Sponsors are coming back

PokerStars, Full Tilt and other online sites were putting up six to seven figures for the sponsorship of players at the WSOP final table prior to Black Friday. Over the past two years, there wasn't a ton of additional sponsorship upside for the November Nine, but this year, we saw some new patches show up on the players.

From King Cobra (an Anheuser-Busch brand) to casinos to e-cigarettes to real-money daily fantasy sports sites, the majority of the nine had some interesting patchwork on their clothing. With the return of the online poker industry in the United States, more money will be invested in the future. This is a great sign for the industry and also helps to validate a reason to hold the delayed final table as it provides the players with an additional revenue stream not entirely dictated by their results on the felt.

November, 4, 2013
Nov 4
7:19
PM ET
After four months of waiting, the final table has arrived. Who will win the $8.3 million and the most coveted bracelet in the game? Watch the action unfold on ESPN2 Monday night starting at 8 p.m. ET and follow along right here until the final few remain.