Commentary
Lunkin defeats poker's best in Event 2
Outlasts Haxton, Raymer for second bracelet
Everything about Event 2, the $40,000 no-limit hold 'em tournament, was an instant classic. Created to honor the 40th anniversary of the World Series of Poker, talk of this event was on the lips of everyone in the industry. It was an exciting addition and everyone knew this event would be for one of the most recognized bracelets of the year.
[+] Enlarge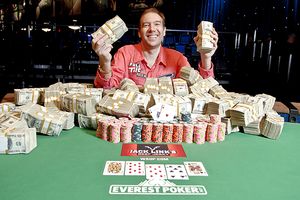 IMPDI A very happy Vitaly Lunkin celebrates after his victory in Event 2.
While many players and media members fluctuated on participation estimates of the event before the WSOP, the final tally of 201 players was an impressive turnout and created a prize pool exceeding $7.7 million. Even though the WSOP planning committee may not have picked the final table's consistency of primarily online superstars, the action played out to create a new superstar, Russian Vitaly Lunkin, who earned $1.8 million for the victory.
Second to Issac Haxton entering the final table, Lunkin held his ground for most of the night even though he didn't eliminate an opponent until he needed to. Lunkin's victory gives him an extremely prestigious title and a bracelet to go along with his victory in Event 27 in 2008. The 38-year-old outlasted a final table that included Haxton, 2004 WSOP main event champion Greg Raymer, Justin Bonomo, Dani Stern, Alec Torelli, Lex Veldhuis, Noah Schwartz and Ted Forrest. Not an easy lineup, to say the least.
As the final table dwindled, all eyes were on Raymer, who had made a move to the top of the chip counts. But with three players left, Raymer moved all-in against Haxton, holding 5-5 to Haxton's 9-9. Haxton's hand held and the previous world champion would be eliminated in third place.
This event will be broadcast on ESPN on July 28 from 8-10 p.m. ET.
Below are the complete results of Event 2 at the 2009 World Series of Poker:
Event 2: Anniversary Special, no-limit hold 'em
Buy-in: $40,000
Entries: 201
Prize pool: $7,718,400
Players in the money: 27

1. Vitaly Lunkin ($1,891,012)
2. Isaac Haxton ($1,168,566)
3. Greg Raymer ($774,927)
4. Dani Stern ($548,315)
5. Justin Bonomo ($413,166)
6. Alec Torelli ($329,730)
7. Alex Veldhuis ($277,940)
8. Noah Schwartz ($246,834)
9. Ted Forrest ($230,317)
10. Tony Guoga ($172,120)
11. Keith Lehr ($172,120)
12. Matt Marafioti ($172,120)
13. Brian Townsend ($128,665)
14. Brian Rast ($128,665)
15. David Baker ($128,665)
16. Suresh Doshi ($96,171)
17. Clark Hamagami ($96,171)
18. Matt Glantz ($96,171)
19. Andrew Black ($71,858)
20. Neil Channing ($71,858)
21. David Chiu ($71,858)
22. Frank Kassela ($71,858)
23. Andrew Robl ($71,858)
24. David Pham ($71,858)
25. Sorel Mizzi ($71,858)
26. Justin Tran ($71,858)
27. Vanessa Rousso ($71,858)

ESPN.com
Andrew Feldman is ESPN.com's Poker Editor. He is the host of the Poker Edge Podcast and co-host of ESPN Inside Deal. Andrew has covered the poker industry for ESPN since 2004.
World Series of Poker Coverage
WSOP Content
STORIES
CHATS
RESULTS AND SCHEDULE
Poker Edge Podcast
MOST SENT STORIES ON ESPN.COM