Commentary
Eight games, one Finnish champion
The $10,000 mixed-event world championship ranks in my mind as one of the top five events to be won each year. The tournament consists of an eight-game mix: no-limit hold 'em, pot-limit Omaha, triple-draw lowball, limit hold 'em, Omaha high-low split, razz, seven-card stud and seven-card stud eight-or-better. To be able to defeat a field of some of the toughest players in the game, there can be no leaks. You must be competent at every game and be able to pick spots in other games where your opponents aren't as strong.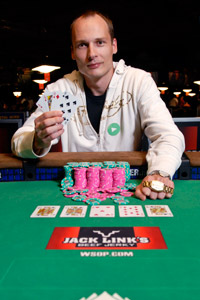 IMPDI 2009Ville Wahlbeck became the first Finnish citizen to win a WSOP bracelet with his victory in Event 12.
Amazingly, 194 players felt that they fit the bill and could win a WSOP bracelet, but only Ville Wahlbeck can say that he is the world champion.
Wahlbeck, a 33-year-old professional poker player from Helsinki, Finland, earned $492,375 for the victory. He can add that to the $152,914 he earned for third place in Event 6 to make one incredible week in Las Vegas. But the money? Just a sideshow compared to what really matters.
"This is every poker player's dream," he said of the bracelet after the win. "I have been dreaming about this ever since I started playing poker. Playing in the stud event and coming in third was great for me. Of course, I wanted to win. To come back and to win this event after that happened -- it's a dream come true."
After playing professionally for six years, Wahlbeck considers the job "exhausting," but doesn't know what else he would do after poker. Before going pro, he was an elementary school teacher. Now, he is the first Finnish citizen to win a WSOP bracelet.
As mentioned above, the competition in this event was extremely strong. The final table consisted of players with a total of 10 WSOP bracelets (Todd Brunson, David Chiu, Huck Seed and Mike Wattel). Scott Dorin, Mark Gregorich and James Van Alstyne rounded out the final table. Todd's father, Doyle, finished just out of the final table, and $40,000 no-limit hold 'em champion Vitaly Lunkin also made the money, finishing in 21st place.
Other notable finishers include Doyle Brunson (15th), Michael Binger (16th) and Eric Froehlich (17th).
Below are the complete results of Event 12 at the 2009 World Series of Poker:
Event 12: Mixed-game world championship
Buy-in: $10,000
Entries: 194
Prize pool: $1,823,600
Players in the money: 24

1. Ville Wahlbeck ($492,375)
2. David Chiu ($304,176)
3. Scott Dorin ($199,940)
4. Mark Gregorich ($139,159)
5. Huck Seed ($102,286)
6. James Van Alstyne ($79,181)
7. Mike Wattel ($64,373)
8. Todd Brunson ($54,854)
9. Allie Prescott ($42,818)
10. Roman Yitzhaki ($42,818)
11. Joseph Serock ($34,958)
12. Aurangzeb Sheikh ($34,958)
13. Brian Powell ($27,719)
14. Adam Friedman ($27,719)
15. Doyle Brunson ($21,357)
16. Michael Binger ($21,357)
17. Eric Froehlich ($16,649)
18. Soheil Shamseddin ($16,649)
19. Matthew Hawrilenko ($16,649)
20. John Cernuto ($16,649)
21. Vitaly Lunkin ($16,649)
22. Harris Pablou ($16,649)
23. Brian Anthony Mizok ($16,649)
24. Max Pescatori ($16,649)

ESPN.com
Andrew Feldman is ESPN.com's Poker Editor. He is the host of the Poker Edge Podcast and co-host of ESPN Inside Deal. Andrew has covered the poker industry for ESPN since 2004.
SPONSORED HEADLINES
MORE POKER HEADLINES
MOST SENT STORIES ON ESPN.COM