Commentary
Parker denies Negreanu in Event 14
If there has been one major influence for the newer generation of successful poker players, it might be the game "Magic." David Williams, Eric Froehlich … heck, even ESPN.com's Gary Wise made the transition from one card game to the other. On Sunday night, it was Brock Parker, another former Magic superstar turned online poker superstar, to leave his mark. In doing so, he had to defeat one of the best in the game heads-up.
[+] Enlarge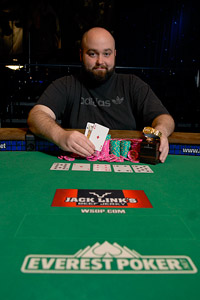 IMPDI 2009Brock "t_soprano" Parker has $417,583 in live tournament earnings.
Parker, better known in the online circles as "t_soprano," thwarted all of Daniel Negreanu's efforts in Event 14 ($2,500 six-handed limit hold 'em) to win his first bracelet and $223,697. Negreanu attempted to tie Phil Hellmuth for the most limit hold 'em bracelets (three), but finished second for the third time in his WSOP career.
With observers filling the final table area to capacity, it was Parker's night. The 27-year-old from Silver Spring, Md., entered the final table second in chips to Negreanu and was the short stack with four left. Parker continued to battle and never let up.
"He's an online legend, and it's well deserved," said Alex Borteh, one of Parker's good friends and a fellow WSOP bracelet winner. "Daniel is great as a player and a person. But a lot of people get famous because they toot their own horns. People don't know Brock because he does not post on poker forums all day or draw attention to himself. He is a below-the-radar kind of guy."
This was Parker's fifth WSOP cash and his second WSOP final table in limit hold 'em.
Other notable finishers include Daniel Alaei (24th) and Barry Greenstein (30th).
Below are the complete results of Event 14:
Event 14: Six-handed limit hold 'em
Buy-in: $2,500
Entries: 367
Prize pool: $844,100
Players in the money: 36

1. Brock Parker ($223,697)
2. Daniel Negreanu ($138,280)
3. Tommi Horkko ($89,660)
4. Kevin Hong ($60,884)
5. Barry Shulman ($43,201)
6. Kyle Ray ($31,966)
7. James Buckley ($23,178)
8. Shawn Buchanan ($23,178)
9. Nikolay Losev ($16,814)
10. Robert Como ($16,814)
11. Thong Tran ($12,197)
12. Franklin Kline ($12,197)
13. Andrew Wang ($8,854)
14. Fu Wong ($8,854)
15. Christopher Tryba ($8,854)
16. David Olson ($8,854)
17. Lonnie Heimowitz ($8,854)
18. Matthew Lichtie ($8,854)
19. Shawn Keller ($6,432)
20. Omar Mehmood ($6,432)
21. Ernest Shakaryan ($6,432)
22. Lennart Konst ($6,432)
23. Jonathan Chamberlin ($6,432)
24. Daniel Alaei ($6,432)
25. Eugene Katchalov ($5,360)
26. Phillip Jankulovski ($5,360)
27. Ray Henson ($5,360)
28. Brian Horton ($5,360)
29. Paris Seraj ($5,360)
30. Barry Greenstein ($5,360)
31. Howard Roughan ($4,693)
32. Jonas Becker ($4,693)
33. Jacob Petersen ($4,693)
34. Josh Schlein ($4,693)
35. Jordan Cairns ($4,693)
36. Aaron Steury ($4,693)

ESPN.com
Andrew Feldman is ESPN.com's Poker Editor. He is the host of the Poker Edge Podcast and co-host of ESPN Inside Deal. Andrew has covered the poker industry for ESPN since 2004.
MOST SENT STORIES ON ESPN.COM