Commentary
Two bracelets in 2009 for Phil Ivey
Ivey wins seventh WSOP bracelet while multi-tabling
I guess Phil Ivey's motivation to win bracelets is back.
Ivey defeated a strong field of 376 players to win the $2,500 Omaha high-low/seven-card stud high-low split Event 25, his seventh WSOP bracelet and his second this Series. He now is tied for sixth all-time with Billy Baxter and is just one behind Erik Seidel.
[+] Enlarge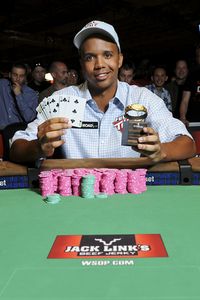 Dana Starr/IMPDIPhil Ivey actually cracked a smile after winning his seventh bracelet.
"It's nice to catch people," Ivey told Nolan Dalla. "This is poker history, as you like to say. And so, to have the chance to catch someone like Erik who is (fifth) in the bracelets, to get into his category would be nice."
Ivey joins Brock Parker as the only double-bracelet winners in 2009 -- Ivey also won Event 8 -- an accomplishment that hasn't happened in Las Vegas since 2006 when Bill Chen and Jeff Madsen accomplished the feat. Ivey was the last player to win three bracelets during one WSOP, a feat he managed in 2002. But why the change of heart? Ivey's daily presence at the WSOP this year has been a change from years' past and with his dominating performance this summer, who can say that a third bracelet is out of the question? Ivey is more confident than ever heading into Sunday's WSOP events.
"Well, before last year I pretty [much] skipped a couple of years at the World Series," said Ivey. "I didn't play in as many tournaments as I used to because I figured, it's doesn't really make much difference, you know. But then, as I started getting older I started to realize this does matter. Winning bracelets, it does matter. Just having the chance to put myself in poker history and I know I have the chance to win and be the all-time bracelet leader if I can continue at this pace. So, I'm looking forward to the opportunity.
"I think [last year] I really wasn't into it," he continued to the WSOP. "I don't know, I am just feeling good right now. I think last year I had a lot of distractions, especially in my personal life. And there were a lot of things going on outside of poker. I wasn't able to focus as well. Also, I think I am a better tournament player now than I was a year ago."
If winning a WSOP final table wasn't hard enough, Ivey was also playing in another event at the same time. During breaks from his attempt for his seventh bracelet, Ivey was playing in the $5,000 pot-limit Omaha high-low Event 27. After accumulating chips during earlier breaks, Ivey was being blinded out while he played at the final table and made his last stand just a few players before the money bubble. Ivey finished 22nd out of 198 players in that event … that he didn't even focus on! Ivey has done a lot in the poker space, but reaching the final table in that event would've been a new one.
With spectators surrounding all of Ivey's tables on Saturday, he wasn't he only superstar that fans were cheering for. 2001 WSOP main event champion Carlos Mortensen finished third in Event 25, Dutch Boyd finished fourth and Jon Turner finished fifth. Ming Lee was Ivey's final victim, but with Ivey holding the chip lead going into heads-up play, he was never given an opening to come back.
Ivey won $220,538 for the victory and when he was asked when he'd get started on No. 8, he simply said, "Tomorrow."
Other notable finishers include Blair Rodman (11th), Chad Brown (14th), Gavin Smith (23rd) and Hoyt Corkins (40th).
Below are the complete results of Event 25:
Event 25: Omaha high-low split/Seven-card stud high-low split
Buy-in: $2,500
Entries: 376
Prize pool: $864,800
Players in the money: 40

1. Phil Ivey ($220,538)
2. Ming Lee ($136,292)
3. Carlos Mortensen ($89,342)
4. Dutch Boyd ($61,919)
5. Jon Turner ($45,237)
6. Eric Buchman ($34,747)
7. Tom Koral ($27,993)
8. Peter Gelencser ($23,600)
9. Steve Wong ($16,517)
10. Matt Kelly ($16,517)
11. Blair Rodman ($13,274)
12. Frank Debus ($13,274)
13. Mark Scott ($10,481)
14. Chad Brown ($10,481)
15. Alan Emerson ($8,198)
16. Raymond Davis ($8,198)
17. Peter Brownstein ($6,434)
18. Javid Javani ($6,434)
19. Stuart Spivack ($6,434)
20. Shirley Rosario ($6,434)
21. Dustin Sitar ($6,434)
22. Loi Tran ($6,434)
23. Gavin Smith ($6,434)
24. Frank Kassela ($6,434)
25. Robert (Bo) Toft ($5,197)
26. Xiamei Zuo ($5,197)
27. Colin Presby ($5,197)
28. Jan Sorensen ($5,197)
29. Dao Bac ($5,197)
30. Greg Mascio ($5,197)
31. Doug Saab ($5,197)
32. Chau Giang ($5,197)
33. Mark Tenner ($4,393)
34. Roland Isra ($4,393)
35. Esther Taylor ($4,393)
36. Alexandra Vuong ($4,393)
37. Steve Hohn ($4,393)
38. Darin Thomas ($4,393)
39. Carol Kline ($4,393)
40. Hoyt Corkins ($4,393)

ESPN.com
Andrew Feldman is ESPN.com's Poker Editor. He is the host of the Poker Edge Podcast and co-host of ESPN Inside Deal. Andrew has covered the poker industry for ESPN since 2004.
MOST SENT STORIES ON ESPN.COM