Commentary
With Cup in house, ex-hockey pro wins
It seemed only fitting that Greg "FBT" Mueller would win his first bracelet Wednesday night. Mueller, a former professional hockey player, was on hand for the presentation of the Stanley Cup at the Rio on Wednesday. Then, with many NHL players in the house, Mueller's focus turned from his past to his present and, by winning his first bracelet in Event 33, the $10,000 limit world championship, his future.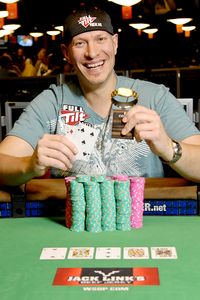 IMPDI 2009After two second-place finishes, Greg Mueller won his first bracelet in Event 33.
After retiring in 1999 from hockey following nine seasons in Germany, Mueller, now 37, shifted to poker. Since then, he's been a staple on the tour, and he has had two runner-up finishes in World Series of Poker events. He's made the money 18 times, and in his sixth final table appearance, he earned his first bracelet.
"It's like huge weight lifted off my shoulders," Mueller said. "I was starting to think I was a second-place pony there for a while. I had nightmares, even heads-up. When [Pat Pezzin] won a pot against me, I thought, 'My God, this could be the biggest choke ever.' But, it feels unbelievable, and I am so happy right now."
Mueller had some tough competition at the final table with Pezzin, Chad Brown, 2009 bracelet winner Daniel Alaei, Matt Hawrilenko, Matt Glanz and Soheil Shamseddin. The table had star power and attracted a crowd in a tournament that was aired on ESPN360.com.
"The funny thing was -- this was probably the toughest final table that I had," Mueller said. "Everyone at the table is a helluva' player and a great tournament player. It's the crème de la crème kinda thing. I really did not put any pressure on myself. I was low on chips yesterday. I climbed back to average today. And the next thing I knew, I said, 'Oh boy, here we go!'"
The biggest hand of the night came between Mueller and Brown while three-handed. Pezzin raised, and both players called to see a flop of 6d-Js-7d. All three players checked to get to a Qs on the turn. Brown led out, and Pezzin folded to a reraise by Mueller. Brown called. The river was the 4d, and after Brown checked, the raising war began. Mueller bet, Brown raised, Muller re-reraised, Brown re-re-reraised and finally, Mueller finished off the action, as they had reached the maximum number of bets. Mueller showed a straight flush with 3d-5d and grabbed the largest pot of the night.
The tournament attracted a field of 185 very talented players. Mueller won $460,841 for first place.
Other notable finishers included Jennifer Harman (12th), Todd Brunson (14th) and Howard Lederer (17th).
Below are the complete results of Event 33:
Event 33: Limit world championship
Buy-in: $10,000
Entries: 185
Prize pool: $1,739,000
Players in the money: 18

1. Greg Mueller ($460,841)
2. Pat Pezzin ($285,195)
3. Chad Brown ($188,855)
4. Daniel Alaei ($134,772)
5. Matthew Hawrilenko ($100,688)
6. Matt Glantz ($80,341)
7. Michiel Brummelhuis ($67,647)
8. Soheil Shamseddin ($59,995)
9. Kenny Hsiung ($55,995)
10. Mark Klecan ($41,040)
11. Maria Ho ($41,040)
12. Jennifer Harman ($41,040)
13. Mark Teltscher ($32,693)
14. Todd Brunson ($32,693)
15. Ralph Perry ($32,693)
16. Phillip Tom ($27,824)
17. Howard Lederer ($27,824)
18. Steve Kim ($27,824)

ESPN.com
Andrew Feldman is ESPN.com's Poker Editor. He is the host of the Poker Edge Podcast and co-host of ESPN Inside Deal. Andrew has covered the poker industry for ESPN since 2004.