Commentary
Matt Graham wins PLO championship
The final table $10,000 pot-limit Omaha world championship featured five former WSOP bracelet winners including Barry Greenstein, John Arieh, Richard Austin and the two that would duel during heads-up play: Vitaly Lunkin and Matt Graham.
[+] Enlarge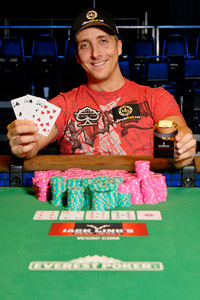 IMPDI 2009Matt Graham won his second WSOP bracelet in the pot-limit Omaha world championship.
It looked as if Lunkin was ready to become the fourth double-bracelet winner of the 2009 World Series of Poker. Lunkin made headlines earlier this WSOP by winning the $40,000 no-limit hold 'em event and cashing in the $10,000 mixed-game world championship. Things have been going Lunkin's way this year and many were prepared to award him the bracelet before Graham had been eliminated.
Going into heads-up play, Lunkin had a massive chip lead over Graham, but even up 9 to 1 in chips at one point, Lunkin couldn't finish the job. Graham, a 25-year-old professional poker player earned his second WSOP bracelet via the impressive comeback. Overcoming the odds during heads-up play is something Graham's perfected as he was down 8 to 1 when he won his first bracelet in Event 53 of the 2008 WSOP.
Graham collected $679,402 for first place and was mentally focused during heads-up even without the chips.
"I was never too far behind before heads-up play started," said Graham to the WSOP. "I was not really in a rush. I am perfectly okay with someone else throwing in a few raises and busting a few people. I'm just going to sit there and wait. Wait until we get short-handed and then pick up the pace a little. I wasn't worried about (being short) on chips.
"I was thinking I was just going to continue playing my best," he said about the chip deficit. "No matter how good you play, it was a long shot in that situation. So, you just have to do all that you can to come back and hope the cards cooperate."
Lunkin earned $419,832 for his runner-up finish giving him $2,970,507 in career WSOP earnings. Fans surrounded the table to watch one of their favorites, Greenstein, but he fell short in ninth place. Others wanted to see if Austin, who won Event 35 just four days ago, could pull off a second bracelet of his own. Austin finished in eighth and the two-time bracelet winner Arieh finished seventh.
Other notable finishers included Chau Giang (11th), Howard Lederer (12th) and David Williams (16th).
Below are the complete results of Event 40:
Event 40: Pot-limit Omaha world championship
Buy-in: $10,000
Entries: 295
Prize pool: $2,773,000
Players in the money: 27

1. Matthew Graham ($679,402)
2. Vitaly Lunkin ($419,832)
3. Van Marcus ($278,409)
4. Robin Keston ($196,993)
5. Ferit Gabriellson ($148,438)
6. Stefan Mattsson ($118,462)
7. Josh Arieh ($99,855)
8. Richard Austin ($88,680)
9. Barry Greenstein ($82,746)
10. Nathan Doudney ($61,837)
11. Chau Giang ($61,837)
12. Howard Lederer ($61,837)
13. David Podgurski ($46,225)
14. Padraig Parkinson ($46,225)
15. Noah Schwartz ($46,225)
16. David Williams ($34,551)
17. Nate Lindsay ($34,551)
18. Nenad Medic ($34,551)
19. Matthew Vengrin ($25,816)
20. Marcus Golser ($25,816)
21. James Taylor ($25,816)
22. Anthony Cousineau ($25,816)
23. Rodrigo dos Santos ($25,816)
24. Todd Barlow ($25,816)
25. Henri Kettunen ($25,816)
26. Jonas Entin ($25,816)
27. Erick Lindgren ($25,816)

ESPN.com
Andrew Feldman is ESPN.com's Poker Editor. He is the host of the Poker Edge Podcast and co-host of ESPN Inside Deal. Andrew has covered the poker industry for ESPN since 2004.
MOST SENT STORIES ON ESPN.COM